Telcos to Pursue Greater Presence in Payments Business as NFC Rolls Out
NFC Times is Expanding Its Coverage
This story is a free sample of new premium content from NFC Times, the most authoritative source of news and analysis in the industry.
To view this sample story, click here:
Or download it as part of a free sample of the world's first global PDF newsletter devoted to the business of NFC and related topics:
NFC Times: The Intelligence Report
Become a subscriber to NFC Times to receive future issues of the newsletter and exclusive online news and analysis: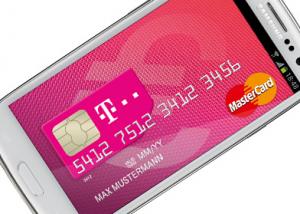 A number of mobile operators in Europe and beyond are planning to introduce their own NFC-enabled payment services starting in 2013, as the telcos begin to roll out their NFC mobile wallets.
The operators see a revenue opportunity, as well as a chance to reduce churn and build a mobile-commerce platform by getting into the payments business.
The telcos believe they will have a ready-made customer base among their subscribers for the planned payments services in the NFC-enabled phones they sell.
Nearly all of the telcos planning to offer co-branded payment services or to issue their own payment applications intend to put the applets onto NFC SIM cards they issue. And many plan to first roll out contactless payment cards and, in a few cases, contactless stickers.
Three of Europe's largest operator groups, Vodafone, Telefónica and Deutsche Telekom, along with some large national operators, such as the No. 1 telco in the UK, Everything Everywhere, and France's No. 2, SFR, have concluded deals with Visa Europe or MasterCard Worldwide to help them to introduce payment, accepted at a growing number of Visa payWave and MasterCard PayPass contactless terminals. France-based Orange group could follow.
"We will see a lot of NFC (payment) launches from various mobile network operators across Europe in 2013," Christian von Hammel-Bonten, executive vice president of telecommunications for Germany-based Wirecard, told NFC Times. Wirecard is a prepaid program manager, credit card issuer and processor that is working with Deutsche Telekom, Telefónica O2 Germany, SFR and at least four Vodafone branch operators to launch payment this year.
Elsewhere, Asian telcos continue to take an interest in payments, though none going as far as Japan's NTT DoCoMo in launching its own payment scheme, called iD. And in Canada, Rogers Communications has applied for a banking license, which would allow it to issue its own mobile-payment application, accepted by existing contactless terminals supporting Visa payWave or MasterCard PayPass. Though, it's not clear how much of a priority the license is for Rogers.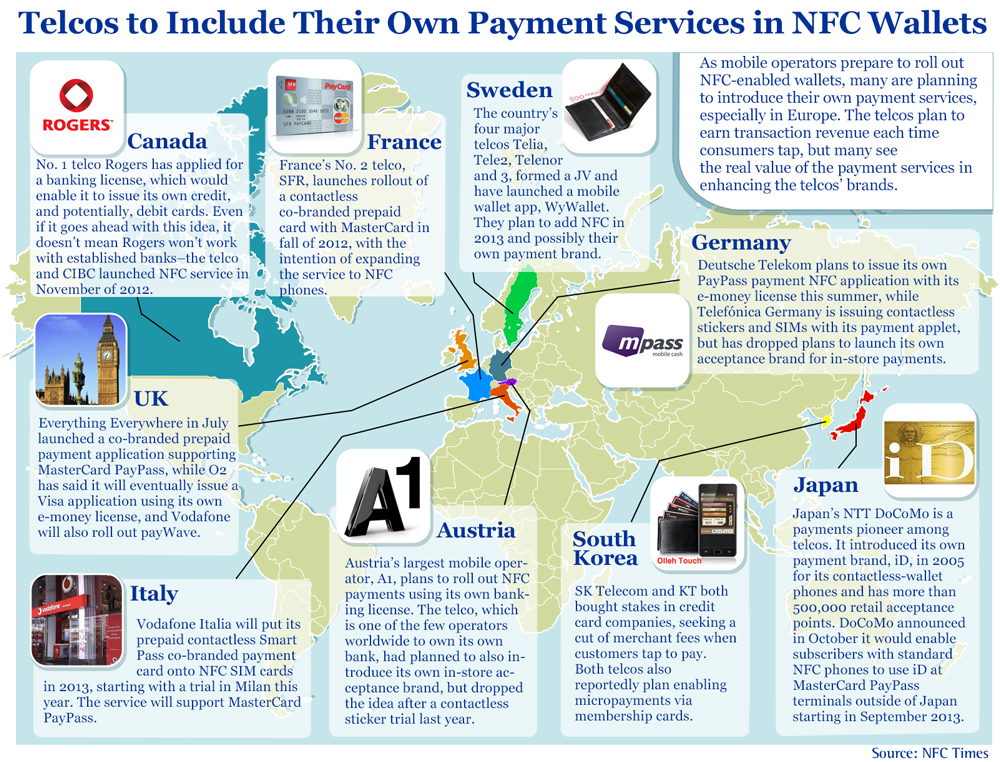 Among the operators that appear most keen on rolling out payments with NFC is Deutsche Telekom. The group signed a major deal with MasterCard Worldwide last summer to help it launch mobile payments using MasterCard's PayPass technology. And Deutsche Telekom plans to fund or subsidize the deployment of some point-of-sale terminals in stores in Germany over the next two years, according to MasterCard. This gives the telco a role in the acquiring market, as well.
"We believe mobile commerce will be a huge growth case for the future," Peter Vesco, senior vice president for payment and CEO of the ClickandBuy subsidiary for Deutsche Telekom group, told NFC Times at the time of the MasterCard partnership announcement last year. "We want to be in the driver's seat to create an ecosystem."
Questioning SIM-Rental Model
Deutsche Telekom and other telcos say they will open up their NFC SIMs to banks and other service providers, as well, for which they hope to charge rental fees. But some of the operators, including Deutsche Telekom, appear to be questioning the viability of the SIM-rental model as a major revenue source and the anchor of their NFC business plans, which it has been in the past for many telcos.
In some cases, SIM rental fees start at €3 (US$4) per consumer account per year. But some telcos are also proposing to charge monthly fees per security domain on their SIMs.
Instead of that, some operators see their own payment services as a key part of their forthcoming mobile wallets. And they will build mobile-commerce platforms around them.
"We thought about getting so called SIM-rental fees from the bank and making our money from the banks," said Vesco, speaking at a conference at the Mobile World Congress. "Now we've learned, it's getting more difficult."
He told NFC Times that the focus of the business case has shifted more toward transaction fees and to building a mobile-commerce platform.
The transaction fees would come both from Deutsche Telekom's own payment application and sharing revenue with banks that put their applications on the Deutsche Telekom SIMs.
The telco is offering a new "sales channel" to banks, which would generate more interchange fees. "We think it's more than fair," said Vesco.
That might be a difficult sell to most banks. But Vesco says that by lowering SIM rental fees, the telco could encourage more banks to put their applications on the Deutsche Telekom SIMs. Transaction fees are not the only business case for the telcos, however.
"And I think the business model of the future needs to be different than in the existing payment infrastructure," Vesco said. "What do I mean? I mean that the value-added services like couponing, voucher and location marketing, need to be paid from the company who has the value."
That would presumably be retailers and other advertisers. Deutsche Telekom, which is issuing its own payment application through its ClickandBuy unit, could collect data on the transaction, noted one industry observer.
"When you tap this, the issuer knows when you have been at the merchant," the source said. "Now, you think, what can you do with the data? What you do is set up a link between the merchant and data."
Telcos or other parties collecting this data can't sell it directly to third parties, at least not in Europe. But they could use it to build targeted promotional offers for merchants.
Vesco and other telcos are adamant that they are not seeking to collect consumer transaction data and then monetize it.
They fear a backlash like Google has experienced in the U.S., which, has enabled its own payment application in its Google Wallet phones to gather data and send targeted offers to consumers. The payment transactions with the Google prepaid application are funded by cloud-based credit and debit cards from major U.S. issuers.
"Our partners can take their data, loyalty data and install (applications) on our platform," Vesco told NFC Times. "It's not our business to take consumer data and whatever data and make a business out of it.
Even if it doesn't plan to collect transaction data, it would be difficult for telcos to offer couponing and other related retail services without payment, said Jorn Lambert, who heads up digital convergence for MasterCard.
Reducing Churn
Lambert adds that payments is a low-margin business, so he doesn't expect the telcos to make a lot of their money in NFC from gaining a cut of transaction fees.
But Deutsche Telekom isn't the only telco that plans to take a cut of fees. Vodafone group also intends to earn transaction fees from the co-branded payment services it rolls out on NFC phones and probably with physical cards, as well. Christian Wirtz, group director for mCommerce, told NFC Times last year after the group announced its global partnership with Visa that transaction fees are part of the business case. Vodafone has been delayed in launching NFC, but it plans launches this year.
Lambert, von Hammel-Bonten and others observing the emerging trend for telcos planning to introduce payment services say one of the key benefits for the operators is to retain customers, who often churn to competing telcos looking for a better deal.
"Voice and text are on the decline; we have to do something from an operator's perspective," Timo York, head of new business product's for Everything Everywhere, told NFC Times, last fall. "It's another level for an operator to talk to that customer. I could bring them into my new brand. It's another reason for them to stay."
In a way, the telcos are taking a page out of the playbook of the banks, which use debit and other payments cards to keep customers loyal. "Payment creates a lot of stickiness," Eric Tak, global head of cards, cash and new business for ING bank in the Netherlands, and long-time observer of the emerging mobile-payments market. told NFC Times. "Average lifespan on a mobile contract is short."
Cutting in on Banks?
Banks do not seem overly alarmed when asked about the threat from the telcos seeking to carve out a greater role in the payments business.
But they acknowledge there is a threat, not only from telcos but other new payments players trying to grab business as payments move to smartphones, such as PayPal and other Internet companies.
"That's a concern," Mark Buitenhek, global head of payments and cash management for ING, told NFC Times. But he added: "Good luck. Maybe they'll get a piece of the pie. They'll find how difficult it is to run payments instead of telephone clicks."
The move by telcos into payments at the same time they are trying to encourage banks to put their applications in the telcos' mobile wallets and onto their NFC SIM cards is a bit of a contradiction, observed Bruno Prexl, global head of digital payments for France-based BNP Paribas.
"So they will be promoting their card and ours? How do they solve this?" asked Prexl. "It's quite a contradictory position for MNOs, coming to us with this kind of pitch: 'So guys in the bank, what are you waiting for? NFC is there, it's available. Why don't you roll out your payment service?'
"But at the same time, they are rolling their payment service. And they are saying: 'No, we're not competitors. No problem.' Yeah, tricky discussions."
One market expected to be competitive between telcos and banks is the UK, where all major telcos are expected to have their own prepaid payment services. Everything Everywhere, the largest operator, was the first to launch its own NFC payments service, which it did in July.
The banks are expected to try to counter the telcos expansion into the payments business by appealing to consumer security concerns.
"For us, there are a couple of key truths–when it comes to payments, they really do look for someone with a good track record of providing good solutions that are reliable," Dave Chan, CEO of Barclaycard Consumer Europe, told NFC Times. "In the research we've done, it reverts to a finance service company that you would trust."
Besides Deutsche Telekom, whose ClickandBuy online payments subsidiary has an e-money license good throughout Europe, Telefónica's O2 UK branch has said it plans to issue its own payment applications on NFC phones, as part of its O2 Money unit. O2's e-money license became effective in November, but it is behind schedule in launching the NFC application.
Austria's A1 is the first telco in Europe with a banking license, and the telco will use it to launch payment on NFC phones, like it has on EMV cards. The banking application from Rogers, Canada's largest telco, appears to be pending. It has said it would use the license not to take deposits but to issue credit cards and its own mobile-payment applications.
But most operators planning to issue co-branded payment are expected to work with BIN sponsors or other issuers for the prepaid cards and mobile applications. All the telcos rolling out payment are also expected to work with prepaid program managers. For example, France's SFR and Telefónica (O2) Germany are using Wirecard for its PayPass-enabled cards, stickers and, later, NFC applications; and Vodafone Italia works with CartaSi for Vodafone Smart Pass, also supporting PayPass.
While nearly all of the payment services planned by the telcos will support either MasterCard PayPass or Visa PayWave, a few telcos still might go ahead with plans to launch their own payment brands, strictly for their domestic markets.
It's a difficult proposition that other operators in the West–most notably the three major telcos that make up the Isis joint venture in the U.S.–Verizon Wireless, AT&T Mobility and T-Mobile USA–have proposed but then abandoned. The telcos have found out how difficult it is to sign up merchants and to take on the established payment brands.
NTT DoCoMo, the first telco to launch its own payment service on contactless-mobile phones, continues to push its own payment mark, iD. DoCoMo has rolled out hundreds of thousands of POS terminals in Japan–in some cases even buying stakes in the merchants themselves. But after more than seven years, iD is unlikely to have returned DoCoMo's large investment.
China Mobile, which bought a 20% stake in Shanghai Pudong Development Bank, SPDB, in 2010, later scrapped plans to launch its own payment brand–which was to use a proprietary technology supplied by Chinese vendors, RF-SIMs. Last year the giant telco agreed to use standard NFC SIMs and work with Chinese payment network China UnionPay and UnionPay's Quick Pass contactless brand.
In its NFC-enabled mobile wallet launched in June, China Mobile NFC SIMs can play host to applications from up to nine banks initially, but the mobile operator appears keen to promote its own e-cash application and a co-branded application issued with SPDB, in the wallet.
But Globe Telecom of the Philippines told NFC Times last November that it plans to try to put its own payment brand into physical stores, expanding its closed-loop GCash mobile-money service.
And in Europe, Sweden's four largest operators, TeliaSonera, Telenor, Tele2 and 3, have formed a joint venture, and Telenor Sweden's Andreas Ericson said in February that the group still plans to launch a separate payment brand in stores, as part of the telcos' WyWallet offer. It's still not clear the telcos will definitely launch the brand for physical payment.
Telefónica Germany last fall dropped a plan to launch its own acceptance brand at the point of sale. It is likely to continue to use its mpass payment accounts, an e-commerce scheme that it runs with two other major telcos in Germany, but will use PayPass acceptance points for in-store payments.
Austria's A1 was the most recent telco to throw in the towel in launching its own payment brand. It ended a trial in December of contactless-mobile payments in stores using stickers supporting its paybox brand, an online payments and parking fare-collection scheme. Instead, A1 is expected to issue an NFC application supporting Visa payWave.
The major payment schemes, Visa and MasterCard, want to send more volume through their networks, and in one sense, see the telcos' payment cards as similar to co-branded airline and merchant payment cards.
But the schemes also want to lend a hand because it helps promote their contactless brands for mobile payment, a market that has yet to take off.
Assuming consumers take to the idea of tapping their NFC-enabled smartphones to pay, it remains be seen whether they will choose their telco's service when they open their mobile wallets at the point of sale. NT
print $links ?>