Updated: Deutsche Telekom Launches Long-Awaited NFC-Payments Service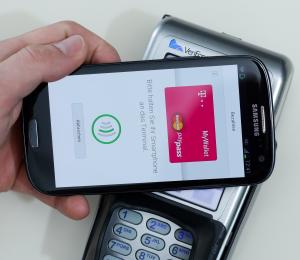 Germany's Deutsche Telekom today launched its much-anticipated–and also much-delayed–NFC-mobile wallet, which features its own branded prepaid mobile-payments application that will anchor a promised mobile-commerce platform.
Unlike most other telcos introducing their own prepaid payments services on NFC SIM cards, such as Vodafone and Orange, Deutsche Telekom will issue its own payments application. For this, it will use its wholly owned online payments unit, ClickandBuy, which has an e-money license in Europe. The applet running on the telco's SIMs will support MasterCard PayPass.
In addition, Deutsche Telekom today said its Slovak Telekom branch in Slovakia would launch NFC payments later this month and its Magyar Telekom unit in Hungary would introduce an NFC wallet later this year. Deutsche Telekom owns majority shares in both these mobile operators, which are the largest telcos in their respective markets.
In Germany, the telco's PayPass application will anchor its MyWallet Android app, which Deutsche Telekom has said will be a platform that will eventually deliver coupons, offers and other mobile-commerce services to consumers, along with such applications as transit and entertainment venue ticketing and government ID.
Words:
1,300
Among Topics Covered:
Launch plans by Deutsche Telekom of NFC-enabled MyWallet and prepaid payment application
Deutsche Telekom's SIM-based PayPass prepaid applet and issuing strategy and partnership with MasterCard
Telco's business model behind launch of wallet, prepaid application and mobile-commerce platform
Plans by Deutsche Telekom to support applications from other service providers
Situation for contactless point-of-sale terminals in Germany and Deutsche Telekom's program to support terminal deployment
Reasons for delay in launch of MyWallet, according to Deutsche Telekom sources
NFC SIMs and Android smartphones available for launch
Deutsche Telekom's view on host-card emulation
This is premium content from NFC Times.
© NFC Times and Forthwrite Media. NFC Times content is for individual use and cannot be copied or distributed without the express permission of the publisher.
print $links ?>