U.S. Mobile Operators Reportedly to Announce Joint Venture, CEO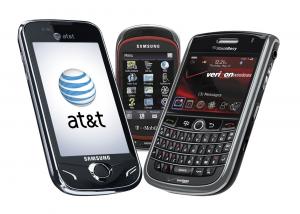 An announcement by major U.S. mobile carriers of their joint venture to launch NFC-based mobile payment and other services, including the naming of a CEO, is imminent, according to sources and news reports.

That announcement, following months of silence by the telcos despite numerous reports, could happen this week, as early as later today. The announcement likely will include the naming of a CEO to run the venture, formed earlier this year by Verizon, AT&T and T-Mobile USA. The new CEO is being reported as Michael Abbott, former chief marketing officer for the Retail Consumer Finance business of General Electronic Co. The GE Money unit is the largest issuer of private-label store credit cards in the United States, with such clients as Wal-Mart Stores and Lowe's.
NFC Times has learned that GE Money had been in talks with the mobile carriers about partnering with the planned joint venture as early as two years ago. GE would have helped the telcos offer mobile credit cards to their tens of millions of subscribers, using NFC phones and perhaps other contactless-mobile devices. The telcos plan to offer other services through mobile wallets they will pitch to consumers. Pilots are planned for late next year.
The venture reportedly counts Discover Financial Services and Barclaycard US as partners in the venture. Discover would offer its retail acceptance network and the Barclays bank U.S. unit would provide banking services.
The telcos had searched for a CEO for months and NFC Times learned they had been close to making an appointment on at least one occasion. The long-overdue hiring could help bring focus to the group, which faces an uphill climb to successfully take on the major U.S. card networks Visa and MasterCard, along with major U.S. banks in launching a new payment service. Bloomberg news reported Abbott's appointment.
With Abbott, the telcos get a payments executive not tied to the mobile industry. He reportedly joined GE in 2004 and was named chief marketing officer for the retail consumer finance business two years later. He previously reportedly worked at Fleet Credit Card Services.
The private-label card business was hit hard by the financial crisis last year. GE had been looking to exit the business earlier, in late 2007, but reportedly could not find a buyer. Under Abbott, GE, among other deals, announced in early 2005 a contract to issue a new credit card for Wal-Mart using Discover's network.
Abbott might be able to help the telcos recruit more merchants to accept contactless payment issued through the telcos from NFC phones. NFC uses the same contactless technology as standard contactless cards, but only about 100,000 merchant locations in the United States accept the technology at the point of sale. That is less than 2% of the total U.S. card-accepting merchants.
While other services, such as mobile advertising, loyalty programs and event ticketing are expected to populate mobile wallets the telcos offer, payment will anchor the wallets. Therefore, expanding acceptance is vital to making the joint venture a success, observers agree.
The joint venture plans to launch three to four pilots during the second half of next year, using NFC phones expected to be introduced by smartphone makers earlier in 2011. The telcos have hired France-based Gemalto as a trusted service manager for the pilots. U.S.-based C-Sam is said to be developing the mobile-wallet software.
Among those smartphones will be models supporting Google's Android operating system. In unrelated news, Google's CEO Eric Schmidt yesterday disclosed plans for Android's next version, 2.3, known as Gingerbread, to support NFC. Schmidt, speaking yesterday at the Web 2.0 Summit in San Francisco, talked about Android phones being used for NFC-based payment.
"The theory of the case is that you'll be able to take these mobile devices from everybody, and you'll be able to walk into a store and do commerce and be able to figure out where you are, again with your permission," Schmidt was quoted as saying. "It could eventually literally replace your credit card."
print $links ?>