Telefónica O2
We're Updating Our Profiles Section
Stay tuned for all new and updated exclusive profiles on companies and organizations involved in the ecosystem.
Headquarters:
United Kingdom
It seems just a matter of time before Telefónica O2 UK launches NFC commercially.
The telco, recently dethroned as the largest mobile operator in the UK by the Orange UK-T-Mobile merger, signaled a move toward mobile payment with the announcement of its O2 Money cards in July 2009. It had been partnering with NatWest bank on the prepaid cards. But as NFC Times reported in July 2010, NatWest, part of the Royal Bank of Scotland Group, dropped out of the partnership. O2 is part of an even larger group than Orange, Spain-based Telefónica group. Telefónica has plans for NFC trials and eventual rollouts at its flagship Spanish operation.
O2 UK chief Ronan Dunne hinted a launch of mobile payment on NFC phones may not be that far off, although more British merchants would need to accept contactless before any such project could occur. It remains to be seen if 2010 is the year. Sources also say the telco would need at least a couple of attractive NFC phone models, which may be on the way to the market from one or more handset makers.
O2 led one of the largest NFC trials held to date, a 500-phone O2 Wallet pilot that launched in November 2007. The phones packed London's popular Oyster transit application along with a Visa payWave credit application from large UK issuer Barclaycard.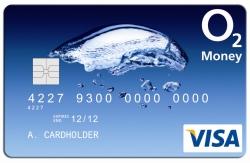 Barclaycard, which is leading the British rollout of contactless cards, is also keen to commercially launch NFC. But the Barclays bank credit card unit announced in spring 2009 it had paired up with O2 rival Orange UK, part of the France Telecom Group, to develop mobile payment with NFC. The pair announced the launch of a credit card in January 2010, which, unlike the O2 Money card, also carries a contactless chip.
Meanwhile, other branches of Telefónica Europe have experimented with NFC, including O2 operators in Germany and the Czech Republic. O2 UK has also held other NFC trials, including with home healthcare workers, who tap their phones to check-in when visiting patients. Meanwhile, Telefónica in Spain is planning at least two big NFC trials, including one involving 1,500 customers in May with la Caixa bank in Sitges, near Barcelona.
Key figures:
Customer Base–O2 UK
2009
2008
Subscriptions

21.3
20.3
Mobile, in millions
Financial Results–O2 UK

2009
2008
Change
Revenue

6,512

7,052
-7.7%
In millions of euros