HTC 8X is Latest High-End Handset to Support NFC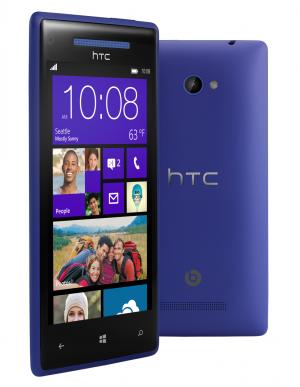 Handset maker HTC continued the flow of announcements of high-end handsets supporting Android and Windows Phone 8, with the unveiling last week of its Windows-based 8X.
The 8X, along with a mid-tier 8S, are the first Windows Phone 8 devices for the struggling Taiwan-based device maker. The 8X, however, does not come with NFC as a default feature. HTC said NFC support in the phone would depend on mobile operators, indicating either that operators would have to specially order the phone with an NFC chip inside or that the model will come with a chip but won't necessarily be activated by all operators. The 8S will not support NFC.
HTC said it would release the Windows Phone 8 devices in November, and appears to be planning a major push behind the platform, in partnership with Microsoft. That would put it in direct competition with Nokia's Windows Phone flagship, the Lumia 920, announced Sept. 5. Nokia also announced the mid-tier NFC-enabled Lumia 820.
And the HTC and Nokia Windows Phone 8 announcements followed the unveiling by Samsung Electronics in late August of the first Windows Phone 8 device, the Ativ S, along with an NFC-enabled tablet, the Ativ Tab, supporting Microsoft's new PC operating system, Windows 8.
The Windows Phone 8 devices follow high-end Android devices announced by LG Electronics, Motorola Mobility and Samsung Electronics. And Samsung's flagship, the Android-based Galaxy S III, continues to sell well.
The spate of announcements come as the device makers prepare to release their latest gadgets for the Christmas shopping season.
Of course, the notable exception to the high-end smartphones and tablets or hybrids being announced in recent weeks is Apple's iPhone 5, which does not support NFC.
All of the Windows Phone 8 devices with NFC chips should be able to support payment and could use Microsoft's mobile wallet, which comes as a default feature in the mobile platform. To support NFC payments from the wallet, telcos would also have to issue NFC SIM cards to securely store the applications.
As NFC Times reported last week, Microsoft expects all handset makers planning to introduce Windows Phone 8 devices to also support NFC. The new mobile platform, along with the software giant's new PC operating system, Windows 8, come with native support for NFC.
But as the HTC announcement shows, not all of the devices, such as the 8S, from Windows Phone device makers, will support NFC.
Secure Element Optional
And not all of the Windows Phone handsets or Microsoft's planned mobile wallet will support a secure element. But if they do, they will only support SIM cards and the single-wire protocol standard, or SWP, John Skovron, group program manager, Windows Phone engineering, told NFC Times. He emphasized nonpayment applications during a demonstration of the wallet and other Windows Phone 8 applications last week at the NFC World Congress in Nice, France.
Microsoft, which holds only a 2% market share for its Windows Phone platform–far behind the leading smartphone operating systems, Android and Apple's iOS–is being very accommodating to mobile operators with Windows Phone. It needs the telcos to buy smartphones running the platform, so at least in this latest version of Windows Phone, it will not support embedded secure elements, according to Skovron.
That means Samsung, which is believed to be embedding secure chips in all or most of its Android NFC phones–in addition to supporting the single-wire protocol and SIM cards–will not be offering an embedded chip in its Windows Phone 8-based Ativ S.
The effort to curry favor with operators by Microsoft fits well with the strategy of Nokia and HTC, which are seeing their market shares fall sharply in the face of competition with Samsung and Apple. Their share prices have also been plummeting. For example, the value of HTC's shares have fallen by nearly 50% since February.
It's too early to say whether the high-end Windows Phone 8 devices from Nokia, Samsung and HTC will support the single-wire protocol and NFC SIM cards that can store payment and other secure applications. But that is likely, especially for handsets purchased by major telcos that are rolling out SIM-based NFC. The first telco to commit to introducing NFC applications on Windows Phone 8 devices with the Microsoft-developed wallet is France Telecom-Orange.
More High-End Android NFC Devices
Meanwhile, handset makers have unveiled more NFC-enabled devices in recent weeks, including LG Electronics, which unveiled its powerful NFC-enabled Optimus G, running Android 4.0. LG boasts that the flagship device is the first global 4G LTE smartphone to pack a quad-core processor, Qualcomm's Snapdragon S4 Pro.
Samsung in late August also announced a follow-up to its popular Android-based hybrid smartphone and tablet Galaxy Note. The Galaxy Note II supports NFC. LG's competing hybrid, the Android-based Optimus Vu, known as the Intuition on U.S. carrier Verizon Wireless' network, also supports NFC. It's one of several NFC devices in the Optimus family that LG has launched, and a vice president in LG Electronics' mobile division told NFC Times in May that all of the company's smartphones and perhaps other mobile devices, would support NFC.
In addition, Motorola Mobility, now a unit of Google, has announced at least four Android NFC-enabled phones, including additions to its Droid Razr line, would have NFC.
HTC had released three high-end NFC phones earlier this year, the Droid Incredible 4G LTE, the Evo 4G LTE and the One X, all Android based. An HTC spokesman had previously indicated to NFC Times that NFC technology formed a significant part of their portfolio going forward.
But without an NFC-enabled iPhone, analysts generally estimate NFC phone shipments to come in shy of 100 million units for 2012. That's up from about 40 million in 2011.
Christopher Morris contributed to this report.