Embedded Chips Expected to Play Key Role in NFC Rollouts
NFC Times is Expanding Its Coverage
This story is a free sample of new premium content from NFC Times, the most authoritative source of news and analysis in the industry.
To view this sample story, click here:
Or download it as part of a free sample of the world's first global PDF newsletter devoted to the business of NFC and related topics:
NFC Times: The Intelligence Report
Become a subscriber to NFC Times to receive future issues of the newsletter and exclusive online news and analysis:
At least two-thirds of NFC phones shipped this year will pack embedded secure elements–offering the potential for service providers to put payment and other secure applications on the chips and avoid working with mobile operators.
The announcement this spring by Samsung Electronics that it would load applications from multiple payment brands in the embedded secure chip of its new Galaxy S4, starting with Visa payWave, is expected to be the first major use for embedded secure chips since Google began using them to anchor its Google Wallet in the U.S. starting in 2011.
Google Wallet is used little by consumers today, but the push by Samsung and other Android device makers to enable their embedded chips for payment in such markets as the UK, Russia and certain other countries in Europe, Asia-Pacific and elsewhere, is expected to create more opportunities for consumers to tap to pay with embedded NFC applications.
Besides Visa, MasterCard Worldwide is also working with Samsung to put its contactless application, PayPass, on the embedded chips, as NFC Times reported in May, though no deal has yet been announced. And in China, payment network UnionPay is believed to be at least talking to Samsung.
Certain banks and banking groups are already expressing interest.
As NFC Times reported earlier this month, Russia's largest bank, Sberbank, is working with Samsung and other Android device makers to launch payment on embedded chips as early as the end of 2013. It's also in discussions with Visa and Samsung to demonstrate embedded NFC payment during the 2014 Winter Olympics in Sochi, Russia, starting in February.
That follows disclosure by a smaller Russian issuer, Tinkoff Credit Systems bank, and its technology supplier i-Free of plans to launch a prepaid PayPass application this summer on embedded chips in Android phones from HTC and Philips.
The devices makers are "involved in the project deeply," and would collect fees based–at least in part–on the number or frequency of use of the mobile-payments service, i-Free told NFC Times.
Meanwhile, NFC Times has learned that the Jetco interbank group in Hong Kong is looking for vendors to manage payment on embedded chips in NFC phones from such Android original equipment manufacturers as Samsung, Sony and HTC. At the same time, Jetco is only looking for support for NFC SIMs as an optional feature for later.
Because of implementation issues, sources told NFC Times the first embedded payWave or PayPass applications in Samsung phones might not be available to consumers in Europe until late in the year, though they could be available earlier in Asia.
While more service providers and payment schemes are expected to reveal their plans for use of these embedded chips, commercial projects that will use standard NFC SIMs are by far more numerous, at present.
Still, with so many available embedded chips–and not only in Samsung NFC phones–there are likely to be more disclosures soon.
As one U.S. payments executive told NFC Times: "There are weapons–they are going to be used."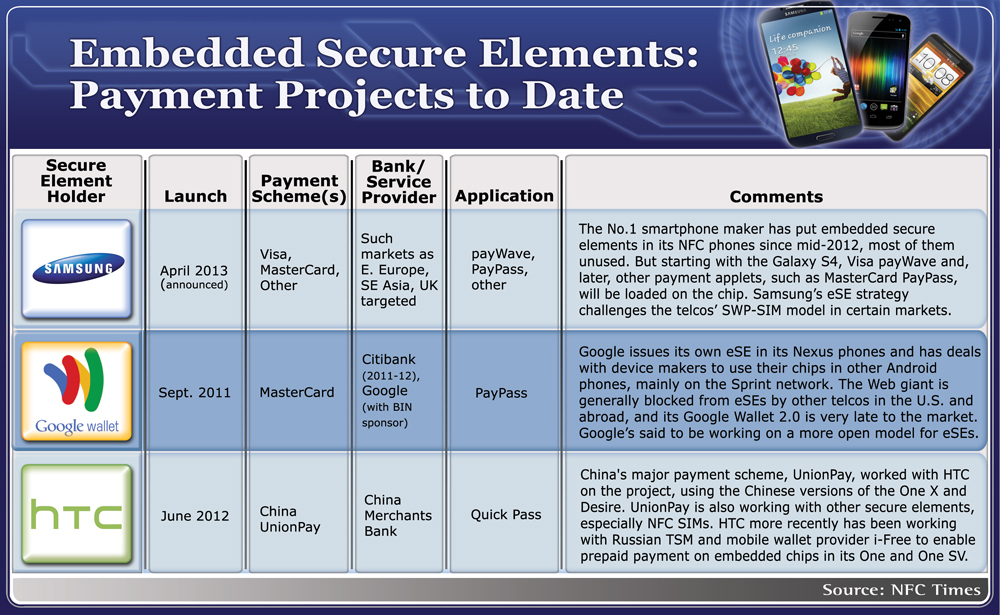 Samsung, the world's largest smartphone maker, has been putting an embedded chip in just about every one of its NFC devices, which it started doing in mid-2012.
Besides Samsung, other major handset makers have a strategy to eventually use embedded chips or are developing one.
For example, Sony Mobile is including the chips in at least some of its NFC-enabled Android models and has plans to promote them later this year, sources said, though at least one source believes Sony will hold back.
Research In Motion, now called BlackBerry, included an embedded chip in each of its NFC-enabled BlackBerrys starting in 2011 and has continued to do so in its new NFC BlackBerry 10 devices. And HTC has worked with service providers in China and Russia, making its embedded chips available to banks.
And smaller original equipment manufacturers could get in on the action, too, perhaps using technology from such smartphone chip makers as Qualcomm, Broadcom, MediaTek and Intel.
All of these processor chip suppliers are supporting NFC and all are working with embedded chip makers.
Intel has already hired a trusted service manager to manage the embedded chips in its reference designs. The other processor chip suppliers–which have a much larger market share in the mobile space than Intel–could eventually do the same.
Changing Dynamics
Samsung only recently made its embedded-chip strategy known, but as NFC Times reported in March of 2012, it had already formed a mobile-commerce unit by then.
Samsung put embedded chips in such popular models as the Galaxy S III and Galaxy Note II, though most are unused. That's in addition to the Galaxy S4. NFC Times has learned that Samsung has been negotiating with service providers in certain markets to put their applications on the chip.
The Samsung strategy has the potential to offer serious competition to mobile operators in particular markets, especially where telcos don't control the distribution channels for phones.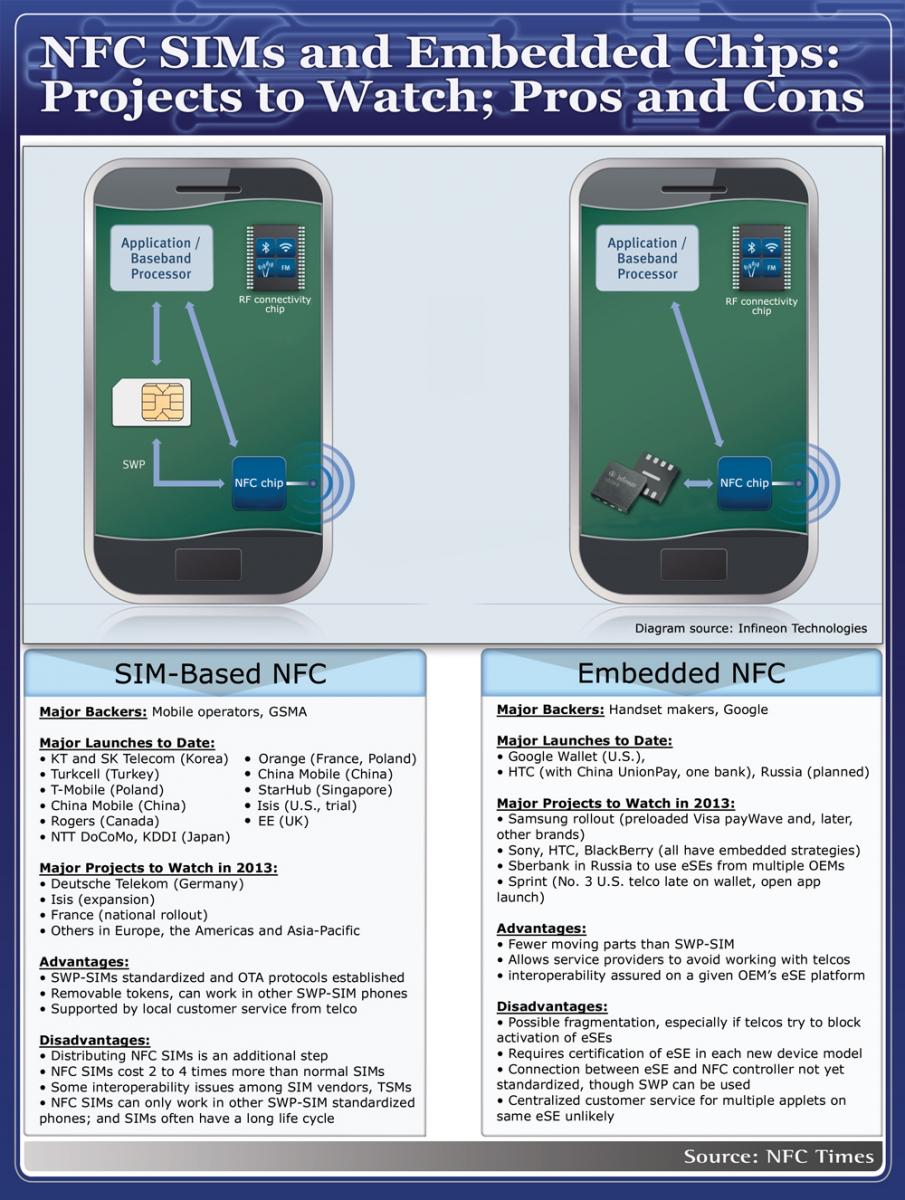 To provision their customers' payment card accounts on the chip, banks issuing Visa payWave could use Visa's new mobile provisioning service, which is a TSM hub supported by a platform from France-based Oberthur Technologies. Or banks could use their own TSMs, likely plugging into the Visa hub. MasterCard is expected to offer a similar hub service. The TSMs on the service provider side would work with Samsung's own key management TSM, Samsung SDS.
Samsung is using a large embedded chip in its Galaxy S4 and likely other NFC devices–one packing 1.2 megabytes of memory and supporting the GlobalPlatform 2.2 standard. The chip, from STMicroelectronics, uses an Oberthur operating system, which leaves at least 700 kilobytes available for applications.
The GlobalPlatform 2.2 standard would enable service providers to more easily manage their applets through their TSMs on separate secure domains created on the chip. It would be technically possible to pack a PayPass or other applet on the secure chip alongside payWave.
Whether a preloaded payWave applet gets personalized with an actual Visa payment account—or the embedded chip gets activated at all–will depend on the market. In countries where operators heavily subsidize phones and are pushing the SIM as the secure element for their NFC rollouts, it seems unlikely Samsung would challenge them with its embedded chip. It hasn't done so in the past with its embedded chips in the Galaxy S III and Galaxy Note II.
Likely Targets: Eastern Europe, SE Asia, UK, Spain
But among likely targets for Samsung, along with the payment schemes, are several countries in Eastern Europe and Southeast Asia, along with such Western and Central European countries as the UK, Spain, Italy and the Czech Republic. Such Asia-Pacific markets as Singapore, Australia and Hong Kong are also targets.
In Hong Kong, the interbank network Jetco is setting up a TSM hub or aggregation service for its more than 30 bank members and is also interested in an NFC bridge technology with an embedded chip, sources said.
Visa Europe, in particular, is targeting the UK, Spain, Turkey and the Czech Republic, where a substantial percentage of phones are sold on the open market, and there is a significant penetration of contactless point-of-sale terminals, a Visa Europe representative told NFC Times. Italy, where few phones are subsidized and more contactless POS terminals will roll out this year, is another promising market.
Most NFC phones shipped in 2013 will support multiple secure elements, almost always an embedded chip, along with a single-wire protocol connection to the SIM slot, enabling telcos to issue NFC SIMs for the phones.
"Typically only one (secure element) will be used," said John Devlin, senior practice director at ABI Research.
In revised figures, he projects that 70% of NFC phones shipped in 2013 will pack embedded chips.
Smart card industry trade association Eurosmart estimated that vendors shipped 150 million NFC secure elements in 2012, with only about 20% of them NFC SIMs. Nearly all the rest were embedded secure elements, since there were few microSD cards shipped as secure elements for NFC phones.
Eurosmart forecasts secure element shipments will grow substantially in 2013, by 67% to 250 million units. As in 2012, most will be embedded chips.
Treading Carefully with Telcos–About to Change?
Few handset makers will talk about their plans for the embedded chips, not wanting to alienate mobile operators, which handset makers depend on to buy a large portion of their devices.
Even Samsung had treaded carefully when it came to trying to sell space on its embedded chips.
It remains to be seen just how much Samsung plans to challenge telcos and their SIM-centric NFC plans, given the growing popularity of its devices. If it sees itself as wielding similar clout as Apple, it might decide to take on telcos in more markets.
Still, most observers believe Samsung will continue to lay off operators in heavily subsidized phone markets.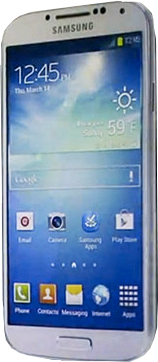 And Samsung executives at the Mobile World Congress in February and more recently around the Mobile Asia Expo, gave renewed assurances in response to questions from Anne Bouverot, director general of the GSMA mobile operator trade group, promising that it would continue to work with operators and support SIM-based NFC, the GSMA told NFC Times. Visa had announced the partnership to use Samsung embedded chips at the Mobile World Congress.
"The message continues to be that they will support operators that want to deploy NFC, in particular, SIM-based NFC," Bouverot told NFC Times. "And I see them doing that wherever operators are requesting that. I don't think there has been a change in the position of Samsung there."
Furthermore, Samsung said in its announcement of the Galaxy S4 that, like banks, mobile operators could also use the embedded chip.
Major mobile operators are unlikely to go along with the idea of using the embedded chip in the phones, since they have long-standing plans for using their SIMs to store secure applications. A source at France Telecom-Orange told NFC Times the telco has discussed deactivating the chip on the Samsung phones it sells itself if Samsung refuses to follow requests by Orange to do so.
The embedded chips could enable banks, enterprises and other service providers to roll out payment or other secure applications on NFC phones and to bypass the operators and their SIMs in certain markets.
The clout of operators is such that Microsoft declined to support an embedded secure element in the present version of its NFC-enabled Windows Phone 8 operating system, so none of the phones running the OS, such as the Nokia Lumia 920, 820, 925 and recently unveiled Lumia 1020, or the Samsung Ativ S, carry an embedded chip–they only support SIMs as secure elements. Microsoft, at least for now, wants to avoid any hint of conflict with the SIM-based NFC business models of mobile operators. It needs the telcos to buy phones with its new platform.
Smaller device makers, such as Acer, decline to put embedded chips in their Android phones, such as the new Liquid E1. An Acer representative told NFC Times the embedded chip doesn't increase sales, telcos won't pay for it, and the device maker doesn't have the economies of scale of a Samsung to pay the $1 to $1.50 extra for the embedded chip that it might not use.
Google Still Interested in Embedded
The biggest use for embedded chips so far is by Google to anchor its Google Wallet in the U.S. Google said in February there were 20 Android phones available to support the wallet, some of them from Samsung.
The Google Wallet-Android phones mainly are distributed by U.S. operator Sprint. But Sprint has its own wallet plans. Sources have told NFC Times that Sprint intends to control the embedded chips in the NFC phones the telco sells and allow service providers, including Google, to use the chips, probably for a rental fee. Sprint plans its own wallet, as well, called Touch, said sources, though launch plans are delayed.
Google's planned 2.0 version of its wallet has also been much delayed and the Web giant is believed to be formulating a new wallet strategy. The company in May confirmed that wallet chief Osama Bedier had left. Google has only been able to introduce the wallet in the U.S., and reassigned its wallet staff in other regions and many of its U.S. staffers to other projects.
In the present version of the wallet, Google Wallet 1.5, introduced last August, the company has been putting a prepaid payment application supporting MasterCard PayPass on the embedded chips in NFC phones supporting the wallet. This has enabled users to load their favorite credit and debit cards onto Google's servers to fund the NFC transactions conducted through the embedded chip.
Visa and some other major payments players have opposed the model, fearing it erodes their brands, sources have told NFC Times. That may have contributed to the delay in version 2.0 of the wallet, which had expected to feature a Google Wallet Card for purchases, also funded by other cloud-based credit and debit cards.
But Google appears to be planning to continue to support an embedded chip for future iterations of its wallet or other mobile-commerce efforts and earlier this year asked vendors for support for the GlobalPlatform 2.2 standard for the chips, sources said. There were recent reports that Google left out Google Wallet support from the second-generation of the Nexus 7 tablet, however.
Support by Google for the GP 2.2 standard could indicate Google wants to enable more services, created by more third-party developers. These applications could be managed independently of one another, using the GlobalPlatform standard.
Samsung and other Android phone makers have dealt with Google for the latter to anchor its wallet to the embedded chip in such phones as the Galaxy S III.
In the Galaxy S4, Google could potentially reserve one or more secure domains in the chip, but it remains to be seen what deal Google strikes with Samsung for use of the chip.
Elsewhere, there are only scattered uses for the embedded chip so far. For example, in China, HTC and China Merchants Bank in September announced the launch of a mobile-payment service that puts a contactless debit application on an embedded secure chip in HTC Android phones.
The application supports Quick Pass, which is payment network China UnionPay's version of Visa payWave and MasterCard PayPass. But the bank is also working with Chinese mobile operators to put the application on their NFC SIMs.
More recently, HTC has been working with Russian TSM and mobile-wallet provider i-Free to enable a prepaid application issued by Tinkoff Credit Systems on its One and One SV Android models.
Russia, where virtually all phones are sold on the open market, is seen as a promising market for embedded secure elements used for payment and is believed to be one of the markets Samsung Electronics is targeting with the embedded secure elements in its NFC phones, including the Galaxy S4. Samsung is working with both Visa and MasterCard to roll out payment on the embedded chips in its phones in certain markets globally.
BlackBerry Likely to Focus on ID
And RIM, now called BlackBerry, is planning to enable corporate enterprise applications on its embedded chips, such as contactless badges that enable employees to tap their BlackBerrys to enter buildings. It has a development deal with access control vendor HID Global.
BlackBerry is also involved in a trial launched in December of Ticket Restaurant meal vouchers in Milan, Italy, with France-based prepaid employee benefits supplier Edenred, formerly known as Accor Services, putting employee ID numbers and service rules on an embedded chip in its BlackBerry Curve 9380 used for the trial.
In March, BlackBerry enabled a domestic debit application, Interac Flash, in its home base of Canada, to run on the embedded chip in one of its BlackBerry phones for a demonstration with the Interact debit scheme and Royal Bank of Canada. But it's not clear if BlackBerry plans to market the chip for payment, which could challenge the plan of telcos in Canada and other markets.
Some handset makers are playing it safe by putting embedded chips in their NFC phones, said Mark Hung, wireless research vice president for U.S.-based research and consulting firm Gartner, told NFC Times.
Stacked with the NFC controller, the embedded secure element doesn't take up that much more space in the phone and the extra chip–which is a tamper-resistant smart card chip–and can be had for as little as $1.25, said Hung.
"It's just safer to put it in first than to add it later," he said.
Major Smart Card Chip Makers Offer eSEs
Such smart card chip suppliers as NXP Semiconductors, Infineon Technologies, STMicroelectronics, Inside Secure and, soon, Samsung Semiconductor all offer embedded chips, and memory sizes are getting larger, which could support more applications. (See table). All but Infineon also have NFC controller chips, as well.
NXP Semiconductors in September revealed that 65% of the PN544 NFC chips it shipped in 2012 came stacked with one of its SmartMX secure elements. NXP later disclosed it had shipped 125 million NFC chips in 2012 and until late last year, owned the entire Android phone base for NFC.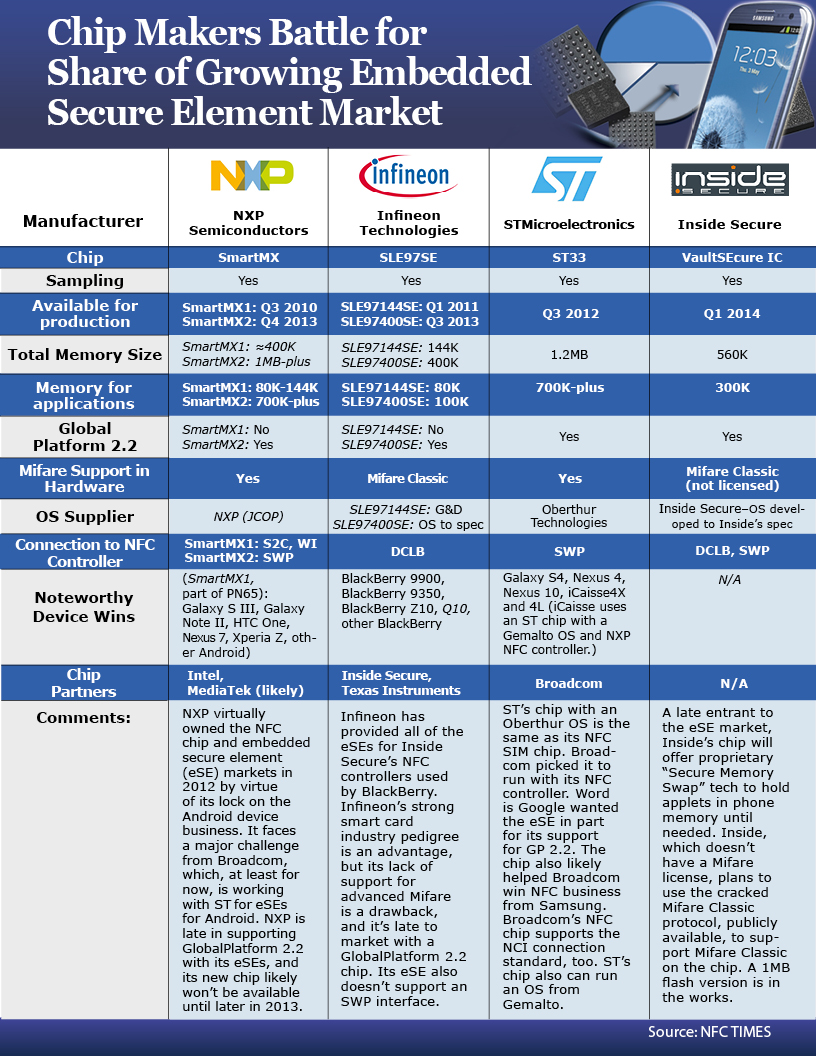 NXP estimated there were about 150 million NFC chips shipped all of last year, meaning there were roughly 100 million NFC phones with embedded secure elements in 2012.
When asked if they expected the percentage of NFC phones with embedded secure elements to remain steady this year, most of the chip makers said they expect to see little change.
In addition to NFC payment and ID or physical access control applications, chip makers believe embedded secure elements could support remote payments from smartphones.
These so-called cloud-based payments could be secured by the credentials of the consumer on the chip. MasterCard Worldwide and Dutch Bank ING launched a trial in October putting a PayPass application onto a secure element–in this case, an NFC SIM–to allow for both proximity and remote payment. But the secure element could also be an embedded chip, and it could make any cloud-based payment a card-present transaction, which would lower fees for merchants.
Service providers, such as banks, putting a payment application on the chip would want to require power to the phone for additional security, such as PIN entry.
But some service providers, such as metro operators running a transit ticket on the chip or an airline with a boarding pass, would probably want the phone to be able to work in power-off mode, when necessary. That way, users could get out of the gate if their phone runs out of battery, or if they don't want to turn on the phone in the airport.
In that case, the embedded chip would need to support a single-wire protocol connection to the NFC controller chip, similar to the connection between a standard NFC SIM, say experts. Some chip makers support the SWP connection, but others don't. (See table).
Further Fragmentation Likely
While Samsung enjoys a growing market share, service providers that put their applications onto the embedded chips in the Samsung phones might not be able to reach users with smartphones from other manufacturers in a given market.
Moreover, telcos, which are setting up joint ventures in some countries to try to cover the lion's share of subscribers in a given market, could also try to block the embedded chip on the phones they sell, like Verizon Wireless, and perhaps other telcos in the Isis joint venture, have effectively done in the U.S. with Google Wallet.
And even if telcos didn't block the embedded chips, if they are using the phones with their NFC SIM cards, the same phones likely wouldn't be able to be used with the embedded chips.
While that's theoretically possible now to have two active secure elements in the same NFC phone, in current implementations, the NFC chip would not be able to route the communication from the point-of-sale or other terminal to the correct secure element storing the application the consumer wants to use.
As commercial NFC services get rolling this year, embedded chips could compete with NFC SIM cards in many markets.
Much depends on which markets Samsung chooses to promote its embedded chips to banks. If it challenges telcos even in markets that subsidize its phones, the prospects for fragmentation will be high. NT
print $links ?>