Samsung Announces Two NFC-Optional Smartphones Supporting Bada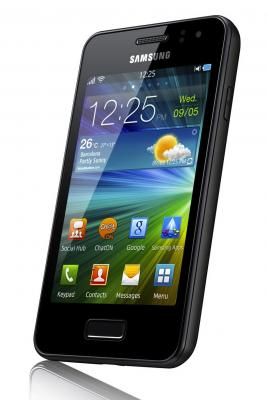 Samsung Electronics today announced two smartphones running its bada 2.0 operating system that support NFC as an optional feature.

The Samsung Wave M and Wave Y will be available in NFC versions, presumably if mobile operators order it that way. Samsung announced the phones today along with its new flagship bada phone, the Wave 3.
The two new bada phones will follow Samsung's first NFC phone running on its bada operating system, the Wave 578, which France-based mobile operator France Telecom-Orange introduced this summer. Some other telcos are working on the model, preparing it for launch, NFC Times has learned.
Like Samsung's popular Android-based phone, the Galaxy S II, the handset maker is declining to make NFC a default feature in the bada phones, instead apparently waiting for telcos to order it with the NFC chip and antenna inside. While the Galaxy S II began shipping in the spring, most of the phones, except in South Korea, do not yet support NFC.
Samsung recently announced the launch of bada version 2.0, which supports NFC, though the only reported NFC application-programming interface available at present is for tag reading. But Samsung, in its announcement today, indicated those bada 2.0 phones supporting NFC could also support mobile payment, so NFC in card emulation mode is expected to be added to bada.
Bada 2.0 also supports Wi-Fi Direct, which enables phones and other devices to connect directly, not having to go through a full WiFi hotspot. The Wave M and Wave Y will both support this technology, and it might be possible to use NFC's tag-reading function to make the connection between devices even faster.
Samsung is emphasizing social-networking apps that run on the phones, though none specifically using the optional NFC technology, at least for now. The Wave Y is expected to be an entry-level smartphone.
Samsung has yet to announce availability or pricing for the new bada phones, though that is expected this week. The South Korea-based phone maker is planning to put the devices on display at the IFA 2011 consumer electronics show in Berlin, which starts Friday.
print $links ?>