Isis Announces Plans for National NFC Rollout for This Year
NFC Times is Expanding Its Coverage
This story is a free sample of new premium content from NFC Times, the most authoritative source of news and analysis in the industry.
To view this sample story, click here:
Or download it as part of a free sample of the world's first global PDF newsletter devoted to the business of NFC and related topics:
NFC Times: The Intelligence Report
Become a subscriber to NFC Times to receive future issues of the newsletter and exclusive online news and analysis: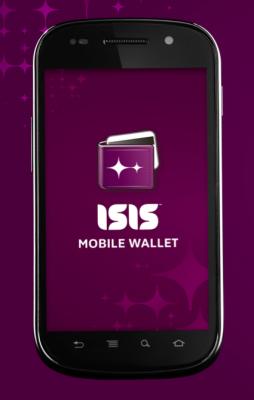 The Isis joint venture has announced its long-anticipated U.S. national rollout, which is to begin later this year, with the JV and its member mobile carriers–Verizon Wireless, AT&T Mobility and T-Mobile USA–deeming the NFC ecosystem and their own Isis mobile-commerce platform ready for a large-scale expansion.
Isis today said its Isis Mobile Wallet will go live in cities across the country before the end of the year, and told NFC Times it would add more bank issuers and more major merchants to the platform.
In addition, the three Isis telcos will continue to ship millions of NFC phones to their shops each month–there are already 20 million shipped to date. They are also ordering cases for the iPhone, which is expected to include the iPhone 5. The iPhone cases, to be introduced later this year, come with a built-in antenna and NFC chip. Isis added that it would also introduce NFC-enabled phones supporting Windows Phone and BlackBerry 10. There have been about 35 NFC phone models offered to date across all three operators, all of them Android-based.
Besides NFC phones, the Isis carriers are ordering NFC SIM cards for national distribution or plan to do so soon.
NFC Times first reported the national launch plans in May, citing sources who said Isis and one or more of the telcos had already made the decision to go nationwide this year, and it was only a question of when, not if they would launch.
The national commercial launch will follow the two-city trial Isis held the past nine months in Salt Lake City, Utah, and Austin, Texas. While consumer take-up and merchant adoption is considered to have been lackluster in the two cities, Isis contends the results were encouraging.
That includes "active" Isis Mobile Wallet users, who tap more than 10 times per month and two-thirds of active users opting in to receive offers and messages from brands and following, on average, seven brands.
Isis declined to release figures of the number of active users or transaction data, however.
"We're happy with where we are with that metric and the fact that the active wallet (users) are engaging in mobile commerce; they're following merchants and getting offers," Jaymee Johnson, head of marketing at Isis, told NFC Times. "In terms of what the consumer stance is, certainly the more places that you can use it, all of those metrics will increase."
Challenges Ahead
But he acknowledged the multiple challenges that lie ahead, including gaining more merchant acceptance and building consumer awareness and adoption on a national scale.
"I mean, what we are trying to do, to be clear, is really hard. It is not easy," he said. "But at the end of the day, you can have the best wallet experience that we could ever design, and if I can't use it anyplace, it's of limited value, so I would say that trying to drive contactless acceptance is going to be one of the things that we always track and always push."
Isis cited figures from U.S.-based research and consulting firm Aite Group, which forecasts there will be 1.3 million locations in the U.S. with "contactless-ready" point-of-sale terminals by the end of the year, though it's not clear if all of these would be activated by then. More contactless terminals are expected to come online over the next few years in the U.S. as part of more secure EMV terminals merchants will be installing.
The Isis wallet, at present, supports applications issued by JPMorgan Chase, Capital One and American Express, along with a prepaid Isis Cash application. The payment applets, stored on SIMs issued by the telcos, support either Visa payWave, MasterCard PayPass or ExpressPay from American Express.
Isis, declined to name any of the merchants planning to support its wallet for the national rollout, except for restaurant and specialty drink chain Jamba Juice and vending machine operator Coca-Cola North America, which both claim the Isis wallet has increased customer counts in Salt Lake City and Austin during the pilot. Jamba Juice has nearly 800 outlets in the U.S.
Still, Isis faces major challenges as it tries to recruit national retail chains to support its mobile-commerce platform, which is designed to enable merchants to accept coupons, loyalty and offers. Isis hopes to earn revenue from merchant and consumer brands by enabling targeted promotions through its platform. That's in addition to SIM-rental fees from banks and possibly other fees.
Competing Against MCX
Among the challenges is a competing mobile-commerce and wallet platform being built by the MCX consortium, made up of more than 30 large chains, including Wal-Mart, Target and Best Buy.
MCX, short for Merchant Customer Exchange, whose list of merchants also includes large U.S. convenience store chains, gasoline stations and clothing retailers, has said it will launch its mobile-wallet platform with bar codes and cloud-based technologies to start off with, not NFC, though it has not said when. It has said it might support NFC later.
The merchant group may be requiring its members to sign an exclusivity clause preventing them from participating in other wallets, such as Isis or Google Wallet, for a period of time. And some of the group's leaders have said in the past they don't want to share data with other wallet or mobile-commerce platform providers.
Isis' Johnson, however, said he doesn't believe Isis has lost any prospective merchants' partner to MCX and contends the merchant group is mainly interested in lowering transaction fees.
"So far, our observation is MCX isn't about Isis," he said. "On some level, it's not really about mobile; it's about a view by merchants sort of against the current payments ecosystem. MCX is another player, and at the early stage, where different alternatives–MCX, Isis, others–are emerging and trying to be viable and establish themselves, the presence of another player in the market just gives those who are inclined to wait justification to do so."
Merchants will buy into Isis over MCX for its "open platform" and "scale," he contends. "Why (would) they work with MCX? I don't know; I would speculate that it has a lot to do with interchange and other related issues."
Pilot Merchant: Consumer Awareness Low
Isis said that over the course of the nine-month trial, acceptance terminals grew from 1,000 to 4,000 in the pilot cities, though Johnson couldn't say how many of these supported SmartTap software, which would enable users to pay, and redeem coupons, reward or offers in a single tap of their NFC phones. Most support only contactless payment.
An informal survey conducted by NFC Times of mainly small merchants participating in the trial in Salt Lake City and Austin, between May to July, showed merchants generally generated a very small percentage of their transactions from Isis Mobile Wallet users. In some cases, merchants would see only a few users tapping per week.
"I just don't think it's well known, and I think the technology in America is not quite accepted yet," said Shelly, manager of the Wild About Music store in Austin. "I understand we need to have it in place before it can get there, which is why we signed up to do it. (Also) I think the fact that the iPhone 5 never put the chip in, so we lost that whole market that was expected."
Isis plans to introduce its second-generation mobile-wallet software in the pilot cities before the national launch, Johnson confirmed to NFC Times. As NFC Times reported earlier, the new user interface, developed by Austin-based app developer Mutual Mobile, aims for a smoother performance, quicker response times and sleeker and cleaner design, sources said.
But gaining widespread adoption wasn't the goal of the pilot, said Johnson, confirming that Isis has pulled back on promotion during the past few months. The purpose of the trial was more to give the whole system a "shakedown," he said.
"The first point is, the system works, the technology works, it scales," he told NFC Times. "We would be the first to acknowledge that this is the start of something, it's not the end. It gets better from here on out. But we have enough to say the market's ready; we're ready to go."
Perhaps Isis' biggest challenge will be to build consumer awareness for the mobile wallet in a country where mobile payment has yet to take off and where a number of technologies compete for attention. Johnson would not be drawn on the size of Isis' planned advertising budget, though said promotions would begin in the fall by Isis and partners.
"We are launching on a national basis; that doesn't mean that we buy every single advertisement on American Idol," he said, referring to a popular reality singing competition show in the U.S. "The payment-driving efforts and the demand-driving efforts will be national scale. You'll be able to walk into a store from New York to LA to Seattle to Miami and get Isis."
Kiona Smith-Strickland contributed to this report.
print $links ?>