Google Expands NFC Tag Service to a Third City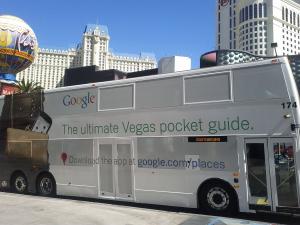 Google has expanded its NFC-enabled ratings and recommendations service to a third U.S. city, Las Vegas, where it has begun to market its Google Places and Hotpot service.
Google is distributing NFC-enabled "Recommended on Google" window decals to restaurants and other businesses, which lets users carrying its Nexus S Android smartphones or future compatible NFC-enabled phones to tap their devices on the decals to "instantly" get information about business, said the company in a blog post.
Google has also passed out the decals in Portland, Ore., and Austin, Texas, since introducing its first NFC phone in December, the Samsung-made Nexus S. Other NFC phones, such as Samsung's Galaxy S II, are expected to support the service out of the box. The NFC version of the Galaxy S II is expected on the market by mid-year.
It's the first of many interactive services Google has planned for NFC as it seeks to extend its huge mobile advertising and marketing presence from the Web to physical merchants.
Google is building an mobile wallet for Android NFC phones that could store a variety of payment, couponing, social networking and other apps.
The NFC-enabled Hotpot ratings and recommendations service is available on mobile phones with the Google Places app, which Google is promoting in Las Vegas as the "ultimate Vegas pocket guide." As part of its push into the city, Google has emblazoned that slogan on a tour bus and Friday began passing out 10,000 free single-ride tickets on the Las Vegas Monorail.
The app is available on non-NFC enabled phones, including the iPhone, and, of course, there is also a Web version.
print $links ?>