Google Announces Nexus S Smartphone Packing NFC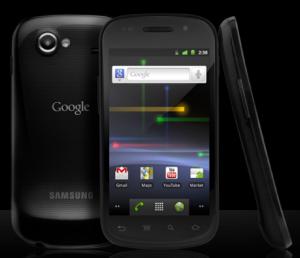 Google has announced the launch of one of the world's first smartphones packing NFC, the Nexus S, which supports the company's new Android operating system version, Gingerbread.

The launch of the phone, which will be available for consumers to buy directly Dec. 16 in the United States and Dec. 20 in the United Kingdom, confirms rumors circulating for the past three weeks, following Google CEO Eric Schmidt's disclosure that the next version of Android, 2.3, also known as Gingerbread, would support NFC. Schmidt also demonstrated the technology's tag-reading capability with an unbranded phone.
The Nexus S, which Google co-developed with Samsung Electronics, carries an NFC chip and software from NXP Semiconductors, which eventually could support all three modes of NFC–card emulation, tag-reading and peer-to-peer communications.
But while Google is trumpeting the NFC functionality the phone brings in its press material and a promotional video, it is not emphasizing payment, or even mentioning it, as Schmidt did during his talk at the Web 2.0 Summit in San Francisco Nov. 15. That might come later, since Google is said to be working on NFC-based payment itself.
Update: But the software development kit for Android 2.3 apparently does not yet support either card-emulation or peer-to-peer communication, meaning app developers cannot yet develop conventional contactless payment or P2P services for the phone, NFC Times has learned. That is likely to change, however. End Update.
NFC is among the top features Google is touting with the new phone, along with the Nexus S' multi-tasking capability, 4-inch contoured display, fast-processing power and the ability to act as a Wi-Fi hotspot. Google hopes NFC will enable developers to add compelling new features to the apps they develop for the Android app store–which already has about 100,000 apps. Google has even preloaded a "Tags App" in the phone, which enables users to store information they receive from tags they've tapped. The phone will not apparently have the P2P mode activated, at least not at first.
"I think in Google's model, there is a huge opportunity to allow these applications to use NFC to see what they can do for the consumer, whether it will be a real commercial model, with ads, or become fun applications," Jeff Miles, director of mobile transactions worldwide for NXP, told NFC Times. "If you look at all the Android applications that a consumer can get today, a huge amount of those applications could use NFC as an extension–games, information, brands, location-based. Think of way applications use GPS and Bluetooth. NFC could be a step beyond what 2-D bar codes have become."
Eric Chu, Android mobile platforms program manager at Google, said in a statement about the Nexus S' NFC functionality that the company is "always looking for creative ways to enhance and extend the utilities of mobile devices with new technologies." He noted the new phone and new Android 2.3 operating system was another example of Google's "openness."
That openness, however, is unlikely to appeal to mobile operators, which order most of the phones in the United States and in many other markets. Although, unlike Google's non-NFC-enabled predecessor to the Nexus S, the Nexus One, which Google sold in its Web store, U.S. consumers will be able to buy the Nexus S with a two-year contract from mobile operator T-Mobile USA for a discounted US$199. Unlocked, the phone will cost $529. Google later closed its Web store selling the Nexus One.
It is unclear who would control the keys to the embedded secure chip tied to the NFC controller in the Nexus S. The phone will be available through consumer electronics store Best Buy in the United States and Carphone Warehouse in the United Kingdom. This affects which party controls the payment or other secure applications stored on the chip. Business agreements will likely determine control, with such parties as mobile operators, service providers and even Samsung and Google playing a role.
The new phone could eventually support secure applications. It carries NXP's PN65 NFC chip, which stacks the NFC controller with an embedded secure chip that could store such applications as payment and ticketing. The NFC controller and phone software also supports the standard single-wire protocol connection with SIM cards in the phone. That is the same feature in NXP's separate PN1544 NFC chip. So the Nexus S could potentially store secure applications on either the embedded chip or on the SIM, or both. The phone also supports the host-controller interface, or HCI, standard, adopted by the operator-controlled Smart Card Platform group of the European Telecommunications Standards Institute. The HCI might give telcos some say over which applications get downloaded to the embedded secure chip in the phone, through their SIM cards.
And there will be other NFC smartphones to choose from next year. NFC-enabled Android phones from other handset makers and other smartphones, including BlackBerry models from Research in Motion and Symbian devices from Nokia, are headed to market. Nokia already released an NFC-enabled C7 smartphone, which requires a software upgrade for the NFC functionality to work. NFC chip makers have predicted there will be about 50 million NFC phones shipped by the end of 2011. The Nexus S, could accelerate those shipments and also the work by app developers on NFC.
"This is the perfect test bed for developers," said Einar Rosenberg, CTO for NFC application-development company Narian Technologies. "Before, you had to get special phones or offer a phone to a test group to do pilots. But now you have a true NFC handset on the most popular phone OS on the planet next to Apple, and it's the freedom of not having to be limited by a bank or carrier. That will allow anyone from a 14-year-old kid to a big corporation like IBM to easily begin developing the next great apps."
Google also has adopted for Gingerbread NXP's Android software stack and application programming interface, or API, which resides on the handset and enables the NFC chip to communicate with the apps running on the phone and also plays a role with how applications function on the secure elements. But the API so far adopted by Google appears to offer developers the basis for few applications, and only those using tag-reading.
But Miles rejected the notion that the NXP stack would make it difficult for Android handset makers to use NFC chips from other suppliers. Android is open source, he noted. While the stack does support NXP's chips in firmware, Android handset makers and middleware developers can develop their products for Android 2.3 with other NFC chips, as well, he contends. Although, that would require some extra development work.
Google's backing of NFC, as demonstrated by the launch of the Nexus S, only adds to the momentum for the technology building from other developments, such as the announcement last month by major U.S. mobile carriers confirming their NFC-focused Isis joint venture and disclosure by Research in Motion co-CEO Jim Balsillie that RIM, too, is working on NFC for future BlackBerry models.
"It's (Nexus S) a huge endorsement from a major player that cannot be overlooked," Miles said.
print $links ?>