Google to Launch Its NFC Offers Service, Challenging Groupon
Google is officially launching its NFC-based Google Offers service today in Portland, Ore., with executives yesterday unveiling more details of what some are calling the search giant's planned "Groupon killer."

The service is the lynchpin of Google business case for its Google Wallet, which was announced last week, combining payment, offers and loyalty in a single tap from Google's Nexus S phone and later other NFC phones.
The Offers launch Wednesday in Portland will be followed by other rollouts in New York City and San Francisco this summer. Google is working with thousands of merchants alone in New York City, according to Stephanie Tilenius, vice president for commerce at Google. The search giant also plans to launch the wallet this summer in New York City, San Francisco and other cities.
Tilenius was the lead last Thursday when Google announced its wallet with partners Citigroup, MasterCard Worldwide, First Data and Sprint, along with several major retail chains.
She and Google's executive chairman and former CEO Eric Schmidt demonstrated Google Offers and other parts of the mobile-commerce service yesterday at the All Things Digital conference in Rancho Palos Verdes, Calif.
As part of the demo, Tilenius searched for a Google offer on a Macintosh laptop, finding one at a small mom-and-pop coffee shop, Floyd's, in Portland, that gives consumers $10 worth of drinks, pastries and treats for $3. She sent the offer to the Google Wallet on her Nexus S 4G phone, from which she would tap to pay at a contactless point-of-sale terminal at one of the two Floyd's outlets in the city. The coffee shop is a Google launch partner.
Similar to Groupon?
Google was unsuccessful late last year in purchasing deal-of-the-day couponing site Groupon, reportedly offering up to $6 billion.
When asked by one of the conference moderators if Offers is a Groupon clone, Tilenius agreed it was similar, but with important differences. There are no coupons to print and show to the merchant.
"It's similar, although you can save it to your wallet and tap and redeem," she said. "But I think this is unique in that we're combining offers and payments at the point of sale and making it really simple for consumers. It's all mobile."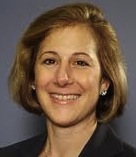 Tilenius also demonstrated additional types of wallet offers, tapping her Nexus S on a smart poster for clothing chain American Eagle. The tap yields a 20% discount on jeans, which she moves into the wallet and taps to redeem at the same time she pays for the jeans. She also showed a Subway sandwich chain loyalty card in the Google Wallet.
Users could find the coupons online and through offers that could be sent to their inboxes regularly, like Groupon and similar services. They could show the digital coupon on their phone screens to merchants, which don't have contactless terminals.
When asked, Tilenius confirmed Google is making its money from merchants on the offers. She said earlier that "geo-targeting and NFC" is going to help Google usher in a "new era of mobile commerce.
"We're not charging for payments, and we're not charging for the app," she said. "We're never going to charge. It's an open platform."
Chip Control
Google controls the embedded secure chip in the Nexus S, which will store payment applications and probably the offers, since they would be redeemed with a single tap along with the payment transaction. The first payment applications are a Citi-issued credit card account and a Google prepaid account, both of which support MasterCard's PayPass contactless technology. Users could fund the prepaid account with other credit cards and top it up for free, Google said.
Some observers believe Google could use the control of the embedded chip to keep competing wallets–such as those from the Isis joint venture or Visa Inc.–off the Nexus S and even other Android phones not directly built for Google. Google has stressed it is open to other issuing banks, payment networks, mobile carriers, handset manufacturers, POS makers and merchants.
Schmidt noted at the conference yesterday that the embedded chip would make the NFC payments more secure than those from magnetic-stripe cards in the United States, giving credit card companies a reason to support the rollout of more contactless terminals at retail outlets.
Google is widely believed to be subsidizing terminals for such large merchants as Subway, Macy's department stores, large retail pharmacy Walgreens and American Eagle, among other retailers it announced last week were joining the wallet initiative. Tilenius added that Google was "deploying terminals" to merchants, working with its POS terminal and reader partners, VeriFone, Ingenico, Hypercom and Vivotech.
But Schmidt indicated he expects banks or card networks to chip in for terminals at merchant outlets.
"It's in the credit card companies' interest to upgrade these terminals, because the fraud rate on this NFC chip is so much lower, so the system pays for itself, which is why we were able to get deals so much more quickly to populate our wallet," he said.
It's possible MasterCard Worldwide would also subsidize terminals as part of the Google launch, like it has in years past to promote the rollout of PayPass cards.
'Square Has (Only) a Device'
Tilenius shot down any comparison between the Google Wallet and the Square Inc. remote smartphone payment system, which offers small merchants a point-of-sale terminal attachment and processing system to collect card payments via their iPhones, iPads and other smartphones and tablets. She noted that the Google Wallet is more than just payments and uses standard POS terminals and contactless readers at merchant locations.
"We're actually combining use of the cloud and secure element," she said. "We're combining offers and payments at the point of sale. Square has a device. We're not actually distributing a new POS device."
Tilenius didn't address a suit filed last Thursday around the time of the wallet launch by her former employer, eBay and its PayPal unit. PayPal accuses Tilenius and Google's vice president of payments, Osama Bedier, also formerly of PayPal, of stealing trade secrets and poaching PayPal staffers.
She and Schmidt confirmed yesterday that the Google Wallet app and related services were available "initially" only on Android phones, but Tilenius said the wallet could one day be available for other smartphone platforms, adding that phones not supporting NFC could use an "NFC sticker that can be put on the back of the phone that works with the wallet."
It's unclear the type of sticker she is talking about, but it probably would not be able to communicate directly with the wallet software since NFC stickers that talk to phones via Bluetooth are not yet ready.
It's probably a passive sticker, though these have no direct link with the handset applications and work only in card-emulation mode, and, therefore, could not read NFC tags in smart posters.
Google partner First Data, a processor and trusted service manager, has a Go-Tag passive sticker that could be loaded with payment and loyalty applications and perhaps communicate with the phone wallet by a more circuitous route, through the payment network then the mobile network.
'Cheaper Than Groupon?'
But the passive stickers would not yield the type of user experience Google is after, and at present the only phone capable of running the wallet is the Nexus S 4G, which just hit the market last month, sold in connection with No. 3 U.S. mobile carrier, Sprint.
Schmidt said he expected many more phone makers to have NFC chips and the secure element in their phones.
But other NFC Android phones are arriving later than expected this year, so Google might have a plan to try to expand the rollout of phones, at least its Nexus S.
Overall, the deployment of the Nexus S, along with terminals and wallet services, is no doubt costing Google millions, as it attempts to move its lucrative Web advertising business to mobile phones using NFC and cloud-based apps. Schmidt earlier called this a "mega-scale opportunity."
When asked by a moderator yesterday if the Google Wallet rollout is "cheaper than buying Groupon," Schmidt quipped: "It depends what price Groupon can be purchased at."
print $links ?>