German Telcos Plan New Payment Scheme Using NFC Phones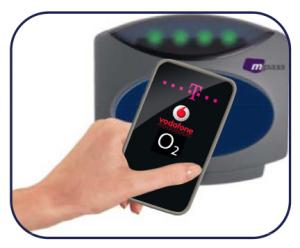 Three major German mobile operators plan to launch their own payment scheme, seeking to expand their small Internet payment service, mpass, to shops and restaurants using NFC phones, a source told NFC Times.
If they go through with the plan, the telcos, Deutsche Telekom, Vodafone Germany and Telefónica O2 Germany, would attempt to bypass German banks and established card networks, such as Visa and MasterCard, with a new retail payment brand. They would use their own banking or e-money license, said the source, who is involved in the project. Germany's fourth major telco, E-Plus, owned by Dutch telco group KPN, might join, as well.
As NFC Times reported last fall, Deutsche Telekom is rolling out an NFC-based Mobile Wallet program in Germany and three of its other major European markets, Poland, the Netherlands and the Czech Republic. The telco group announced the program earlier this week at the Mobile World Congress in Barcelona, and NFC Times reported that Deutsche Telekom would introduce NFC payment at the physical point of sale in Germany using mpass. It would work with banks in Poland and the Netherlands.
But NFC Times has since learned that Vodafone and Telefónica O2, which launched the mpass Internet payment service in early 2009, have been in talks with Deutsche Telekom to expand the service to the physical point of sale. Deutsche Telekom joined mpass last fall.
The group, while not apparently a joint venture–at least not yet–is similar in some ways to the Isis joint venture formed by three major U.S. telcos, Verizon, AT&T and T-Mobile USA, the latter telco part of the Deutsche Telekom group. The three U.S. telcos announced their Isis consortium in November, with plans to introduce their own payment brand at the point of sale, using NFC phones and also one or more bridge devices. The joint venture has partnered with Discover Financial Services for its retail acceptance network, and its first issuer is Barclaycard US, a small credit card issuer stateside.
Among other telcos planning to introduce their own payment services is Telefónica O2 UK, which is applying for an e-money license from British financial regulators. The mpass group or its individual operators are also expected to obtain an e-money license or license as a payment institution under separate European Union legislation called the Payment Services Directive. The EU e-money and payment services directives enable mobile operators and other nonbanks to enter the payments business and, European officials hope, level the payments playing field.
It's not yet clear which retail or payment industry partners the German telcos would work with. The operators generally declined or were unavailable for comment Friday and today, but an O2 Germany spokesman said the telco would, "communicate the next steps on mpass, especially regarding NFC, in the first half of this year."
Together, Vodafone Germany, Deutsche Telekom and O2 Germany had more than 87 million subscribers as of October 2010. Vodafone Germany is part of UK-based Vodafone Group and O2 Germany is a branch of Spain-based Telefónica and is a sister operator to O2 UK.
Deutsche Telekom also has an entrée into the payments industry, and perhaps the licenses it needs, with its acquisition of the remaining shares last March of Internet service provider Firstgate, known for its ClickandBuy brand. The telco said at the time that ClickandBuy had 13 million registered users and 16,000 retailers and business operations. Deutsche Telekom had owned about 20% of Firstgate.
"The area of payment systems is a major driver of growth for Deutsche Telekom," Thomas Kiessling, chief product and innovation officer for the telco, said in a statement in announcing the Mobile Wallet initiative last Tuesday. "After the acquisition of the Internet payment service company Firstgate with its ClickandBuy brand in 2010, Deutsche Telekom will successively introduce a whole portfolio of innovative and competitive payment solutions for customers and retailers starting in 2011." Deutsche Telekom also mentioned its participation in mpass in the announcement.
The telco said it plans to enable other services, such as transit and event ticketing, in the NFC-based mobile wallets, which it intends to launch in Germany and Poland in 2011 and the Netherlands and Czech Republic in 2012. In the Netherlands, Deutsche Telekom is working with a group that includes the country's three largest banks and three largest mobile operators. All of the secure applications for Deutsche Telekom mobile wallets would be stored on SIM cards. In Germany, Vodafone, Deutsche Telekom and O2 have cooperated on a SIM-based NFC trial involving transit ticketing, called Touch&Travel.
With mpass, mobile subscribers at present can shop on their PCs and phones and pay using the handsets. They enter their phone numbers and special mpass PIN codes on their computers. A recent feature enables consumers shopping on their smartphones to pay with one click. Mpass automatically recognizes the smartphone users from their phone numbers. They merely enter their mpass PIN codes. PC users receive an SMS to confirm their purchases. The money for the mpass purchases is directly debited from their preregistered bank accounts.
Deutsche Telekom joined mpass last November, bringing the number of preregistered users to a total of more than 20 million, which comprise the postpaid customers of the three telcos. Prepaid subscribers and those from E-Plus can also use mpass by registering.
The mpass telcos do not release figures, but acceptance of mpass by Web merchants and transactions volume appear to be small.
Signing up physical merchants would pose an even a bigger challenge for the telcos in launching any new payment scheme. It also remains to be seen the details of the payment applications the telcos will introduce–whether prepaid or debit, for example–and how they plan to encourage security-conscious consumers to pay with their phones rather than their bank cards.
But like mobile operators elsewhere, the German telcos see a revenue opportunity in the payments business, including earning transaction fees from merchants. They believe NFC phones will enable them to successfully take on the banks.
print $links ?>