German Telcos Plan to Launch Payment Trial with Stickers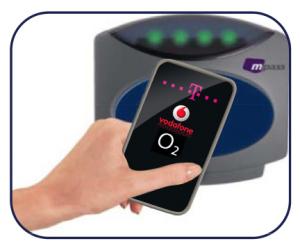 Three major German mobile operators plan to launch a trial of their own payment brand using contactless stickers in three cities before the end of the year, NFC Times has learned.

The operators, Deutsche Telekom, Vodafone D2 and Telefónica (O2) Germany, plan to launch the trial in Bonn, Düsseldorf and Munich, Jörg Heuer, Deutsche Telekom's project leader for field enabling technologies and exploration, told NFC Times. He leads Deutsche Telekom's R&D team building the telco's NFC mobile wallet.
The stickers will be branded with mpass, the Internet payment service that the three telcos operate. As NFC Times reported in February, the three operators have been in talks to introduce their own payment scheme, branded mpass, at the physical point of sale in Germany using NFC phones.
The passive stickers could be a first trial run of such a service. The German telcos have been planning the sticker trial since last year, targeting a 2011 launch date, as NFC Times reported last October.
The operators and their partners would have to install new terminals at merchant locations for the trial. Germany has few contactless point-of-sale terminals supporting any brand or application, including Visa payWave and MasterCard PayPass.
If they go through with the plan to roll out a new payment scheme, the German operators would attempt to bypass major German banks and established card networks, such as Visa and MasterCard. They would use their own banking or e-money license, a source, who is involved in the project, earlier told NFC Times.
The application could be included in an NFC mobile wallet that Deutsche Telekom plans to launch in Germany as early as this year, and wallets possibly planned by Vodafone Germany and Telefónica Germany.
It's not clear whether the telcos are in talks to form a joint venture to introduce payment, as U.S. mobile carriers AT&T, Verizon Wireless and T-Mobile USA did last year. T-Mobile USA is a unit of Deutsche Telekom, which AT&T is planning to acquire.
The U.S. telcos later abandoned plans to launch their own Isis-brand payment service, citing, among other reasons, the Durbin amendment of the Dodd-Frank financial reform act passed by the U.S. Congress. The amendment will roll back transaction fees merchants pay to payment issuers via acquirers on debit transactions.
Together, the three German operators have about 90 million subscribers. Vodafone D2 is part of UK-based Vodafone Group and O2 Germany is a branch of Spain-based Telefónica. O2 and Vodafone launched mpass in 2009 and Deutsche Telekom later joined.
Deutsche Telekom also has an entrée into the payments industry, and perhaps the licenses it needs, with its acquisition of the remaining shares last year of Internet service provider Firstgate, known for its ClickandBuy brand.
In announcing its NFC mobile wallet initiative in February, Thomas Kiessling, chief product and innovation officer, said the "area of payment systems is a major driver of growth for Deutsche Telekom."
The announcement said that Deutsche Telekom plans to "introduce a whole portfolio of innovative and competitive payment solutions for customers and retailers starting in 2011. Applications include paying over the Internet as well as remote and proximity mobile payment."
Deutsche Telekom plans to introduce the wallet to branch operators in Poland, the Netherlands and the Czech Republic, though there is no indication that the telco plans to introduce any payment services of its own in these countries.
print $links ?>