German Telcos Announce Plans for NFC Payment Joint Venture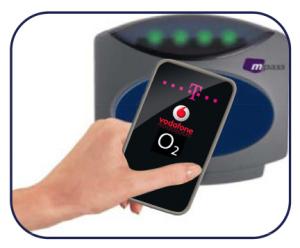 German mobile operators Telekom Deutschland, Vodafone Germany and Telefónica Germany today announced an agreement to form a joint venture to expand their mpass mobile payment service to the physical point of sale using NFC technology.

As NFC Times reported in February, the three operators have been in talks to introduce their own payment scheme, branded mpass, at the physical point of sale in Germany using NFC phones. The telcos have operated mpass as a small payment scheme enabling their subscribers to make Internet purchases.
They believe their combined 90 million subscribers will give them the reach necessary to establish their brand in physical stores, including signing up enough merchants to accept the brand.
Plans call for launching a prepaid mpass payment application in mobile wallets around mid-2012, using both NFC-enabled phones and passive stickers, a spokesman for Telekom Deutschland, or Deutsche Telekom, Germany's largest telco, told NFC Times.
U.S. telcos Verizon Wireless, AT&T and T-Mobile USA, which together have more than 200 million subscribers, formed a joint venture, Isis, last year, seeking to launch their own payment scheme, before later abandoning the idea and agreeing to support established U.S. payment brands, including Visa Inc. and MasterCard Worldwide. But the German telcos are apparently undeterred by that.
"It's a priority for us to have mpass in our mobile wallet," he said. "We will use this brand for mobile payment. We are absolutely sure we will have a strong brand."
The German telcos would bypass German banks, working with established prepaid payment service providers, such as easycash GmbH. The telcos might later introduce higher-value debit applications, said the spokesman.
The operators expect that their planned mobile wallets would accommodate other payment applications, including those from banks and supporting MasterCard and its PayPass contactless brand or Visa payWave. In NFC phones, when available, all of the secure applications would be stored on SIM cards the telcos issue, according to the plan.
But the telcos are still working out details of the contactless services they will offer and how they will offer them. They plan to have the JV formed by the end of the year. A press release today said the new company would focus on deployment of the payment services, including marketing and new product development.
"Aided by new technologies, such as Near Field Communication, users will soon be able to make simple, secure and wireless payments in high-street shops, too," said the telcos.
"Payment by mobile phone will increasingly feature in our daily lives," said Michiel van Eldik, managing director of wholesale and partner management for Telefónica Germany, in a statement. "It has actually been possible for several years. And the first NFC smartphones with full functionality for all aspects of credit and bonus cards are already in the stores. I think that even as early as next year, consumers will be leaving their credit cards at home and paying by mobile phone instead."
Under European Union regulations, telcos and other nonbanks can offer payment services under such legislation as the E-Money and Payment Services directives. Telefónica (O2) Germany's sister operator, Telefónica (O2) UK, is applying for an e-money license.
The spokesman for Telekom Deutschland, which is part of the Deutsche Telekom group, confirmed that the telco along with Vodafone and Telefónica plan to launch a trial by the end of the year in their respective headquarter cities, Bonn, Düsseldorf and Munich, using passive stickers. As NFC Times reported earlier, the operators and their partners would have to install new terminals at merchant locations for the trial, which would probably be held in October or November.
The spokesman said the telcos expect to use passive stickers to supplement the availability of NFC phones for years to come.
"There are millions of phones in the market, and (for) a lot of people, we will see if they buy an NFC phone or, say, 'I only need a sticker,' " he said. "I think for the next two or three or four years, (there will be) a lot of stickers."
Germany has few contactless point-of-sale terminals supporting any brand or application, including Visa payWave and MasterCard PayPass, though that is starting to change.
Signing up enough merchants to accept mpass will be a major challenge for the telcos, as they try to get the mpass payment scheme off the ground at the physical point of sale. The Isis telcos had trouble enticing big merchants to accept their planned Isis brand. At the same time, lower debit interchange fees mandated by the U.S. Congress made the business case for launching payment less appealing.
Update: Martin Schurig, who has been senior product manager at Telefónica Germany in charge of the mpass Internet payment service, told NFC Times that the telcos have been discussing merchant recruitment. He declined to disclose details of the discussions, however.
"We do have some ideas for how we can ease this process for merchants," he said. End update.
The German telcos would probably have to lower transaction fees to get a critical mass of merchants, said veteran German smart card industry executive and consultant Lutz Martiny.
"Forming mPass GmbH reduces at least the number of network providers and fosters probably that all three providers will come up with a standard user interface on their NFC phones," he told NFC Times. "This would definitely be attractive to merchants, however, mPass GmbH has to be competitive with its transaction fees."
Vodafone Germany, which is part of UK-based Vodafone Group, and Telefónica Germany, a branch of Spain-based Telefónica, launched mpass for e-commerce transactions in 2009, and Telekom Deutschland later joined. Subscribers can use it to shop on their PCs and smartphones, confirming purchases via SMS. The telcos do not release transaction figures, but they are believed to be small.
But the telcos apparently are convinced NFC phones and stickers, along with their large base of subscribers, will help them overcome the barriers to launching their own payment brand.
"Within the mpass partnership, we are not only applying the specific benefits of mobile phones in the payment market, but, more importantly, we are bundling our customer reach with that of our partners," Christian Illek, director of marketing at Deutsche Telekom, said in a statement.
The Telekom Deutschland spokesman confirmed that the telco would delay the launch of its NFC-based mobile wallet until 2012, as it waits for more NFC phones and makes other preparations. The launch by Deutsche Telekom's T-Mobile Poland branch is also delayed. The telco had announced in February plans to commercially launch NFC mobile wallets in both countries by the end of 2011, with further plans for launches in the Netherlands and the Czech Republic in 2012.
print $links ?>