Nokia to Introduce First NFC-Enabled Windows Phone in Q3, Ahead of Most Predictions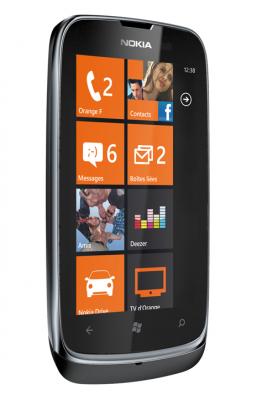 MONACO – Nokia, in a surprise move, announced it will introduce its first NFC-enabled Windows Phone device in the third quarter, offering an NFC version of its low-cost Lumia 610.
The phone will be sold first by France Telecom-Orange and will support payment on SIM cards, along with other NFC features, such as tag reading. In an announcement today at the WIMA 2012 conference in Monaco, Nokia and Orange said both MasterCard Worldwide and Visa had certified the device to run their respective contactless applications.
Nokia had been expected to wait until Microsoft releases the next version of its mobile operating system, Windows Phone 8, which will have full NFC functionality built-in.
But Nokia is making a special upgrade to Windows Phone version 7.5 for the Lumia 610 to support NFC in order to introduce its first NFC handset on the platform. The phone maker announced the Lumia 610 at the Mobile World Congress in Barcelona as a non-NFC phone.
"There's a great interest in our operator community for the NFC-capable handsets," Ilari Nurmi, vice president of marketing, smart devices, told NFC Times. "We wanted to bring the NFC capability into a mass-market smartphone (as soon as possible)."
He said Orange is to be the first customer for the NFC-enabled Lumia, but the handset would be available to other operators subsequently.
At the same time it was announcing its first NFC-enabled Windows Phone today, Nokia also announced a profit warning for the first quarter, disclosing a -3% operating margin for its devices and services unit. It said the losses would continue in the second quarter.
But it pointed to "early momentum" for Lumia devices, with sales of 2 million units during the first quarter. Nokia said sales of Windows Phone devices were up sequentially for each month since launching the first devices on the platform in November 2011. The handset maker said it planned to increase investment in Windows Phone devices. That didn't impress investors, however, which sent the phone maker's shares down by 15% on news of the profit warning.
Nurmi declined to comment on Nokia's plans for NFC on Windows Phone 8 or on reports that Microsoft is developing its own NFC wallet for the platform.
The handset will be Nokia's eighth NFC-enabled smartphone, though most of the others use the Symbian platform, which Nokia is phasing out.
Nokia was expected to use an NFC chip from Inside Secure, which would be Inside's first design win outside of Research In Motion and RIM's NFC-enabled BlackBerry models. Inside had announced earlier it had won a contract with a leading handset maker on a major platform.
Didier Durand, director of mobile contactless services for Orange France, also speaking today at the WIMA conference, told NFC Times that the telco was eager to introduce an NFC device on Windows Phone, noting that a certain segment of its subscriber base favors the platform over Android, the most popular platform for NFC handsets. Nokia introduced its first Lumia phone last fall. Orange has since launched the Lumia 800 and 710 in France.
"We did a survey; we have customers who are (already) attached to the Windows Phone customer experience," he said. "Windows Phone is more simple, more easy to use (for them)."
He said the customer survey showed a high percentage of the satisfied Window Phone users are women, who see the user interface as easier to use than Android.
Durand indicated that Orange believes the launch of an NFC-enabled Windows Phone also might help the telco recruit service providers to roll out NFC on its SIM cards and handsets.
"It was difficult for us to convince service providers to introduce services on Symbian because the service providers know that there is no future for Symbian," he said.
Durand couldn't say whether France would be the first Orange group operator to put the NFC version of the Lumia 610 on sale.
Orange UK also has commercially launched NFC and might want the affordable SWP-SIM-enabled phone. And Orange operators in Poland and Spain plan commercial NFC launches in 2012.
But France is likely to be the first Orange branch to sell the phone. The telco so far has put 10 NFC models on sale in the country that support payment applications on SIM cards, including the Samsung Galaxy S II. Four more phones support tag reading, but not payment. Orange plans to have 15 NFC models on sale in France by the end of the second quarter supporting SWP, or the single-wire protocol, enabling payment from SIM cards.
Orange also plans to issue NFC-enabled SIM cards to customers in France. As with handsets, it's an effort to seed the market in advance of NFC services.
On the group level, the telco has said it plans to roll out 3 million SIM-based NFC phones this year and 10 million in 2013.
The introduction of an NFC-enabled Windows Phone before the end of 2012 is expected to help Nokia regain sorely needed momentum in the NFC market, of which the Finland-based handset maker was once the most active backer among phone makers.
But restructuring has slashed Nokia's once large NFC unit. And its reliance on the moribund Symbian platform for nearly all of its NFC phones to date has reduced its importance in the NFC ecosystem. The handset maker has fallen behind Android phone maker Samsung and Android owner Google in attracting the attention of NFC service providers and app developers.
Kurt Schmid, CEO of Austria-based NFC application and platform developer Nexperts and an industry veteran, said he believes Nokia decided not to wait for Windows Phone 8 to introduce its first NFC phone on the platform in order not to lose too much ground in the market.
In particular, he predicts the NFC-enabled Lumia and those Windows Phone devices that follow will help Nokia make a comeback with developers.
"It will attract business (enterprise) developers and people developing for the desktop," he told NFC Times. "For developers, it might be easier to develop on than Android."
Schmid said similar features in apps are much easier to develop on Windows Phone. For example, a function for an app that might require 300 lines of code for Apple's iPhone and 50 lines for Android would take only 10 lines to develop for Windows Phone.
Nokia today also announced a new NFC Bluetooth headset targeted at people who plan to use the device in their cars.