Intel: 'NFC Not a Passing Fancy;' Chip Giant Prepares to Push NFC in Phones and Other Devices
All handsets based on chip giant Intel's current smartphone reference device will carry embedded secure elements in addition to supporting applications on SIM cards.

Intel could control the embedded chip in certain markets, although it plans to work closely with mobile operators as it tries to gain a foothold in the booming smartphone market.
So it could hand over control of the embedded chips to telcos. Or operators could deactivate the embedded chips and issue NFC SIM cards in the Intel-developed smartphones, John H. Vincent, a leader for strategic business development in Intel's mobile and communications group, told NFC Times.
"Intel's philosophy on the embedded secure element, we would like to give the customer choice," he said.
Intel also has hired its own trusted service manager, Germany-based Giesecke & Devrient, to manage the embedded secure elements in those devices in which Intel would control the embedded chips.
Secure elements are at the center of the power struggle going on between mobile operators and big device makers or such mobile platform providers as Google. Both sides see control of chips as vital to securing a cut of the revenue expected from NFC services.
Intel appears to be reluctant to get into the middle of that battle, especially since it is impatient to win market share from chipmakers of competing ARM-based processors, which now dominate the mobile phone market.
"We're willing to be the issuer of the embedded secure element in (certain) markets," he said. "(If) we can be or should be the issuer of the secure element, we're willing to be."
Intel's reference device, based on its Atom processor Z2460, uses NXP Semiconductor's PN65N NFC chip. The NXP chip comes stacked with an embedded secure element. The chip also supports SIM-based applications using the single-wire protocol standard.
Of course, it remains to be seen how many device makers and telcos actually use Intel's smartphone reference device. To date, only a small handset supplier in India, Lava International, last month introduced a smartphone based on the Intel device, the Xolo X900, which is Lava's first phone.
France Telecom-Orange is the only mobile operator to announce plans to use the Intel device so far. Meanwhile, three larger device makers, ZTE, Motorola Mobility, which is being acquired by Google, and China-based Lenovo, have said they would use the Intel reference device, but have given few details.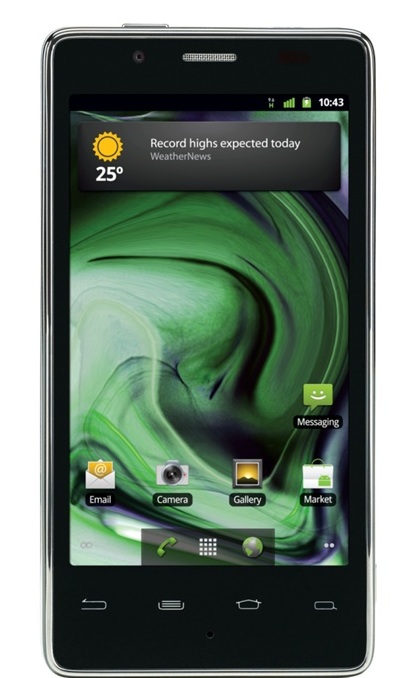 Lenovo has indicated it would have a device using the Intel designs during the second quarter, and ZTE has said it plans to introduce its first Intel-powered phone during the second half of 2012.
But both Visa Inc. and MasterCard Worldwide have already certified the reference device to run their contactless payment applications on SIM cards. That follows an announcement by Intel of a nonexclusive "alliance" with Visa to develop mobile payment and commerce offers on the Intel-powered devices.
The two payment networks will also certify the applications to run on embedded chips in the Intel smartphone devices, said Vincent.
It's all part of Intel's broader strategy to enable mobile-payment and commerce on a range of devices packing Intel chips.
Besides the smartphone reference device, Intel also has announced NFC support in its chips and designs for ultra-thin laptops, called Ultrabooks, as part of a nonexclusive deal with MasterCard.
Intel is expected to support NFC in chips for other PCs and tablets, as well. It is using NFC technology from Inside Secure for at least some of these devices.
The Intel chips in Ultrabooks and other PCs probably won't come with actual embedded secure elements but will have some type of a tamper-resistant area to secure transactions.
For its smartphone reference device, Intel could deactivate the embedded chip for those customers, such as mobile operators, that want to use the SIM as secure element.
That will be the case for its first mobile operator customer of the device, Orange, which plans to launch the Android-based smartphone powered by Intel's Atom processor Z2460 in France and the United Kingdom this summer.
The telco plans to use the Orange-branded phone from Intel to boost its small NFC rollouts in the two countries, for which it stores applications on SIM cards.
In other markets, where it retains control of the embedded chip, Intel could use it to enable payment, ticketing and corporate and government ID applications and to secure keys for health records. Intel could earn revenue from renting out space to service providers on the chip.
But Vincent said that is not the primary focus of the secure element.
"We want to promote the user experience that is engaging, consistent and aware across all our devices," he said.
Promoting Payment on PCs
Besides using NFC to pair devices, with Bluetooth or WiFi, and to share content, Vincent said Intel sees a promising case for securing payment on the devices, with the smartphone storing a payment application or payment credential and PCs and tablets serving as payment-acceptance devices.
"With card emulation in the phone, the reader in the tablet and PC could read the phone and query the credential and add a second level of authentication (for the payment)," he said.
The authentication in Ultrabooks uses Intel's Identity Protection Technology. Intel and MasterCard announced plans last November to enable consumers to tap their NFC phones and contactless cards on Ultrabooks to shop securely on the Web.
The technology offers a type of two-factor authentication that would be more secure than the usernames and passwords used on most shopping sites, such as Amazon.
With the second factor of authentication from the NFC phone or contactless card, it's possible that the payment schemes could lower card-not-present interchange rates for Web purchases made on Intel devices, though Visa and MasterCard have not committed to this.
Securing Other Applications
NFC is an integral part of the mobile offer, even if the embedded chip in the Intel device might not be active. With secure NFC, Intel sees four other applications areas it's NFC-enabled reference devices could be used for besides payment: ticketing; government ID; enterprise security, such as physical and network access control; and health care data transfers, said Vincent.
The applications could work with other Intel-based devices, he said.
"We don't see it (NFC) as a passing fancy," said Vincent. "We see it as a technology that is here to stay."