China Mobile Announces NFC SIM and Mobile-Wallet Plans at Developers Conference
China Mobile today officially unveiled its plans for introducing NFC SIM cards and a mobile wallet, which it intends to launch early next year, to enable retail payment, transit ticketing and other applications.
Shen Hongqun, deputy general manager of China Mobile's data department, speaking at the telco's Global Developers Conference in Guangzhou today, said the telco plans to issue NFC SIMs offering 500-kilobytes of space, which could support more than 10 applications. That could include multiple payment applications, as well as transit ticketing, coupons and city card services. The SIMs would support the single-wire protocol standard. The telco said it would gradually issue NFC SIMs as a default, likely only to certain subscribers.
This is similar to information that Xiong Hui, China Mobile's vice general manager for e-commerce, gave during a presentation about the telco's mobile-wallet plans in October at the NFC & Mobile Money Summit in Milan, held by the GSM Association.
China Mobile, the world's largest operator in terms of subscriptions, also had already disclosed plans for launching the NFC SIMs and its wallet in up to 12 provinces in February–considered a very large NFC trial. That would be followed by a full commercial rollout later in the year, according to the telco's plans.
The China Mobile representative today also repeated what Hui said in Milan: that the telco's goal is to sell 10 million NFC-enabled phones supporting China's domestic 3G standard and to recruit three million users by the end of 2013.
The telco has also revealed recently that it would work with such large banks as China Construction Bank and China Merchants Bank, in addition to Shanghai Pudong Development Bank, or SPD Bank, which it had disclosed earlier. The telco owns a substantial stake in SPD Bank.
China Mobile in June signed a deal with the large domestic payment network, China UnionPay, and Hui said the telco would offer space for UnionPay and its affiliated banks to download payment applications, using the payment network's trusted service manager. UnionPay will have rolled out more than 1 million contactless point-of-sale terminals in China by the end of 2012, according to the telco.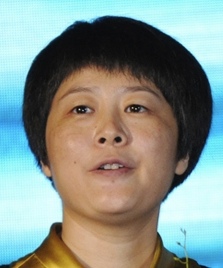 China Mobile later today is expected to publish updated information on the NFC SIM presentation at the developers conference. NFC is only one item on the conference agenda.
UPDATE: Shen in her presentation indicated that China Mobile could earn revenue from NFC by renting space on its SIM cards and offering a platform for merchants to deliver coupons. She also indicated the telco would enable consumers to pay for content, such as music or e-books as well as apps, on behalf of the content and app providers, then take a cut of the fees. The payment could come out of the same account as is used for physical world NFC payments.
According to a translation of her remarks, she reportedly said in her presentation, "NFC's development is inseparable from the close collaboration of the industry," adding that the telco would "continue adhering to the spirit of openness and cooperation for our partners to provide services of various types."
Shen also mentioned memos of understanding the telco had with a number of local transit operators, which could put their applications onto the NFC SIMs. And she reportedly said the telco would begin talks with operators in other countries to bring about interoperability of NFC services for roaming subscribers. END UPDATE.
The unveiling of China Mobile's NFC plans today follows an announcement early last week by China Unicom, the country's second largest mobile operator, of plans for an NFC commercial launch later this month in Shanghai with China Merchants Bank.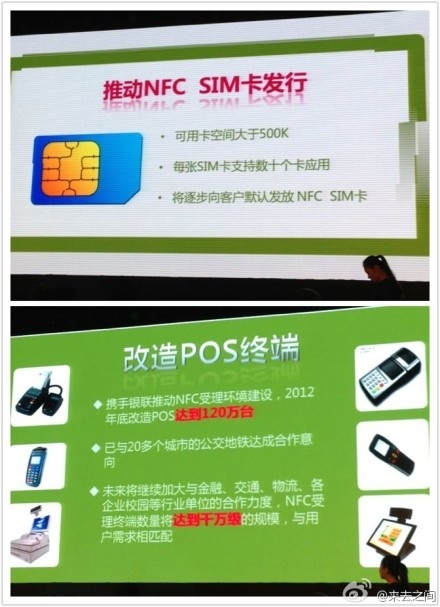 Among the handsets Unicom has said it would use are the Galaxy S III and Galaxy Note 2. Germany-based Gisecke & Devrient announced it would supply the first batch of SWP-SIM cards to Unicom.
The Unicom SIM cards are expected to be preloaded with a debit application and separate e-purse. Unicom has hired Beijing-based China Rainbow Technology to help it manage the SIM applications over the air, the vendor told NFC Times. But China Rainbow is not a full trusted service manager.
Unicom plans to introduce other phones, including some Sony Xperia models, and at least one model from a Chinese handset maker.
Unlike Unicom, which supports the W-CDMA global 3G standard, China Mobile follows the Chinese standard for 3G, TD-SCDMA and related higher-speed versions of the network technology.
China Mobile again today said it would introduce NFC smartphones supporting the TD standard from at least six device brands, Samsung, HTC, Huawei, Lenovo, ZTE and Coolpad, the latter from Yulong Telecommunication.