U.S. Telcos: Joint Venture is All About Scale
Major U.S. mobile carriers planning to launch mobile payment and other NFC services believe the sheer scale of their combined subscriber base and other value they will offer to merchants and consumers will be enough to establish a new payment brand in the United States.

In some of their first public comments since announcing their joint venture today, representatives of two of the telcos involved in the joint venture, Verizon and T-Mobile USA, told NFC Times the carriers believe they can overcome the steep challenges they face to introduce a new way to pay at the point of sale.
"For merchants to adopt this, you need to bring consumer scale," said Jaymee Johnson, director of strategic development and investments at T-Mobile and a member of the steering committee created by the three telcos to form the joint venture. "At its core, that's really what the joint venture is about. Between the three carriers, we have over 200 million consumers. We sell about 100 million phones a year. That's real scale."
The two telcos along with AT&T announced they will call the venture and NFC service "Isis." That brand will use Discover Financial Services' retail network as a base. The telcos also confirmed that Barclaycard US, a unit of UK-based Barclays bank, will be an issuer of "multiple mobile-payment products," including offering credit, debit and stored-value. But the telcos added that they hope to bring in other issuers, including large banks, as well as other nonfinancial institutions, such as merchants.
The telcos also announced today the naming of a CEO for the venture, Michael Abbott, former chief marketing officer at GE Capital, a unit of General Electric Co. and the largest issuer of private-label store cards in the United States. They have yet to fill in most of the rest of the venture's executive corps. The telcos said they plan to launch NFC-based m-payment and other services in selected markets during the next 18 months.
Taking on Visa and MasterCard
The telcos are taking aim at Visa Inc. and MasterCard Worldwide, hoping to use NFC phones and the telcos' massive base of subscribers to establish the Isis brand at the point of sale.
That will be a tall order, however, said Red Gillen, senior analyst at U.S.-based Celent research.
"It (venture) will need to compete head-on with Visa and MasterCard, which have decades and billions of dollars of branding under their respective belts," he told NFC Times. He noted also that any new Isis brand might inadvertently compete with the brands of new issuers the telcos bring in or even Discover's own brand. But he added:
"It looks that Isis will play more of an 'enabler' role, working with issuers, rather than trying compete with them," Gillen said. "This is similar to the Visa/MasterCard model, which means that the two payment brands are squarely in Isis' sights."
While 7 million merchant locations in the United States accept Discover cards, fewer than 2% to 3% of them take Discover's unused Zip contactless brand. The telco representatives confirmed that they will use this installed base of contactless terminals for payment and will enhance it to accept such other applications as contactless couponing and membership programs. But they will have to build upon it in order for the new payment service to have any chance of success.
More Merchants Needed
"It's nowhere near as big as we need it to be," Ryan Hughes, director of new business development at Verizon and also a member of the telco steering committee, told NFC Times. "We're going to have discussions with the merchants pretty aggressively."
When asked, he confirmed that lower interchange compared with the major card networks would be up for negotiation but would only be one of the items on the table.
"Obviously, interchange is going to be a component of the discussion, but ultimately the (totality of the) value proposition for the merchants is going to be taken into account," Hughes said. "They recognize there's shorter-term and longer-term value. Ultimately, basket size and (customer) throughput can increase."
He said merchants told the mobile carriers early on that they would rather deal with the telcos collectively than individually when it comes to accepting mobile payment.
Not only can the three telcos bring in a large base of new customers, they can offer related services to entice both merchants to accept the payment and consumers to use it instead of cards and checks, Hughes contends. He added that the Isis NFC service is open to other U.S. mobile operators.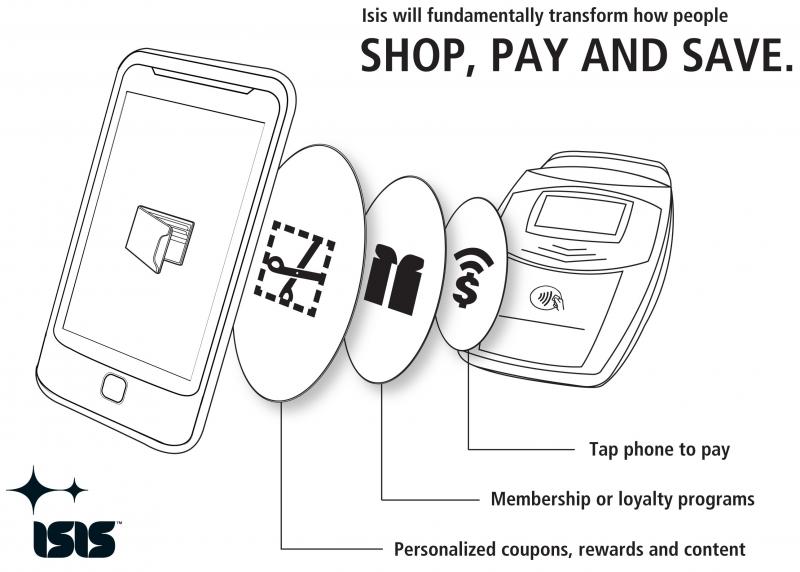 "The reality is, you now have an interactive device in your hands that is capable to deliver all sorts of value to you," He said. "There's a huge amount of consumer interest in digital receipts, coupons and loyalty programs. When you put (together) NFC and the scale of the players and ultimately the merchant acceptance, we believe we can have a massive influence on the shopping ritual."
Visa and MasterCard and their major banking customers have been scrambling to introduce their own mobile payment services, largely without mobile operators.
Visa and banking heavyweights Bank of America, JPMorgan Chase, Wells Fargo and U.S. Bank are either testing or have tests planned of contactless microSD cards with Visa payWave applications onboard. Consumers will be able to insert the cards into most phones and tap them to pay, say project backers. The flash-memory cards are supplied by U.S.-based DeviceFidelity, which also has designed a contactless attachment for Apple's iPhone.
Visa and MasterCard Respond
But Bill Gajda, head of mobile for Visa told NFC Times that the Isis venture threatens to create "consumer friction," because it doesn't allow consumers to choose from a range of payment products, including the ones they've used on cards, and put them on their mobile phones.
"What we're telling issuers, operators and merchants is that we think it will take off the quickest if the consumer is allowed to take their existing cards and put them on an open mobile wallet that is frictionless for the consumer," Gajda said. "It's too early to say if this would be that type of solution. We don't know where they'll end up on this. (But) this Isis venture seems like a carve out that may end up creating more consumer friction."
Like MasterCard, Gajda noted that Visa has been working with NFC phones for years, but he predicts there will only be modest quantities of phones available in 2011. That's why Visa has been developing the contactless microSD card, which will carry payWave applications and co-exist with payWave on full NFC phones, where available, he said. "It'll be years before NFC phones are (widely) available, so we developed a solution that works on any device," he told NFC Times. "We're going to see more launches in 2011." (Contactless microSD cards do not work on phones without card slots without special attachments or on phones in which metal blocks the radio transmissions).
James Anderson, head of mobile product development for MasterCard USA, also likened the Isis service to a closed payment scheme. "A lot of payment solutions are being built on the key premise of device interoperability," he told NFC Times. "Closed payment schemes will fail. When people make the same correct technology decisions, that's good for the growth of the industry because it means everyone will be offering similar chips and the return on investment will be there for component manufacturers because of the ability to scale."
Anderson noted that MasterCard has worked on NFC for four to five years, and its PayPass contactless application has been chosen by mobile operator Orange UK and Barclays' UK credit card arm, Barclaycard, for a full NFC rollout, "which will happen sooner than what this (Isis) announcement indicates.
"This is going to be a long game, and we're happy to play it, and we feel good about our position going into the game," Anderson said.
Discover: Breaking Visa and MasterCard Dominance
Discover's Diane Offereinn, president of payment services, however, said she does not see the planned Isis offer as frustrating consumers; far from it. It creates a better value proposition for both the consumer and merchant, she said.
"Visa and Mastercard have huge dominance in the payments space," she told NFC Times. "This will come to market and create some competition. We'll be innovative in how we approach it. In the end, they'll be thrilled with what we have to offer, and merchants, too."
The planned payment service will also encourage more merchants to adopt contactless because they are keen to be involved in the mobile space, she said. She declined to say whether Discover would lower merchant fees as a further enticement, however. "More details will be coming on that," she said.

Scale Buys Phones
The telcos say the scale of their combined subscriber base also will enable them to lock in a "diverse" supply of NFC phones. At present, there are few NFC phones of any kind on the market, especially smartphones, which are popular among U.S. consumers.
The telco representatives declined to say whether the operators have ordered NFC phones yet or the types of models they will target. Sources have said the telcos are sure to seek smartphones supporting the Google's Android operating system, along with NFC-enabled BlackBerrys. Google's CEO, Eric Schmidt, announced Monday the next version of the phone operating system, Android 2.3, known as Gingerbread, will support NFC.
Nokia will also support NFC in its Symbian line of smartphones starting next year, but the Finland-based phone maker has a relatively small market share in the United States. It's unclear yet whether the next iPhone will support NFC and, in any case, Apple is much less willing to customize its phones for telcos than other phone makers.
"The fundamental root cause we find ourselves in the joint venture is to offer scale and ubiquity," Hughes said. "It's much the same as the single-value proposition to merchants–the fact we're not going to fragment. We've seen a tremendous response from the technology community."
But he declined to say whether any of the telcos in the joint venture will insist on phones that support the single-wire protocol standard enabling SIM cards to carry applications. Embedded secure chips to store the applications look promising for the longer term, Hughes indicated. The venture is not ruling out use of NFC bridge technologies, he added.
The NFC applications would be part of mobile wallets the carriers offer that consumers could fill with services downloaded from app stores to their smartphones, said T-Mobile's Johnson. A trusted service manager would download and manage the secure part of the applications on smart card chips in the phones.
Besides payment and various merchant loyalty programs, the telcos say they plan to support transit and event ticketing on the phones in certain markets. There could be a range of other applications, including some that combine NFC with network-based services.
Johnson and Hughes said that while the telcos will conduct internal tests, the introduction of the Isis NFC service in the unnamed markets during the next 18 months will be commercial launches, not pilots.
The time for public NFC trials is over, they said.
print $links ?>
Article comments