Checking in with NFC–Some Social-Networking Start-ups to Use NFC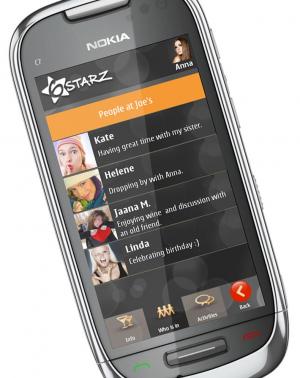 MONACO – Finland-based start-up 6Starz plans to launch a trial this summer enabling users to tap their NFC phones to check-in at restaurants and other establishments and to chat and exchange profile details with new friends.

6Starz, however, said the service is not just an NFC-enabled copycat of well-known social-networking sites with check-in, such as Foursquare, Gowalla and the Places service of Facebook.
Plans call for 50 to 100 students to participate in the 6Starz trial at about 20 restaurants and bars that are part of the Restamax group in and around the Finnish city of Tampere. Up to 200 employees of the group will also join in the pilot, which could begin next month, said the start-up. Users would check in by tapping tags with NFC phones or scanning 2-D bar codes at the door of the restaurant or bar.
They would use such NFC phones as the C7 from Nokia or Google's Nexus S, or perhaps other models. 6Starz is talking to phone makers to try to get a supply for the trial.
Participants would then be able to see other people who have checked in, who likely would be strangers. They could chat with them on their phones, and if they want to establish a friendship, they could tap the other person's phone in peer-to-peer mode, which exchanges profile information.
But unlike Foursquare and other check-in services, 6Starz is designed as a "kind of instant social network" inside of a restaurant, bar or other place and only when the place is open–linking up strangers as well as friends, 6Starz co-founder and CEO Mikko Kerttula told NFC Times at the recent WIMA 2011 conference and expo in Monaco.
"In most of the other services, users can check in to a place without actually being at the place or inside the place; it is enough to be close enough, based on location information," he said, adding: "Foursquare does show a list of users that have checked in, but that list is not so real-time. Users in Foursquare do not have status messages, (and) there is no chatting feature."
Poken Goes to NFC
Most social-networking sites with check-in features, including Foursquare and Facebook, are believed to be experimenting with NFC.
At WIMA, a more established social-networking start-up than 6Starz, Switzerland-based Poken, said it would incorporate NFC chips into its "social business card" service.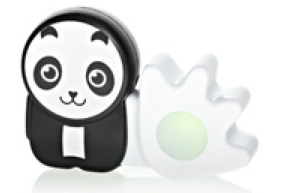 The company has been using USB sticks, often designed in whimsical shapes and attached to key chains, which two people can tap together to exchange contact details and social networking profiles from such sites as LinkedIn, Facebook and Twitter. The tokens use proprietary contactless technology.
When the users plug them into their computers, they can upload the data they've collected to the Poken Web site or "hub," where they can manage the contact information and profiles. These are arranged on a time line of when the user made the contact.
The company sells the tokens in 25 countries, and the company targets the little devices for distribution at trade shows and music festivals.
Now the start-up plans to use NFC chips from NXP semiconductors, apparently for newly issued tokens and to also to put Poken applications on NFC phones. Users then could tap their phones on the tokens or on other NFC phones to share information.
"We're embracing NFC and mobile fully, even though we provide our own devices to bridge the gap," Stéphane Doutriaux, Poken founder and CEO, said at WIMA. "Millions of new smarphones will be Poken enabled."
Merchant Angle
Whether Poken will make it into millions of NFC phones remains to be seen. But like the other social-networking sites, there is a merchant angle that is key to Poken's revenue-generating potential. For Poken, users might collect loyalty points from a merchant by tapping their NFC tokens on a merchant's NFC phone, said Doutriaux. Poken users also could share special deals with their friends or contacts.
Other social-networking services are targeted directly at businesses. The first NFC service launched by Google for its Nexus S phone is an enhancement to its Google Places service. Customers tap the phone against NFC tags embedded in stickers or decals that merchants affix to their storefronts to access information about the local business, including phone numbers, hours of operation, payment types, reviews and recommendations.
The consumers can also rate or review the business on the Google Web page on their phones and later receive more personalized local recommendations in their search results based on their opinions and those of their friends. Google has rolled out the service in five cities.
Of course, there is a "social commerce," angle to the planned 6Starz service. Users can receive customized advertisements and offers from the owner or manager of the restaurant, bar or other place where users congregate. They would be able to tap their NFC phones to redeem coupons that the business sends. 6Starz is planning to charge the business owner about €100 (US$145) per month to host the service.
"A bar owner will have his own Web view to control his place," said 6Starz's Kerttula. "Looking into his page, (he can see) who is in, and he can define different kind of advertisements and offers for these people."
6Starz does have a Web site for the consumers, where they can manage their friend connections and profiles. And it has links to such social networks as Facebook and Twitter.
Like Poken, 6Starz could be adapted for events. For example, users could tap their NFC phones to check in at seminar and while sitting in the session could see others who are there, said Kerttula. "For instance, you could send a message to your colleague or business partner, 'Hi, I am here, too. Can we meet during the break?' "
The 6Starz service is based on the Hot in the City service created by the quasi-governmental VTT Technical Research Center and its senior research scientist Tuomo Tuikka, in Oulu, Finland.
VTT spun off 6Starz and the start-up has private funding. But Kerttula and Tuikka, also a founder of 6Starz, declined to reveal the names of investors or level of funding.
print $links ?>