Samsung Announces Galaxy Smartphone with NFC Support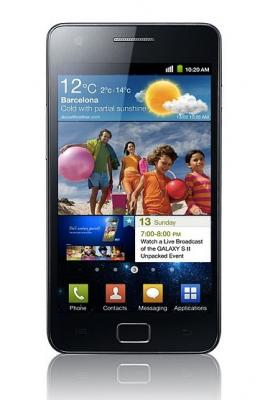 BARCELONA – As expected, Samsung Electronics has introduced an NFC-capable follow-up to its popular Galaxy S Android smartphone, the Galaxy S II, which it unveiled at a pre-opening event at the Mobile World Congress in Barcelona.
The handset, which Samsung is billing as the world's thinnest smartphone, will not necessarily pack NFC in every market. Availability of NFC in the phone may vary depending on region and telecom operator, according to Samsung.
The phone runs Google's latest Android operating system, known as Gingerbread, which supports NFC. The specifications for the phone say NFC connectivity is "optional." Update: NFC chips would come as a default in the phones, and would support the single-wire protocol standard. This would enable secure applications to be stored on SIM cards in the phones, but would require NFC-enabled SIMs. End update.
"According to market requirement, the GALAXY S II is able to incorporate Near Field Communication technology to support emerging mobile-payment service and other services with mobile operators," said Samsung in a statement.
Samsung also is introducing a mid-tier smartphone with NFC, the Wave 578 (GT-S5780), running Samsung's own Bada operating system. This phone comes with a built-in NFC chip, according to one report, though it will not be available in all markets. Update: France Telecom-Orange Group said it will introduce the phone during the second quarter for branch operators in the United Kingdom, France, Spain and Poland. End update.
Samsung in its promotional material for the Galaxy S II mentioned NFC's tag-reading capability, but seemed to emphasize NFC's card-emulation features, saying the phone "will house NFC short-range high frequency wireless communication technology for contactless credit card payments." Samsung added that the phone will be able to "communicate with existing smart cards and readers" and is "compatible with existing contactless infrastructure for public transportation and payment systems."
The Gingerbread operating system does not yet support card emulation. That is expected to be added to Google's Android NFC API, however.
Samsung sold more than 10 million units of the non-NFC-enabled Galaxy S. For the second version, the South Korea-based phone maker has improved the screen, added a dual-core processor and increased the Internet speed, among other new features, in addition to NFC. The Galaxy S II is reportedly expected on the market as early as this month in some markets.
Samsung also makes the Nexus S, launched in December by Google, which carries an NFC chip from NXP Semiconductors. The chip, the PN65, has an embedded secure element, but also could support applications on SIM cards. Those Galaxy S II models supporting NFC will carry NXP's chips, as well.
Samsung's phone announcements are the first in what could more new NFC phones unveiled during Mobile World Congress. There have been rumors that LG Electronics and HTC will also be announcing Android phones that support NFC. And Research in Motion could unveil an NFC-enabled BlackBerry.
print $links ?>