Russia's Largest Bank to Use NFC Embedded Chips; Discussing Pilot with Visa, Samsung for Sochi Games
Russia's largest bank, Sberbank, plans to launch mobile payment using embedded chips in NFC phones, snubbing Russian mobile operators, the bank's director of IT strategy told NFC Times.
A commercial launch should happen within the next year, possibly by the end of 2013 or early 2014, Mircea Mihaescu, Sberbank's director of IT strategy and technology innovation and a principal of the bank's venture capital arm, told NFC Times.
And the Russian banking giant also has been working with Visa and Samsung Electronics to possibly demonstrate NFC payment for the 2014 Winter Olympics in Sochi, Russia, next February, he said.
Visa and Samsung are both sponsors of the Sochi 2014 Olympics, like they were for the Summer Olympics last year in London, where they demonstrated NFC payment with a Visa payWave application stored on NFC SIM cards in Samsung's flagship phone at the time, the Galaxy S III. Samsung's new flagship, the Galaxy S4, which carries a preloaded payWave application on its embedded chip, is expected to be used for the Winter Olympics.
Mihaescu had indicated that the planned pilot with Visa and Samsung for the Olympics would be announced soon. But in response to a follow-up question from NFC Times, Mihaescu said the proposed pilot had not yet been approved by the bank, so there is "nothing we can announce."
Meanwhile, Sberbank is working with multiple device makers and their embedded chips as the bank gears up for a planned NFC commercial launch, confirmed Mihaescu. Sberbank's venture capital arm, SBT Venture Capital, is making a large investment in U.S.-based trusted service manager startup Sequent Software to manage its payment application on the chips.
Russia a Prime Target Market for Embedded Chips
Just about all mobile phones in Russia are sold on the open market–with no subsidies from mobile operators. This allows handset makers, such as Samsung, to more freely promote embedded chips as secure elements for NFC payment and other secure services. The phone makers don't have to worry about mobile operators with SIM-centric NFC business models refusing to buy their devices.
"The market is open to this type of development, and this is our strategy, and this is what we're pursuing," Mihaescu told NFC Times, noting that Sberbank has had a "long discussion" with one major Russian operator about the possibility of putting its application in the telco's SIM cards and has "decided not to go that route.
"From the (business) model point of view, if the payment goes to mobile operators, the customer relationship–the knowledge about the payment–stays with the MNOs (mobile network operators)," he said. "The bank loses this relationship with the customer."
It's not clear whether he was referring to purchase transaction data, which would remain with the issuer, even if the payment application is stored in NFC SIM cards. But telcos could collect additional information around their mobile wallets, if they offer them.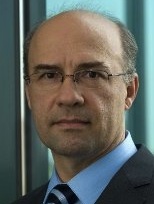 Russia has a small but growing number of contactless point-of-sale terminals, about 15,000, supporting Visa payWave and MasterCard PayPass, and it is believed to be one of the target markets for Samsung for the embedded chips in its NFC devices, as well as for Visa. Sberbank has deployed more than 10,000 contactless POS terminals to date, said Mihaescu.
Samsung is preloading a Visa payWave application on the embedded chips in its new NFC devices and has also said it is working with other payment brands, though hasn't said which ones. But among them is MasterCard Worldwide, NFC Times has reported.
Mihaescu confirmed to NFC Times that the bank has been working with or has discussed working with the embedded chips from other Android device makers, such as HTC, probably Sony, and one or more Chinese OEMs (original equipment manufacturers), in addition to Samsung. It has talked to BlackBerry, as well, Mihaescu indicated.
Sberbank's Pilots Have Avoided NFC SIMs
The bank is conducting an internal trial with embedded chips in NFC phones from multiple device makers, Mihaescu said. That's in addition to two other contactless-mobile pilots Sberbank has completed–one with microSD cards and one with passive contactless stickers, Mihaescu said. None of its pilots have used NFC SIM cards from mobile operators.
Russian mobile operators MTS, MegaFon and VimpelCom are all in the process of launching NFC-based payment, transit ticketing and other services commercially on SIM cards. MTS last year launched NFC payment, putting a PayPass application issued by its own MTS Bank on its SIM cards. The telco recently said it has added payment from the large Russian Standard Bank.
Overall, MTS' NFC rollout is believed to be small so far, however, and only available in Moscow.
And a snub by Sberbank, Russia's dominant financial institution–with more than 45% of retail deposits in the country and more than 100 million individual customers– would hurt the telcos' SIM-based NFC business models.
As NFC Times reported last month, another, much smaller, Russian bank is planning to use embedded secure elements in NFC phones. St. Petersburg-based wallet provider and TSM i-Free will be enabling embedded chips in two HTC models and a Philips-made phone to implement a prepaid PayPass application issued by Tinkoff Credit Systems bank, which bills itself as the No. 3 credit card company in Russia's small but resurgent credit card market.
Sberbank Leads $12 Million Round
With the vast majority of retail transactions conducted in cash in Russia, Sberbank is making mobile payments a top priority, Mihaescu has said. Last year, he disclosed Sberbank would set up a venture capital fund, starting with $100 million, to nurture promising startups.
The fund is leading a $12 million series B funding round that U.S.-based Sequent Software announced today. Existing investors Opus Capital and Jado Investments are also contributing to the round.
Sequent CEO Robb Duffield told NFC Times the investment would help Sequent to "chase opportunities" for TSM and mobile-wallet platform business and add "balance sheet strength."
He said Sequent would continue to pursue its strategy of seeking to enable multiple service providers to connect their applications and mobile wallets or other apps to the same secure element in NFC phones. Sequent also said it provides services to mobile operators. The ability to support services from different wallets or apps on the same NFC phone would depend on how open the owner of the secure element–whether SIM, embedded chip or microSD–is to allowing access from multiple parties.
"We believe that you're going to see a tremendous amount of innovation coming from the application developer community themselves," Duffield said.
Sequent also bills itself as one of the few "neutral" TSMs–one that does not also produce NFC SIM cards or other secure elements, which it contends could lead to conflicts with other technology suppliers and, therefore, result in interoperability problems.
The Silicon Valley-based company says it offers a secure element TSM and also a service provider TSM. A significant part of its technology came from the now defunct Vivotech. The company also has a mobile-wallet platform. It raised initial funding of at least $7.5 million, though declines to release the exact amount of its financing leading up to the $12 million series B round.
To date, Sequent has only announced one TSM service contract, with a small Polish loyalty system company. NFC Times last year reported Sequent had a contract with No. 3 U.S. mobile operator Sprint to manage embedded secure elements in Sprint's NFC phones under the telco's planned open-development strategy for the chips. That project has yet to launch, however.
Sequent has not confirmed the Sprint contract, but has said it has other contracts it has yet to announce.
In addition to its investment, Sberbank will use Sequent's technology. Mihaescu said Sequent was aligned with the bank's philosophy and strategy for NFC and the direction the bank believes the market is headed.
In recent years, Sberbank has looked at investing in more small companies. In a blog post last year, Mihaescu said the venture capital fund intends to nurture these companies.
"By making an investment, (we) will make sure that the company that works for us or with us will have the capital to survive, and will also benefit from returns," he said.
print $links ?>