Reality Show Tag Trial Seeks to Demo Smart Posters as Ad Medium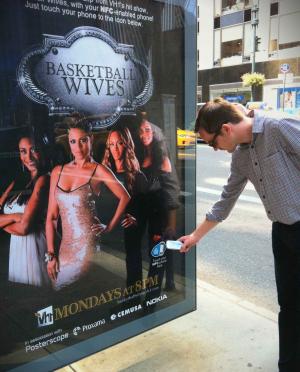 A small group of advertising agency staffers will be able to tap their NFC phones on smart posters in New York and Los Angeles starting next week to view videos clips of a reality TV show and link to the show's Facebook page, according to UK-based NFC application provider Proxama.

The trial follows a similar project in May, in which about 20 ad agency personnel and media buyers could tap 10 to 20 movie posters in London advertising the forthcoming film, X-Men: First Class, to view a preview clip and link to the film's Facebook page.
The U.S. project involves the VH1 cable television network and its reality TV show Basketball Wives, which in typical reality show fashion follows lives of the spouses, ex-spouses, girlfriends and ex-girlfriends of NBA basketball players.
NFC tags will be embedded in a limited number of outdoor posters advertising the show in New York and Los Angeles, which people with NFC phones would be able to tap to view trailers and link to the show's Facebook page. The trial is expected to launch next Monday.
As with the X-Men project, Outdoor advertising agency Posterscope and its Hyperspace arm are involved in the new trial, along with Nokia, which will distribute its C7 NFC smartphone, known as the Astound in the United States, to a limited number of ad agents and related personnel. Proxama also offers a data management and reporting tool, in addition to its tag-reading application, for the project. The vendor has an agreement with Nokia to collaborate on development of these types of applications.
While consumers with the Astound, sold through T-Mobile USA, and Google's Nexus S, along with other standard NFC phones, would be able to tap the posters for the content, the project is not intended for the general public.
"We're using it as a demonstrator and to showcase to advertising agencies in the U.S.," Graham Tricker, head of operations at Proxama told NFC Times.
The firm hopes to sell the advertising agencies on NFC smart posters as a medium to deliver ads from merchants and other advertisers.
print $links ?>