Making P2P Connections Easier: NFC Forum Publishes New Standard
The NFC Forum has published what observers say is a much-needed new specification to standardize the way two NFC phones or other devices exchange messages in peer-to-peer mode.
The standard uses the same data format as standard NFC tags use to send URLs, SMS or other data when tapped by NFC phones. The forum earlier standardized this NFC data exchange format, or NDEF, for tags.
The forum calls the new standard the simple NDEF exchange protocol, or SNEP, which is designed to make it easier for both developers of NFC applications and their users to exchange and transfer data using NFC's P2P mode. The forum announced the new standard today.
Jonathan Main, chairman of the forum's technical committee, told NFC Times that, at present, developers use proprietary formats or protocols to get two devices to talk to each other, and there could be problems in translation, especially if the two devices support different operating systems.
"Nokia devices would work with other Nokia devices but may not work with other handset manufacturers' devices, whereas we (now) have this interoperable method to exchange data."
The SNEP standard will be part of the NFC Forum's compliance and certification program for devices, though it is up to phone and other NFC device makers to support the standard or not. NFC technology has three modes of communication, card emulation, tag reading and writing and peer-to-peer.
The NFC Forum, which is both a standards and trade group, gave a couple of examples of how the new standard could simplify P2P communication between NFC devices.
In one, a user's phone could be configured to automatically send his digital business card when he touches the phone to the NFC handset of a new acquaintance. "The recipient doesn't have to do anything other than to accept the business card and allow it to be entered into his phone book," said the forum.
Or a consumer walking along the street could tap a movie poster embedded with an NFC tag. When he gets back home, could tap his phone to an NFC-enabled TV remote control to display a movie clip or perhaps Web pages about the film.
"From a user point of view, it essentially means I can read something from a tag and pass it to a phone," said Main. "Or I can potentially read something from an NFC device and write it (to a tag), without having to be changing formats."
The standard doesn't really apply to pairing of devices, in which NFC is used to quickly open a broader data connection, such as Bluetooth or WiFi, between the devices. This can be done with NFC tags in one of the devices or in P2P mode. It would use a connection-handover protocol.
Bridging the Communication Gap
Updated: The new standard is definitely needed, Jeff Malone, a developer for U.S.-based Integrated Computer Solutions, or ICS, told NFC Times. ICS, in the NFC sphere, has developed applications for Nokia mobile phones.
ICS participated in a recent 48-hour "hackathon," in Boston, bringing together developers to create NFC applications. The firm developed an application to exchange business cards between Nokia NFC phones and Google's Nexus S.
None of the NFC-enabled devices ICS used for the application: Nokia's new 600, 700 and 701 phones supporting the Symbian Belle operating system and the handset maker's MeeGo-based N9 or Google's Nexus S yet support the new NFC Forum P2P standard.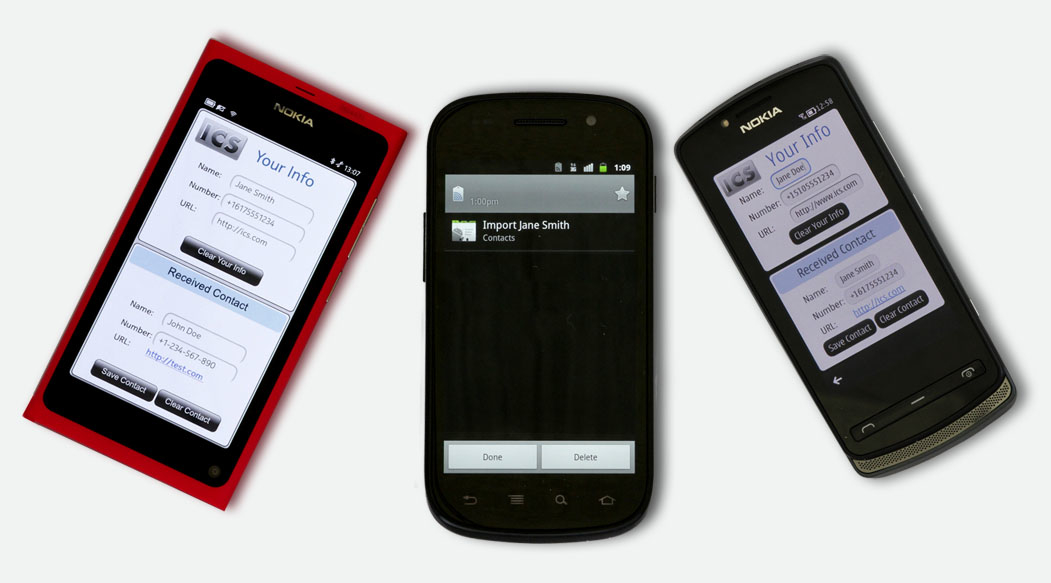 Without a global standard, Google created its own protocol for direct P2P communication between Android NFC devices for its Android Gingerbread operating system. Google calls it the NDEF push protocol, or NPP. Nokia, on the other hand, uses the NFC Forum's connection-handover specification for P2P communication. But this calls for a separate technology connection using Bluetooth to actually transfer the data. Google doesn't support connection handover for P2P.
Because Google's NPP is faster to transfer small amounts of data, including business cards in the vCard format, Malone said ICS developed a version of Google's NPP for the Nokia phones along with a P2P application for those phones. This enabled them to exchange the digital business cards with the Google phones.
Malone said Google's NDEF push protocol is only designed to work on Android phones and would take special development, as ICS did, for it to work on NFC phones running on other platforms, such as Symbian, MeeGo, BlackBerry OS or Windows Phone. Besides, the Google protocol only pushes data, so isn't a full P2P connection.
"SNEP extends beyond (Google's) NPP to support more exchange of data–it doesn't just push," Malone told NFC Times. "It allows one phone to send an NDEF record to the other, and the other to respond that it received it correctly and, in turn, reply with information in an exchange that can go on until the connection is lost."
It remains to be seen how soon Google upgrades its NDEF push protocol in Android to support the new NFC Forum specifications, Malone said. Nokia has said it will support SNEP, NFC Times has learned.
Other handset makers will also need to support the new NFC Forum standard before users can hope to seamlessly tap their NFC phones in P2P mode regardless of the operating system.
And while there are other issues that could hinder the smooth exchange of data, such as the location of the antennas on various devices, a common data protocol is a necessary first step, observers agree. End update.
print $links ?>
Article comments