Outdoor NFC Campaign Promotes Australian Launch of Zero Dark Thirty
Marketers and distributors of the Australia release of the action movie Zero Dark Thirty are tapping NFC technology to help promote the film.
The NFC-enabled campaign launched on Jan. 14 and will run for a total of four weeks. Australia-based NFC advertising company Tapit Media is implementing the outdoor campaign leading up to the film's release. Tapit provides the tag-based system for the campaign's 200 smart posters located in 91 shopping centers in every Australian state except North Australia. Some of the shopping centers are adjacent to movie theaters, which will show the film.
"This was on purpose, the idea being that if you were seeing a different film, you could just tap to see a trailer of Zero Dark Thirty plus all the other Zero Dark Thirty content on the mobile site," Tapit CEO Jamie Conyngham told NFC Times.
Shoppers tap the NFC tags to visit a landing page for the campaign. From the landing page, they can click to view trailers or an image gallery, read a synopsis and reviews, such as on Facebook, or follow the film on Twitter, enter a contest to win free movie tickets, or play a "CIA" game linked to Facebook.
Media and advertising agency Vizeum organized the campaign with Posterscope, which is responsible for out-of-home media buying for Icon Films, Zero Dark Thirty's distributor. Vizeum and Posterscope are both part of UK-based Aegis Group.
Zero Dark Thirty, which follows a fictionalized account of the manhunt for terrorist Osama bin Laden, will be released on Jan. 31 in Australia. It began its major run in the U.S. Jan. 11.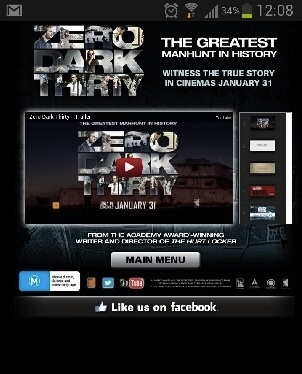 The Zero Dark Thirty campaign follows Tapit's late December receipt of US$2.4 million (A$2.3 million) in Series A funding, primarily from Sydney-based investment firm Monash Private Capital. Previously, Tapit had run since its March 2011 founding on US$944,000 (A$900,000) in grants and seed funding. The company plans to use the Series A funds to expand internationally, specifically to India, Israel, Mexico, and South Africa, where Monash Private Capital's associated companies provide a foothold.
This is not Tapit's first campaign for an entertainment franchise. In November, Tapit supplied NFC technology for an outdoor campaign in Sydney and Melbourne for the Halo 4 video game. Users could tap 376 posters in the two cities, and the first person to tap each tag won the poster itself as a prize. The displays received a total of 5,664 taps.
It's also not the first use of NFC tags to promote films or television shows with smart posters. UK-based NFC company Proxama implemented at least two small campaigns in 2011, one in London in 2011, which let users tap tags on ten to 20 NFC smart posters to view a preview of Twentieth Century Fox's X-Men: First Class movie. The other promoted a reality TV show in the U.S.
And late last year, more than 200 users tapped tags in smart posters and other displays at a movie theater in Mumbai, India, and about a third of them downloaded the cinema chain's app over a six-week period, according to the wireless marketing company, JusTap!, which ran the campaign.