NFC Tag Campaign Company Tapit Plans Expansion with $2.4 Million Series A Funding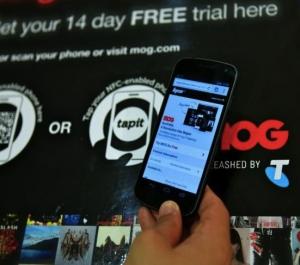 Australia-based Tapit Media, which implements NFC tag advertising and marketing campaigns, has received US$2.4 million (A$2.3 million) in Series A funding, the company announced.
Tapit's largest Series A investor was Sydney-based MPC Ventures, a subsidiary of Monash Private Capital. Other Series A investors include Australian investor David Shein and SecureNet Ltd. founder and CEO David Thrum, as well as funds raised through Israeli crowdfunding platform OurCrowd.com.
UPDATE: Monash Private Capital considers NFC advertising a good investment despite the industry's emphasis on mobile payment. CEO Joey Fridman told NFC Times. "We think the mobile payment space is exciting as well, but it is also crowded with some large players already involved." Fridman said his company sees large growth potential in NFC and expects payment to drive NFC handset growth. END UPDATE.
Founded in March 2011, Tapit provides NFC-based content delivery and advertisement on smart posters, stickers, and other objects embedded with NFC tags. Since its founding, the company has operated on A$900,000 (US$944,000) in seed funding and grants, including an August 2011 investment of $A400,000 from the Sydney Angels network in return for a 20% share of Tapit.
In July 2012, Tapit enabled a trial of NFC stickers at 250 Australian restaurants. That same month, the vendor supplied NFC tags to Australia's largest mobile operator, Telstra, for a small NFC campaign in Melbourne and Sydney. Users could tap NFC tags to receive a free trial of music streaming service MOG or download an app and free offer from television subscription service Foxtel.
In September 2012, Telstra expanded the campaign to allow users to tap tags to purchase prepaid airtime from the mobile operator.
Telstra planned to expand the campaign to additional retail locations in October 2012.
UPDATE: In November, Tapit and advertiser JCDecaux worked with Microsoft on an outdoor NFC campaign for the newly-released Halo 4 video game. Nearly 400 signed Halo 4 posters were distributed around Sydney and Melbourne in NFC-enabled displays; the first user to tap the poster or scan a QR code won the poster, which they received in the mail at the end of the campaign. The campaign finished with a total tap count of 5,664 at the 376 displays, and all of the posters were claimed. END UPDATE.
With the Series A funding and additional support from Monash Capital, Tapit said it plans to expand to India, Israel, Mexico, and South Africa in 2013. The company has also targeted Japan, Singapore, Sweden, the UK, the United Arab Emirates, the U.S., Vietnam, and possibly China.
Tapit had been reportedly seeking A$8 million in Series A funding. A planned August fundraising trip to Silicon Valley was postponed indefinitely.
Tapit CEO Jamie Conyngham told NFC Times last September that the Series A figure was correct, but declined to say why the Silicon Valley meeting had been postponed. It is unclear at this time why the company's Series A total was decreased to $A2.3 million. But Conyngham said that the Series A is now complete and the company plans to seek a larger amount of Series B funding.