Large Italian Bank Prepares for NFC Payment Launch
Intesa Sanpaolo, Italy's largest retail bank, plans what appears to be a small commercial launch of NFC payment around the end of the year with an unnamed Italian mobile operator, as well as mobile virtual network operator Nòverca.
Stefania Gentile, head of cards and payments for the top 10 European bank, told NFC Times plans call for the bank to support both MasterCard PayPass and Visa payWave applications, which would be stored on NFC SIM cards. The service would likely launch in and around Milan to start with and use two Samsung Android NFC phones, the Galaxy S III and the Galaxy mini 2.
She declined to name the major Italian operator that would be involved in the launch, though Intesa worked with Telecom Italia, along with Visa Europe, for a recent trial that tested interoperability of a payWave application stored on SIM cards in a Galaxy S III smartphone. The handset, designated by Visa as the "Olympics Phone," and used in and around London for NFC payments during the games this summer. About 100 Intesa and other internal users participated in the pilot.
Intesa's commercial service would also involve mobile virtual network operator Nòverca, of which Intesa owns a sizeable share. Nòverca uses network infrastructure owned by Telecom Italia.
The commercial launch is expected to be an expansion of a "Move and Pay" trial Intesa launched in December, which put a MasterCard PayPass application onto SIMs issued by Nòverca. The trial, held in Milan and Turin, involved 600 young customers, employees and university students.
Expansion of Trial
For the trial, Intesa distributed Samsung Wave 578 NFC phones, which runs Samsung's bada operating system. Users could tap to pay at about 3,000 point-of-sale terminals provided by Setefi, Intesa Sanpaolo's acquiring and processing arm, along with about 3,000 other PayPass-enabled terminals.
Gentile, who spoke this week at the EFMA Mobile and Advanced Payments conference in Paris, told NFC Times that other applications planned for the commercial launch would relate directly to payment, but wouldn't necessarily use NFC, such as a geolocation app that helps users find merchants that accept contactless payment and peer-to-peer funds transfers. The bank included non-NFC P2P payment in the Move and Pay trial, as well.
Finding a contactless terminal was a problem for participants in this trial. Total contactless POS terminals number only about 6,000 nationwide, she said. Intesa's acquiring arm rolled out about half of those terminals, mainly to support its SuperFlash contactless cards, in Milan and Turin.
She said the bank would be deploying more terminals before the start of the commercial launch but couldn't say how many. In addition to the bank's large retail presence in Italy, Intesa has operations in Central and Eastern Europe, where it could later expand NFC.
Gentile, who spoke at the EFMA conference about lessons learned from the trial, mentioned the problem users had in finding a place to pay with their NFC phones.
Terminal Issues
"A typical question that people ask is, 'where can I pay with my smartphone?' " she said. "Where are contactless POS (terminals) in my city? And nobody knows apart from individual acquirers. Also payment schemes have partial and not updated information."
She said acquirers or merchants should have affixed decals to storefront windows to tell consumers they are equipped to handle contactless. That could be a measure they could take for the first NFC rollouts.
"But it is a short-term solution," she said. "In the medium term, we need to develop a geo-ref(erencing) application. But acquirer banks have the responsibility to have the first steps in communicating (the locations of) their contactless POS."
She noted POS terminals created a few other problems during the trial, including examples of users being able to pay at a contactless terminal in one store, but not another. "What works for small retailers doesn't necessarily work for large retailers," she said. "What works for one model of POS (terminal) doesn't necessarily work for another model or different versions of the same model."
She added that procedures for making high-value payments on NFC phones differ across borders, likely referring to both the Move and Pay trial in Milan and Turin and the Olympics Phone interoperability pilot in London.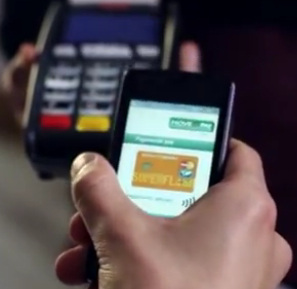 "For example, when I pay mobile in Italy over €25 (US$32.28), I must insert my PIN number on a POS (terminal), but when I pay in the UK over £20 (US$32.35), I must insert my PIN number or pass code directly on the mobile phone."
She noted that Move and Pay is not only a service using NFC technology, and besides P2P funds transfers, the rollout of the service could include remote payment, loyalty and such services as entertainment ticketing. The latter might not use QR codes, she suggested.
"Our opinion is QR code is halfway between proximity and remote payment," she said. "We think the QR code is okay in Italy in specific industry sectors, for example, at the cinema because it's busy. Use a QR code on a movie poster, see the trailer, buy the ticket. QR is a key enabler of mobile life in specific industry sectors."
NFC tags have also been talked about for use with movie posters, among other smart poster applications, enabling users to download a movie trailer by tapping an NFC chip embedded in the poster, then buying a cinema ticket.
Gentile did not say she was recommending QR codes over NFC at the cinema, though noted that QR codes could be used "immediately," perhaps referring to the time it would take to install posters with tags.