Japan Airlines Set to Launch First NFC Boarding Passes in October
Japan Airlines next month is expected to launch what is believed to be the first commercial service worldwide enabling passengers to tap standard NFC phones to pass through boarding gates, NFC Times has learned.
Japan Airlines, or JAL, has offered contactless-mobile boarding passes since 2005, using Japan's NFC-like domestic technology, FeliCa. Rival All Nippon Airways also offers FeliCa-based service.
The JAL Touch & Go NFC service would be available on only two NFC-enabled phones at first, including Samsung's Galaxy S II.
Japanese mobile operators are beginning to move from FeliCa to standard NFC phones, led by No. 2 telco KDDI, which announced in January it would launch a range of services on the Android-based Galaxy S II.
One of those applications is Touch & Go, which will store boarding passes on KDDI's NFC SIM cards.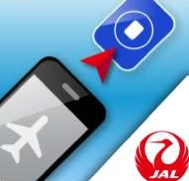 The Touch & Go Android app will enable passengers to tap to pass through boarding gates and perhaps other checkpoints at domestic airports equipped with NFC readers, according to the plan. A separate feature of the NFC service allows passengers to tap to download coupons for purchases at the airport serving the Japanese island of Okinawa.
Passengers can book and purchase their tickets and check in for their flights on their phones, as before, along with other means. KDDI's TSM, France-based Gemalto, is expected to handle the boarding pass downloads to the SIM.
There are still few phones that support standard NFC in Japan, so JAL's NFC-enabled Touch & Go service is expected to remain small at first.
A source at KDDI told NFC Times that besides the Galaxy S II, the other phone that will be available for the service is the Aquos Phone Serie ISW16SH made by Japan-based Sharp Electronics. The source said the telco has sold 400,000 of the two phones combined.
The Galaxy S II only supports standard NFC, including types A and B of the international ISO/IEC 14443 standard. But the Sharp Aquos Phone carries a hybrid chip, supporting both NFC and FeliCa applications. The Sharp phone also runs Android 4.0, so it can support such other NFC features as Android Beam, which enables users to exchange, music, videos and other large files in peer-to-peer mode.
JAL had intended to launch the NFC Touch & Go service by late September, but has experienced delays. Another of Japan's major operators, either NTT DoCoMo, the country's largest telco, or Softbank Mobile, is planning to offer the JAL NFC service by the end of this year or in the first quarter of 2013.
DoCoMo has said it will introduce its first hybrid FeliCa-NFC phones by the end of the year. DoCoMo has driven the rollout of FeliCa wallet phones, which it calls Osaifu-Keitai, starting in 2004. All told, DoCoMo, KDDI and Softbank have distributed more than 70 million FeliCa-enabled phones since then.
Other airlines are interested in NFC. In January, major airline industry IT and communications services provider SITA predicted airline passengers would routinely tap their NFC mobile phones to pass through security checkpoints and boarding gates by 2018.
Switzerland-based SITA at the time demonstrated with partners the use of NFC to load boarding passes over the air to SIM cards in the Galaxy S II, which users could then tap to automatically pass through security checkpoints, enter lounge areas and access boarding gates.
KDDI's announcement in January of the NFC launch included other applications, such as a MasterCard PayPass credit application, along with a loyalty program and tag reading services.
There are still few PayPass or other standard contactless point-of-sale terminals at which consumers can tap to pay in Japan, however.
The vast majority of acceptance points for mobile-wallet applications in Japan can only read FeliCa, including hundreds of thousands of terminals at retail shops and transit gates. These terminals are not interoperable with standard NFC phones, even though NFC technology also supports FeliCa.