Austrian Telco to End Paybox NFC Project; Had Sought to Establish New Payment Brand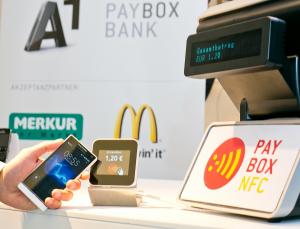 Austrian mobile operator A1 has pulled the plug on its plans to introduce its own payment brand at the physical point of sale, disclosing it would end an eight-month "trial" of the service by the end of the year.
The telco, which is one of the few operators worldwide to operate its own bank, announced the move last April, with plans to launch its "paybox NFC" application in a trial with contactless stickers to be followed by a commercial launch in the summer. The operator would load the paybox application onto SIM cards in NFC phones.
In shunning major Austrian banks and the established card schemes, Visa Europe and MasterCard Worldwide, A1 believed it could expand its paybox online payment and mobile parking fare-collection service to the physical point of sale. By doing so, it could earn transaction fees from merchants.
But the project never got out of the trial stage with stickers, and has only been accepted at a handful of McDonald's restaurants and locations of Austrian merchant Merkur, along with a few A1 shops.
Paybox confirmed the project would end Dec. 31 to NFC Times and called it a "trial." It's not clear how many customers have used it, but the announcement last April called for about 500 trial participants to begin with.
UPDATE: In a statement to NFC Times, Christoph Kössler, senior product manager and project lead for paybox NFC, said the trial showed consumers want to pay with their mobile phones and liked the speed that NFC technology offers, though they are concerned about security. Overall, the trial went well, he said.
"Nevertheless, our customers are actually looking for a national- and international-accepted payment solution," he said in the statement. "Such a payment solution is only suitable when all network providers are involved. Unfortunately, this is not possible in the current Austrian market." END UPDATE.
A1, which is part of the Telekom Austria Group, had tried to get other Austrian telcos to take part in the paybox NFC payment scheme, but was apparently unsuccessful. It always faced an uphill battle signing up merchants. And the closed-loop scheme meant consumers wouldn't be able to use the payment service outside of Austria.
Kössler told NFC Times last spring that the telco was targeting restaurants and other retail merchants that could benefit from fast cashless transactions. He said an estimated 80% of retail spending is done with cash in Austria.
Kössler had indicated at the time that A1 planned to offer merchants attractive packages that would include competitive transaction fees and terminals and terminal maintenance to encourage them to sign up.
A1, formerly known as mobilkom Austria, is not the first telco to drop plans to launch its own payment scheme with NFC.
The most notable example are the three carriers making up the Isis joint venture, Verizon Wireless, AT&T and T-Mobile USA, which abandoned plans to roll out their own payment brand after finding merchant recruitment a difficult slog. They later agreed to work with all four major U.S. payment networks.
Three major operators in Germany had announced similar plans as A1, that is, expanding their online payment system, mpass, to the point of sale using NFC phones.
But the telcos have instead decided to work with the established payment schemes. Telefónica (O2) Germany and Deutsche Telekom will introduce MasterCard PayPass-enabled stickers and applications on SIMs on NFC phones–though Telefónica appears to be planning to also co-brand with mpass and use those accounts for funding of the purchases. Vodafone Germany is planning to introduce stickers and NFC payment under the Visa brand.
UPDATE: Kössler confirmed that A1, which launched among the first NFC trials worldwide, is expected to come back with an NFC payment service supporting one of the established payment brands, Visa. A1 already issues EMV payment cards under the Visa brand. END UDPATE.