Visa Approves microSDs for Use with Three Smartphones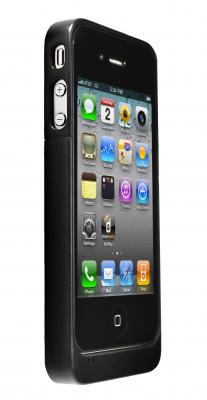 Visa has certified the iPhone and two other smartphones for use with microSD cards carrying its payWave application.

In what the card network said is the first time it has approved a contactless-mobile payment product, the microSD cards from U.S.-based DeviceFidelity are approved to work with the iPhone 4, 3GS and 3G models along with the Android-based Samsung Vibrant Galaxy S and BlackBerry Bold 9650. Visa said it expects to add more smartphone models to the list, including those based on the Symbian and Windows Phone operating systems.
The iPhone requires a case with a microSD card slot, also supplied by DeviceFidelity. The case includes a full-size contactless antenna. The microSD card with a tiny embedded antenna fits into built-in slots in the other smartphones, drawing extra power from the phones or booster coils in the back covers to complete the transactions.
The certification means the DeviceFidelity In2Pay cards with the particular handset models have passed Visa conformance testing for security and usability and will be available to Visa issuers under standard contract terms. The product had only been available to banks piloting the technology, Bank of America, JPMorgan Chase, Wells Fargo and U.S. Bank.
Update: Dave Wentker, Visa Inc.'s head of mobile product development, told NFC Times that Visa did not ease the certification requirements for the microSD product in order to speed it to market. It had to meet the same certification criteria as full NFC or other contactless-mobile devices carrying payWave will. This includes the promise of a consistent experience for consumers for the In2Pay cards, no matter the phone the cards are inserted into.
"That (usability) was critical," Wentker said. "Security, of course, (and) reliability. Does it work consistently? Is it perceived intuitively, all things relative? Absolutely. We've been working flat out for so long." End update.
The list of approved devices, while still limited, includes three popular models or platforms. "That was part of what we were trying to do, pick ones that were widely sold and deployed," Wentker said.
There have been some questions about whether the microSDs could pass Visa certification, including ensuring that consumers didn't have to tap the phones on particular parts of the point-of-sale readers or on different spots on the phones, according to the model. This was less in doubt for the iPhone because of the case with the full-size antenna that does not require the power boost from the phone or from an extra coil or antenna placed in the back cover of the handset. The iPhone with attachment is expected to be easier for consumers to understand how to tap on readers.
Update: But the Samsung Galaxy S does require what appears to be an extra coil or antenna that is attached inside the back cover of the phone as part of a sticker. This "passive-range extension label," as DeviceFidelity calls it, in effect amplifies the signal from the reader. Without it, users who tap the phone on readers to pay could have an inconsistent experience. According to the vendor, it developed the extension label to compensate for microSD slots surrounded by a lot of metal and point-of-sale readers with weak signals. End update.
Among the differences between the requirements for contactless-mobile devices and conventional payWave bank cards is that the mobile devices, including microSDs and passive stickers, only require a 2-centimeter read range, compared with 4 centimeters for conventional cards. Visa will have to approve NFC phones for use with payWave.
"In addition to issuing plastic magnetic stripe or chip-enabled payment cards, financial institutions can now consider offering their account holders a new technology that enables them to transform their existing phones into fully functional mobile payment devices," Bill Gajda, head of Visa Mobile, said in a statement.
Visa and big U.S. banks have been anxious for products that would enable them to introduce contactless-mobile payment without involving U.S. mobile operators–which are planning their own NFC-payment scheme, called Isis.
Update: But Wentker said that any looming threat from Isis is not what fueled Visa's work on the microSDs.
"There's a place for this technology in the market," he told NFC Times. "Interest is very, very high."
Still, there are questions around the issuing model and distribute modes banks will use to get the microSDs into the phones of customers. There is also a need for more phone models to be certified, say observers.
Visa continues to work on full NFC phones, said Wentker. In addition, Visa's bank-owned affiliate, Visa Europe, is working on an iPhone attachment, iCarte, from Canada-based Wireless Fidelity. End update.
print $links ?>