Turkish Bank Seeks to Launch microSDs with Visa payWave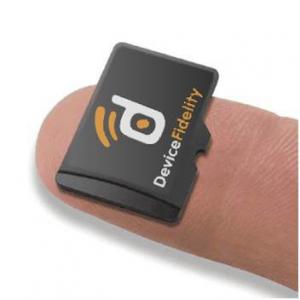 Turkey's Akbank is planning to launch contactless microSD cards to customers with Visa payWave onboard, which would be a first in Europe.
UPDATE: A Visa Europe spokeswoman told NFC Times today that its announcement of the project yesterday refers to a trial that will take place in the next few months with "several thousand Akbank customers." The announcement had not specified the size of the project or when it would begin.
The customers would insert the microSDs into their phones with appropriate slots and tap to make payments wherever payWave is accepted. The Visa announcement said the project will start with a number of BlackBerry phones popular with Akbank's customer base, then would expand over time to handsets from other manufacturers. END UPDATE.
The cards, produced by U.S.-based DeviceFidelity under an exclusive deal with Visa, are still in the testing phase. Visa is believed to be conducting trials with employees, and plans call for pilots with banks in the United States and Europe during the second half of this year. For example, U.S. Bank plans a test with the microSDs in December, including cards that fit into a special iPhone attachment.
It's unclear whether other banks have yet tested the DeviceFidelity In2Pay microSD cards, which come embedded with tiny contactless antennas. Turkish newspaper the Hürriyet Daily News quoted Visa Europe's Mary Carol Harris as saying the cards were ready to use now.
In Turkey's competitive banking and mobile markets, new projects often get announced well before they are launched. Akbank rival Garanti Bank along with No. 3 mobile operator Avea announced in May the planned commercial launch of contactless-mobile payment using a MasterCard PayPass application and SIM cards with flexible antennas. That project, planned for July, has not reportedly launched yet. And word of that announcement prompted Turkey's largest mobile operator, Turkcell, to pre-emptively announce in May plans for an NFC launch at the end of 2010. Turkish payment card organization BKM intends to launch its much-delayed multibank NFC trial later this month.
Turkey's banks have together issued more than 2.2 million MasterCard PayPass and Visa payWave cards that are accepted at about 32,000 terminals in the country, mostly in Istanbul. The payWave applications on the microSDs are designed to be accepted at payWave terminals outside of Turkey, as well.
Akbank held a small NFC trial last year with Turkcell. The microSDs and other contactless bridge technologies, such as SIMs with flexible antennas and stickers, are intended to bridge the gap to the arrival of full NFC phones. Some, however, believe the devices will remain on the market long after NFC is introduced.
print $links ?>