Visa and Bank Launching MicroSD Card Trial in French NFC Cities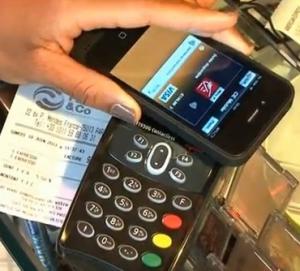 Visa Europe and Groupe BPCE, one of France's largest banks, are launching a trial of mobile payment with the iPhone, Samsung's Galaxy S and two BlackBerry Bold models, using contactless microSD cards.
The trial will take place in the first two cities that French mobile operators and the French government, among others, are using to showcase NFC technology built into mobile phones.
Visa and BPCE plan to hold their trial in Nice and Strasbourg among a combined 500 users, who will get microSD cards preloaded with a Visa payWave application. They'll insert the cards into their phones–or into a specially designed case for the iPhone–and tap the smartphones to pay for purchases of up to €20 (US$28.29) without entering a PIN. Organizers have released a video on the trial.
The microSD cards would enable the bank to bypass French mobile operators and their NFC-enabled SIM cards, which are the required secure chips for payment applications in the Nice NFC project. Organizers are planning to expand the Nice project, which launched in May 2010, to the eastern French city of Strasbourg in the fall and then to other cities.
Banque Populaire and Caisse d'Epargne, which make up the BPCE banking group, are also interested in full NFC and are members of the Association Européenne Payez Mobile with other French banks and mobile operators. The association sets rules and specifications for NFC-based mobile payment in France.
But neither Banque Populaire nor Caisse d'Epargne have yet introduced a payment application on full NFC phones in Nice. Banks Crédit Mutuel-CIC and BNP Paribas launched payment in Nice last fall, followed by Crédit Agricole.
Banque Populaire and Caisse d'Epargne were among seven banks that participated in an NFC trial in Strasbourg and also in the city of Caen starting in late 2007. There are still contactless merchant locations from the trial in Strasbourg, which BPCE and Visa can use for their microSD card trial. The same is true of the approximately 1,500 merchant locations that take Visa payWave and MasterCard PayPass in Nice for the NFC project.
One of the results of the more than year-old Nice NFC project is that users "prefer a more compelling device," Deepak Jain, CEO of DeviceFidelity, which produces the microSD cards and iPhone attachments for the new trial, told NFC Times.
He contends that DeviceFidelity can deliver that in France by giving the iPhone–including the 4, 3GS and 3G models–along with the Galaxy S and BlackBerry Bold 9700 and 9780 a contactless interface. The Galaxy S and BlackBerrys require extra antennas stuck to inside back covers to boost power to the microSD cards, which come embedded with their own tiny antennas.
In Nice, there has only been a single NFC phone model available for the telco-led project, the Samsung S5230, Player One, and only about 20% of the roughly 3,000 of the phone model sold among the major French operators in Nice have been activated for NFC services.
Vincent Barnaud, director of mobile-contactless services for France Telecom-Orange Group, which is a leader of France's rollout of NFC, said more NFC phones are coming. The telco put the Samsung Wave 578, which runs Samsung's bada smartphone operating system, on sale this month. Orange expects to have up to 10 NFC models in its French shops by year's end, including one or more BlackBerry and Android phones. All will support secure applications on SIM cards.
Barnaud said the microSD card trial would have little impact on NFC rollouts in France. The trial is intended to garner publicity for the bank and Visa, he remarked.
"It is a trial for 500 users and a nice way to get a lot of people to talk about both companies," he told NFC Times. "It shows that contactless is a hot topic. (But) it will not be part of the commercial cityzi ecosystem." The French telcos and other NFC backers have branded their NFC services "cityzi."
Visa has held contactless microSD card trials with major banks in the United States, as well as those in Turkey and Australia and has certified several smartphones for use with the technology.
U.S.-based Bank of America has expanded its trial to about seven BlackBerry handsets and also supports MasterCard PayPass, in addition to Visa payWave, on the cards it hands out to customers in New York, San Francisco and Atlanta, along with Charlotte, N.C., and Dallas.
DeviceFidelity's Jain considers the Bank of America project a commercial launch, although most would call it a trial since not all customers who apply for microSD are sent them. He said another major U.S. bank plans a "rollout" contactless microSD cards in the fourth quarter, though declined to elaborate. Akbank in Turkey has also expanded its microSD card project with Visa, said Jain.
Jain also declined to give the price of the microSDs, though said the cost for the contactless functionality and software on the cards would add less than $10 to the cost of a standard microSD card with the same memory. The vendor's cards come with low gigabyte sizes, however. And a version incorporating a full NFC chip, which could be used for tag reading in addition to payment has not yet been trialed.
ANZ bank in Australia, which launched a trial with Visa in March in Melbourne and Sydney among 50 employees, reportedly said in a statement it would "not be progressing with microSD as a contactless payment technology platform," according to an article Monday in ZDNet. ANZ reportedly concluded that the microSDs didn't meet the bank's needs. The trial involved the iPhone.
Update: ANZ and Visa issued a statement Wednesday. While not mentioning the earlier reported statement by the bank that it would not pursue microSDs for mobile payment, the new statement said that nearly 90% of trial participants believed the pilot met or exceeded their expectations.
The statement said more than 90% of participants–which were made up of employees of the bank and Visa's Australia country office–liked the idea of making payments with their phones, whatever the technology. But it added that close to 80% of the participants said they would consider getting a Visa payWave-enabled MicroSD.
But according to other reports, an ANZ spokesman said the bank is taking a "wait-and-see approach" to the technology, though it was not clear whether he was talking about microSD cards or contactless-mobile payment in general, including from full NFC phones. End update.
DeviceFidelity's Jain said he hadn't heard of dissatisfaction with the trial in Australia.
"We are confident that it's not a problem with the technology; it's not a problem with a solution," he said. "We're trying to find out what exactly is the reason for the conclusion."
print $links ?>