Texas Instruments Looks Past Mobile Phones With First NFC Chip
U.S.-based Texas Instruments has launched its long-anticipated NFC chip, targeting a range of devices, from medical equipment to hotel door locks, but not mobile phones–at least not yet.
TI, one of the world's largest semiconductor suppliers, sees a promising market for NFC chips that can pair devices with WiFi or Bluetooth, read information from tags and send data to mobile phones.
"It's targeting devices that cell phones will talk to; it's not targeted at cell phones," VC Kumar, TI's manager for embedded RF, told NFC Times. "We've seen a tremendous amount of interest, for point-of-sale (readers), medical devices, access control."
The chip supports all three NFC communication modes, card emulation, tag reading and peer to peer. But Kumar said the chip, the TRF7970A, will not support the single-wire protocol standard, which would enable it to communicate with SIM cards storing NFC applications in mobile phones. The chip could support other types of secure elements, if needed, he said. Update: But TI does not have its own secure element and would have to work with a chip maker partner to combine the latter's secure chip with the NFC chip. End update.
The chip has been delayed, with TI having originally planned to introduce it last fall, as NFC Times earlier reported.
Kumar said the chip is now ready for volume production, and a software development toolkit is available, costing $99.
TI contends its NFC silicon uses less power than those of rivals. It will go up against market leader NXP Semiconductors, which is also targeting the NFC market for a range of devices outside of mobile phones, though is also focusing on handset makers.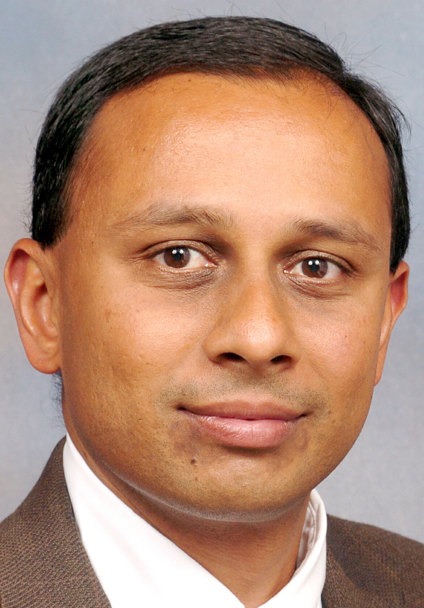 "They have been doing this for a while," said Kumar, when asked how the TI chip will stack up against NXP's NFC products "The market we are targeting, the applications we're targeting, we're very confident that we do bring differentiating value. Flexibility of architecture, (lower) power consumption."
France-based Inside Secure is also supplying standalone NFC chips, mainly to the phone market. Other chip makers have announced standalone chips, as well, including STMicroelectronics, Samsung Semiconductor and Renesas Electronics. U.S.-based Broadcom plans to introduce combination chips supporting NFC along with other wireless technologies, such as Bluetooth and WiFi, to smartphone makers.
TI might also enter the market for combo wireless chips supporting NFC, since it already supplies these chips with Bluetooth and WiFi, among other wireless technologies, for smartphones. Kumar, however, declined to say whether TI plans to introduce the combo chips packing NFC.
"We will listen very closely to what our customers will ask us," he said. "That will drive if and when we get a solution for the cell phone market."
print $links ?>