Survey Says Most Consumers Not Waiting for Mobile Wallets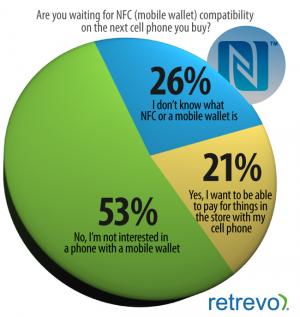 A survey conducted for consumer electronics shopping and review site Retrevo showed that only a little more than one in five respondents said they wanted NFC and a mobile wallet on their next mobile phone, while 53% said they were not interested and 26% didn't know what NFC or a mobile wallet was.

The results of the unscientific survey, which polled more than 1,000 people in June, were released this week. A Retrevo spokeswoman told NFC Times that the company hires a third-party survey firm to find people for its studies, which the firm conducts online.
The survey results indicate security concerns might be one thing standing in the way of consumers' embrace of NFC, though oddly enough, the results found respondents trusted Google and Apple more than they did Visa or MasterCard to provide a wallet. Mobile operators came in even lower on the trust question.
According to Silicon Valley-based Retrevo, the survey found that 36% of all phone owners "trusted" Google to provide a mobile wallet, 33% said they had most faith in Apple to offer one, but only 32% said they would trust a wallet from Visa, MasterCard or American Express. Even fewer, 26%, gave the nod to AT&T, Verizon or their cell phone carrier.
A breakdown of the data, however, showed that iPhone users were much more likely to trust Apple to provide the wallet, 61%, while 46% of Android phone users would trust Google to offer a wallet on their phones.
IPhone owners also would be more willing to adopt NFC and mobile wallets in their next phone, with 40% saying they were waiting for mobile-wallet capability in the future, compared with 24% of Android phone owners.
Google last month unveiled its NFC wallet, designed to run on the search giant's Android operating system. Apple is not expected to offer a mobile wallet or even an NFC phone this year.
Among respondents with all types of phones, 28% of 18-to-35 year olds said they would be interested in NFC, the highest among any age group. Others in the group said they were unsure or were not interested. But fully three quarters of respondents over 50 said they were not interested in NFC, according to Retrevo. More male respondents, 27%, said they wanted to use NFC on their phones to make purchases than women, at 15%.
print $links ?>