Spanish Bank Installs 'First' Contactless ATMs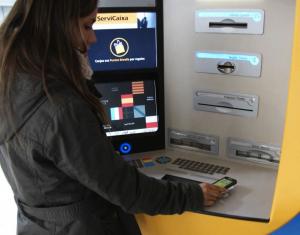 Spain's La Caixa bank has installed what it boasts are the world's first contactless ATMs, which enable customers to tap cards or NFC phones to withdrawal money, after entering PIN codes.

The bank has installed a small number of cash machines in a district of Barcelona, along with the smaller cities of Sitges, near Barcelona; and Palma, the capital of the Balearic Islands. La Caixa said it would roll out more of the ATMs in the Catalunya region and the Balearics.
"Contactless cards need not be inserted into the ATM card slot before transactions can be performed," the bank said in a statement. "Instead, users need only wave their cards next to the reader and enter their PIN to operate the ATM."
La Caixa called the transactions part of the "fastest ATM cash withdrawal system on the market," citing "technical figures." That probably comes from the maker of the machines, Japan-based Fujitsu.
All told, La Caixa has 8,000 ATMs in Spain, nearly all of them still noncontactless. The bank said it represents the largest cash machine network in the country and second largest in Europe.
There are few contactless payment cards in Spain, however. But La Caixa said it is starting to roll them out. The bank last month announced it would send out 130,000 Visa-branded contactless cards in May, apparently unsolicited, to customers on the Balearic Islands, most in Mallorca. It would also install contactless point-of-sale terminals at 5,000 merchant locations on the islands. The bank has a total 10.3 million cards on issue throughout Spain.
The bank said the ATMs will work with both cards and NFC phones. La Caixa, along with mobile operator Telefónica and Visa Europe, held one of the largest NFC trials to date, in Sitges last year, enabling 1,500 users to tap to pay with Samsung NFC phones at 500 merchant locations.
The bank called the contactless ATMs, "fully secure." It did not mention any further security measures needed for the contactless cash withdrawals.
In Japan, Fujitsu and competitor Hitachi have shipped security systems for ATMs that use palm- or finger-vein biometrics. But the ATMs do not use contactless technology.
In December, ATM maker Wincor Nixdorf and contactless technology provider HID Global announced they had developed an ATM with a contactless reader. There was no word on whether a bank was planning to introduce it.
print $links ?>