Motorola Introduces NFC Phone for Enterprises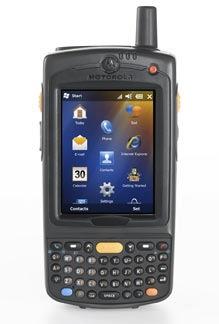 Motorola's first commercial NFC phone cannot be bought in any mobile phone shop and isn't sold by Motorola Mobility, the consumer smartphone maker.

The new MC75A HF mobile computer, from Motorola Solutions, the now separate company catering mainly to enterprises, is designed for corporations and government agencies. The device features "government grade security," a two-way radio and rugged design. The operating system is not the latest Windows Phone 7, but Windows Mobile 6.5. That is in addition to 3.5G mobile communications, GPS and a bar-code scanner.
Motorola Solutions, the new name for U.S.-based Motorola Inc., has sold more than 1 million of the MC70 and MC75A series mobile computers without NFC over the past couple of years. The company released an NFC version, the MC75A HF RFID Contactless mobile computer, last week in Europe for companies and other enterprises to test.
Motorola Mobility, which makes smartphones, TV set-top boxes and other devices for consumers, spun off from the company in January, and has remained quiet about any plans to incorporate NFC into its smartphones, including the popular Droid.
Motorola Solutions decided to add NFC functionality to the MC75A for enterprises that want to support transit ticketing, RFID tag reading, couponing and even debit or credit payment. The NFC chip supports all the major transit protocols, including Mifare, FeliCa and Calypso, said Motorola.
"Yes, in some transport and logistic (environments) you need NFC and RFID," a Motorola Solutions spokeswoman told NFC Times. She added that the phone is not ready out-of-the-box for payment and would have to add a "module." It's unclear whether that refers to software or hardware. But The NFC chip likely has an embedded secure element.
One NFC industry observer, however, was unimpressed, noting that a new NFC phone for enterprises, especially an expensive one like the MC75A HF RFID Contactless, will do little to energize the NFC ecosystem, which is largely focused on the consumer market.
"It's basically a souped-up PDA with a cellular modem," the observer told NFC Times.
print $links ?>