Telefónica to Try Out Payment on NFC-Enabled BlackBerrys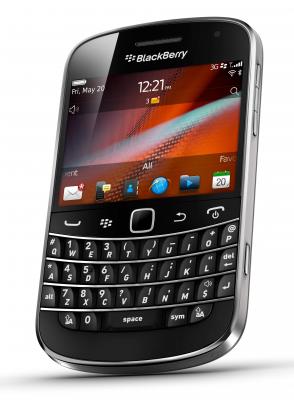 Spain-based Telefónica Group and Research In Motion announced today an employee trial at Telefónica's headquarters that will test up to three NFC-enabled BlackBerry models for payment and physical access control.
The trial will involve 350 employees at part of the telco's headquarters complex in Madrid. Telefónica earlier this year launched a large trial of payment and employee physical access control at its headquarters, using the Samsung S5230 NFC phone, known as the Samsung Star in Spain.
The new pilot could be an extension of that trial. The telco and RIM noted today that Telefónica had developed a version of its mobile wallet for RIM's NFC-enabled smartphones and its new BlackBerry 7 operating system.
The "Telefónica Wallet" will run on three BlackBerry models that support a single-wire protocol connection to SIM cards in the phones–the BlackBerry Bold 9900, Curve 9360 and recently announced Curve 9380. RIM has not yet released the latter model, which is expected in coming weeks. The handset maker and telco also didn't say when the new pilot would launch, but it is expected by the end of the year.
Three banks have been involved in the earlier trial at Telefónica headquarters, all using a Visa payWave application. At least one of those banks, La Caixa, will be involved in the new trial or trial phase, the bank confirmed to NFC Times.
Telefónica, one of Europe's largest operator groups, indicated the trial could serve as one of the final warm-ups to NFC commercial launches in 2012.
"Trials such as this are important to ensuring a great customer experience, and we look forward to seeing the launch of commercial wallet services in several markets next year." Matthew Key, chairman and CEO of Telefónica's Digital unit, said in a statement.
Among those markets are expected to be Spain and in countries served by the group's O2 operators, including those in the United Kingdom and Germany.
As NFC Times recently reported, O2 UK had earlier said it planned to launch NFC commercially before the end of 2011. It faces pressure from chief rival Orange UK, which already launched commercial NFC payment service, Quick Tap, in May, with Barclaycard, a part of Barclays bank.
Claire Maslen, senior market development manager for O2 UK's financial services arm, O2 Money, indicated during a presentation last week at the Cartes & IDentification conference in Paris that the telco was honing its NFC and network-based wallet applications before launching service. The NFC part of the wallet launch is now planned for 2012.
"We absolutely have to get the customer experience right," she said, noting that the telco is developing an "open wallet."
"We want people to put any of their financial products in there," Maslen said. She added that O2 would not pair up with a single bank in an "exclusive relationship," an obvious reference to Quick Tap.
The new trial or trial phase at Telefónica's headquarters and RIM's announcement of it today is not the first promotion by the Canada-based handset maker of SIM-based NFC payment in its phones. At least for now, RIM appears to want to send the message that it has no intention of competing with mobile operators on NFC applications–though RIM would own the embedded secure chips that come in all of its NFC phones.
The handset maker is working with access control vendor HID Global on putting contactless corporate badges on the embedded chips, but probably not for the Telefónica trial. RIM is also promoting peer-to-peer applications on its NFC phones, enabling users to share contact information, documents, URLs, photos and other content. That includes users being able to tap their phones together to add each other as contacts for RIM's instant messaging service, BlackBerry Messenger.
In October, RIM announced that MasterCard Worldwide had certified two of its NFC models, the Bold 9900 and Curve 9360, to run MasterCard's PayPass application on SIM cards. It was the first NFC-enabled smartphones to be certified by a major payment scheme to run applications on SIMs, RIM noted. MasterCard has also certified the Google Nexus S 4G, an Android phone, to carry PayPass on an embedded secure element.
Update: Telefónica is also one of the largest mobile operator groups in Latin America, and RIM and Telefónica will hold a trial of credit card payment on one or more NFC-enabled BlackBerry models in Brazil in early 2012, according to Adriano Lino, RIM's Latin America marketing intelligence manager, reported Business News Americas. End update.
The BlackBerrys used in the Telefónica trial in Spain wouldn't need to be certified by Visa if SIMs in the phones run a Visa payWave application. Visa could grant a waiver. To be certified, phones and secure elements have to pass tests for performance and security by labs approved by the payment schemes.
Telefónica's earlier NFC trial at its headquarters, launched in March, was to involve 1,000 employees and then expand to more than 12,000 employees, Telefónica told NFC Times at the time. It's unlikely the trial expanded much beyond 1,000, however, given limited NFC phone availability.
Telefónica, Visa and La Caixa collaborated on a large payment trial in the Spanish town of Sitges, near Barcelona in 2010. O2 UK held a trial in late 2007 and early 2008 involving Barclaycard, Visa and Transport for London.
With the embedded secure chips in its NFC phones, RIM is planning to enable employees to tap the phones to enter buildings, offices and other facilities and perhaps secure other enterprise applications.
The handset maker has been working with U.S.-based HID Global, part of Sweden's Assa Abloy, to put the latter's iClass card-based access-control system onto the embedded chips. Trials are planned before the end of the year. Telefónica was not available for comment on where the corporate badges for its new trial with BlackBerrys will be stored.