Sony Sees Demand Soar for NFC Tags in 'One-touch' Consumer Electronics Devices
Japan's Sony Corp. is producing millions of NFC tags for the company's consumer electronics devices and accessories, following the introduction by Sony of its NFC-based One-touch connectivity feature, a representative told NFC Times.
One-touch uses NFC technology to enable consumers to easily pair devices to quickly set up Bluetooth and Wi-Fi connections. For example, users can stream video from their phones to their television screens by tapping the handset to a tag embedded in Sony TV remote controls. Or they can listen to music on portable speakers that is playing on their phones by tapping the phones to the speakers.
Sony introduced the One-touch feature with several products at the IFA 2012 consumer electronics trade show in Berlin in late August and early September and introduced even more products promoting the NFC connectivity theme at the International Consumer Electronics Show, or CES, in Las Vegas in January, including Bravia TVs that can "mirror" content on recently introduced Xperia NFC phones, such as the Xperia Z.
The decision by the consumer electronics giant to adopt NFC in a range of devices has caused demand for tags to explode for Sony's own chip manufacturing unit, said Koichi Tagawa, general manager of global standards and industry relations at Sony, who is also chairman of the NFC Forum trade and standards group.
"Demand for NFC tag devices equipped in Sony CE (consumer electronics) products is already in the millions and is continuing to grow rapidly and significantly," Tagawa told NFC Times.
Sony has introduced 39 devices that support NFC One-touch since the IFA show, including 24 at CES. Among the devices are headphones, speakers, Vaio PCs and a Personal Content Station, a storage container packing a terabyte of memory capacity, which users can tap to back up content.
The nearly 40 devices apparently include such Xperia phones as the Xperia Z, ZL, L and SP models, all of which have full NFC controller chips not provided by Sony. But Sony produces the tags in the other devices and accessories used for pairing. The tags store Bluetooth or Wi-Fi addresses for the devices, enabling easy pairing. For example, NFC could reduce the number of steps to pair a smartphone with a Bluetooth speaker or headphone from as many as nine down to one, said Tagawa.
With its strong promotion of One-touch, Sony apparently sees NFC connectivity as a key selling point to generate interest for its Xperia line of Android phones against dominant Android phone maker Samsung Electronics, as well as Apple's iPhone.
Tagawa spoke last week at the WIMA 2013 NFC conference in Monaco, where he noted that before Sony launched One-touch, the company's chip division couldn't find many places to sell the NFC tags it produced. An order for 1,000 tags was considered large and the typical order was for 20 to 30, he indicated. But Web shops were often too small to sell the tags.
"The problem is these Web shops that were willing to sell NFC tag chips were so small that they could not pass the Sony credit criteria," Tagawa said. "What that meant to us, making the chips, we had the chips, (and) we didn't have any way to sell them.
"But these types of applications in the CE space suddenly turned the light on. Now our production cannot catch up with just the Sony internal demand. And I'm sure (something) similar is happening to other tag chip manufacturers as well as more CE devices come to the market."
Sony wasn't the only consumer electronics company promoting NFC connectivity at CES this year.
South Korea-based LG Electronics introduced an NFC-enabled Blu-ray player and an NFC-enabled sound system. Both can stream content from smartphones or tablets using Wi-Fi, with the handover handled by NFC.
LG calls its NFC connectivity feature "Tag On." It earlier said its 2013 home entertainment lineup would include NFC in one or more models in its Cinema 3D Smart TV range.
In addition, LG's home appliance division introduced its first NFC functionality, putting NFC tags on a refrigerator, oven and washer and dryer. Users could tap to register the appliances for warranty and to add them to LG's Smart Control Android app.
Within the app, consumers could remotely adjust controls on the smart appliances, such as setting a cooking mode on the oven, and get information from them, such as an inventory of items in the refrigerator.
NFC chips are also making their way into printers, digital cameras and other devices besides smartphones and tablets, including game controllers or consoles and video game figurines.
Sony would likely not be producing the chip tags for the LG consumer electronics devices. They likely come from NXP Semiconductors or Broadcom.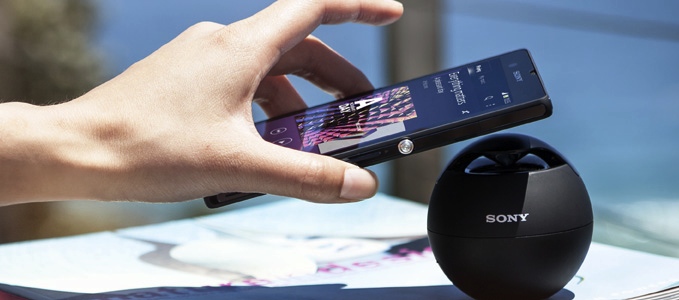 There are a number of NFC accessories already on the market using standard NFC tags, including headsets and speakers. Among phones manufacturers that have been promoting these types of devices for some time has been Finland-based Nokia.
Of course, NFC tags are most often used in NFC-enabled smart posters. And some device manufacturers have shipped branded tags with their NFC smartphones or offered them for sale separately.
Sony's Tagawa-san noted that the Sony NFC tags in the consumer electronics devices and accessories use Sony's FeliCa technology and comply with one of the four NFC Forum tag types, Type 3.
This would mean that standard NFC phones, including those from other manufacturers, would be able to read the tags, though they wouldn't necessarily support the connectivity features that Sony has built into the One-touch devices.