Smart Card Maker Morpho Acquires TSM Cassis International
Smart card and ID security company Morpho has signed an agreement to acquire Singapore-based trusted service manager Cassis International, putting another major TSM platform into the hands of a smart card supplier, NFC Times has learned.
France-based Morpho, the fourth largest smart card vendor worldwide and believed to be the largest supplier of government ID and health cards globally, takes over a pioneering TSM in Cassis, which was founded in 2002.
UPDATE: The acquisition is expected to be announced at the end of next week. Both Morpho and Cassis declined to comment. END UPDATE.
The acquisition gives Morpho what is considered by many to be one of the four major TSM platforms globally. The others are owned by Gemalto, Oberthur Technologies and Giesecke & Devrient, the three largest smart card vendors worldwide.
Morpho, which is a unit of France-based aerospace, defense and security company Safran, could use Cassis' TSM to complement its ID, SIM and banking smart card business, along with its banking card personalization program. The vendor offers NFC SIM cards, in addition to conventional SIMs.
Cassis, which supplies TSM services to MasterCard Worldwide for the payment network's MOTAPS over-the-air provisioning service, is expected to become part of Morpho's roughly 2,700-employee strong e-Documents division.
The purchase would enable Morpho to stay competitive with the three larger smart card vendors, which sources say often cross sell their cards and TSM services to mobile operators and such service providers as banks and government agencies.
Competing with Card Vendors
With demand growing for TSM services as NFC rollouts gear up, Morpho also sees trusted service management as a potentially profitable business in the longer term, said sources.
Mobile operators are hiring TSMs to manage the secure elements in their planned NFC SIM cards. Service providers also are seeking TSMs to securely download, provision and manage their applications–such as payment, transit ticketing and access control–over the air to SIM or embedded secure elements.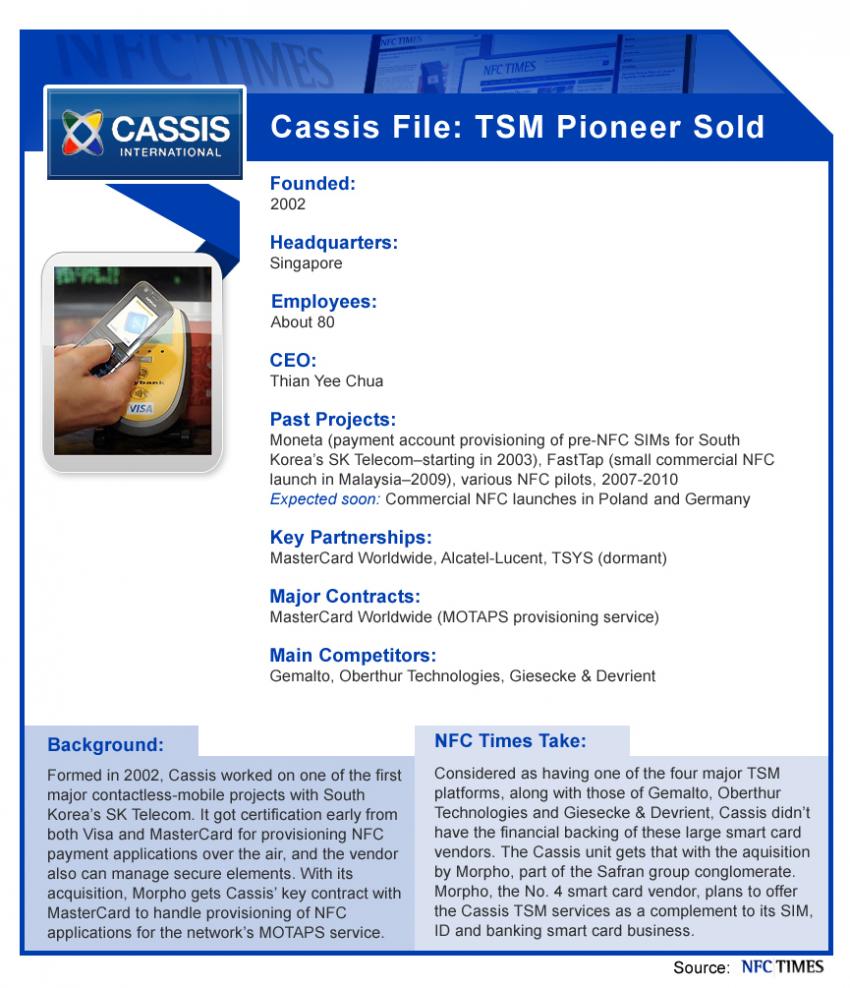 Gemalto, Oberthur and Giesecke & Devrient have, in part, used their relationships with major telcos, banks and other service providers to win TSM business. For example, the four largest mobile operator groups in Europe, Vodafone, Deutsche Telekom, Telefónica and France Telecom-Orange–as well as the U.S. telco NFC joint venture Isis–all have chosen TSMs from among the three largest smart card makers. Some major banks also have signed TSM contracts with the smart card vendors.
That has offered some tough competition for other TSMs, some of them smaller companies without big corporate backing, such as Cassis and U.S.-based Vivotech.
These and other TSMs, such as Ericsson IPX; ABnote; Sequent, which uses Vivotech's platform; and CorFire, part of South Korea-based SK C&C; have tried to position themselves as neutral, contending the TSMs of the smart card vendors won't work well with their rivals' secure elements.
TSM Firsts
Cassis was believed to be the first TSM certified by both MasterCard and Visa to download and provision payment applications to NFC phones.
That helped Cassis win what appears to be a lucrative contract with MasterCard to support the payment network's streamlined system to personalize PayPass contactless applications in NFC phones from various issuers, called MOTAPS. MasterCard announced the deal in June of 2011.
This means the Cassis TSM unit of Morpho is expected to be involved in the launch of PayPass-enabled NFC payment in Poland and Germany, announced this week by Deutsche Telekom. The telco's ClickandBuy unit will issue the applications. Other issuers, especially smaller banks without their own TSMs, are expected to use MOTAPS, as well.
Cassis, which was founded by a smart card industry veteran from Gemplus, now part of Gemalto, Thian Yee Chua, with involvement from former Gemplus chairman Marc Lassus, offered what is considered to be the first TSM service in 2003.
That year, Cassis started providing over-the-air provisioning of a payment application to SIM cards issued by South Korea's SK Telecom. The SIMs used a proprietary technology from the telco supporting infrared technology that later moved to contactless.
Cassis later served as TSM for what was billed in 2009 as the first NFC mobile-payment commercial launch, by Maxis Communications and Maybank in Malaysia–though the project remains small.