New Samsung NFC Phone Gets First Trial in Spain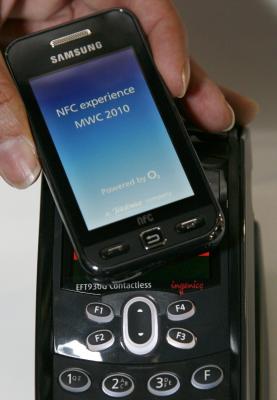 BARCELONA – Samsung Electronics has introduced its new NFC phone for its first public trial, lending more than 400 units for a demonstration at the Mobile World Congress in Barcelona.
Spain's largest telco, Telefónica, along with La Caixa Bank, Visa and a few vendors, are putting on the trial at the annual exposition and conference organized by the GSM Association. They handed out the touch-screen phones to more than 400 attendees with 75 euros (US$102) loaded in La Caixa Visa accounts. The users can tap during the four-day event to pay at more than 30 merchant locations the bank has equipped to accept Visa payWave around the congress center.
"This is the first time you will use a Visa application on the SIM card," Pablo Montesano, director of new businesses, financial services for Telefónica Spain, told NFC Times in Barcelona.
PayWave on a SIM was reportedly among payment applications used earlier as part of a multibank trial held in France starting in 2007. But the Barcelona demo and a much larger trial Telefónica, La Caixa and Visa plan this spring in the resort town of Sitges would perhaps be the first NFC trials featuring only payWave on the SIM.
The phone for the Telefónica trials, the Samsung S5230, known as the Star or Player One, is an EDGE handset–not a 3G phone. But Samsung said it is one of the handset maker's top sellers.
French operators also plan to use the phone for their much-touted NFC project planned for the spring in Nice.
"We decided to put NFC in those devices to increase (the number of) NFC devices in the market," said a representative for Samsung during a conference session at the Mobile World Congress. "We have a plan to introduce 3G (NFC) devices in the second half of this year, but it depends on the infrastructure readiness."
The Mobile World Congress trial is only a preview for the larger trial the organizers plan to hold in May in Sitges, near Barcelona. Plans call for 1,500 users and 500 merchant locations for the project. Organizers plan to subsidize the cost of contactless point-of-sale terminals for the merchants. Spain has not yet rolled out contactless terminals or cards.
Telefónica also plans a multiapplication trial among employees at its Madrid headquarters. Besides payment with Visa payWave, there will be a closed-loop payment application for purchases at vending machines and cafeterias, a metro-ticketing application, and physical-access control, Montesano told NFC Times.
He said during a conference session that Telefónica sees two advantages for banks, transit operators and other service providers to roll out NFC. One is cutting costs by enabling the service providers to avoid having to issue and manage some of their card base.
An even greater advantage is enabling issuers to communicate directly with customers, sending them information and promotions over the network, which they could view and interact with on their phones.
Of course, telcos expect to get paid for providing the network and other infrastructure for this enhanced service. Montesano told NFC Times that Telefónica does not believe the SIM-rental model, in which telcos rent space to service providers, is the only way for operators to collect revenue from NFC. But he declined to detail alternatives.
Article comments