Motorola Announces Three NFC-Enabled Phones for U.S. Carrier Verizon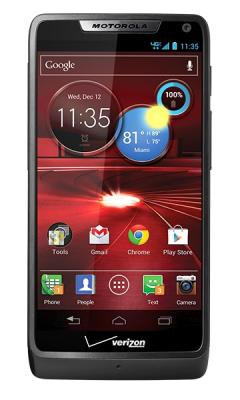 Motorola Mobility has launched three NFC-enabled Android phones, as part of its Droid Razr family, all exclusively available on U.S. mobile operator Verizon Wireless.
Motorola, a unit of Google, and Verizon announced the phones today, all of which will support Verizon's 4G LTE network and will run Android 4.0, known as Ice Cream Sandwich. Verizon noted that the phones would enable customers to "send contacts, links, maps and more directly to compatible phones with Android Beam."
Android Beam is Google's enhanced peer-to-peer communication service using NFC technology that the Web giant introduced for Android 4.0.
Verizon said the first of the phones, the Droid Razr M, would be available today for $99 after $50 mail in rebate for a two-year contract.
The phone, which had been known as the Scorpion Mini, was certified last month for NFC payment by Visa Inc. This would mean Verizon could press the phone into service for the Isis Wallet, which will be trialed starting next month.
MasterCard Worldwide has certified at least two phones for Verizon to support Isis, the HTC Droid Incredible 4G LTE and Samsung Galaxy S III. The Samsung phone is also likely to be used by the other Isis joint venture partners, AT&T Mobility and T-Mobile USA.
The other two Motorola phones announced today, the Droid Razr HD and long-battery life Droid Razr Maxx HD, would be available before the holidays, said Verizon.
The phones follow announcement by U.S. carrier Sprint in July of Motorola's first commercial NFC phone, the Photon Q 4G LTE.
Verizon also announced an NFC-enabled tablet-smartphone hybrid Tuesday, the Intuition from LG Electronics. The device also goes by the name, Optimus Vu.
Verizon said it would put the Intuition on sale starting Thursday. The device will come with the LG Tag+ app and two reprogrammable NFC tags, noted the telco.
"That can be used to create and switch between different phone modes with a single tap," Verizon said in the announcement. "For example, the stickers can be posted onto an office door or bedroom nightstand and customers simply tap the NFC sticker with their phone to activate a mode and tap it again to return to their original settings.
Verizon noted the modes are "customizable," including "Car Mode, Office Mode, Sleep Mode and User Mode."