Taiwanese Telco To Deploy NFC 'Dongles'
TAIPEI – Taiwan's largest mobile operator, Chunghwa Telecom, plans to issue at least 10,000 NFC "dongles" that subscribers will be able to tap to make retail payments, download coupons, view exhibit information and to ride metro trains and buses.

The dongles will communicate with apps on subscribers' mobile phones, including those supporting Android, through a Bluetooth connection. But the dongles will not be attached directly to the users' phones as stickers. Instead, users would wear the dongles around their necks or as key fobs, and the Bluetooth chip in these devices would communicate with the Bluetooth chip in the users' phones to pass data back and forth.
Chunghwa Telecom, which developed the devices in-house and faced government mandates for the project tied to funding, plans to showcase the technology at the big 2010 Taipei International Flora Expo that starts in November.
The devices will support full NFC, including reader mode for tapping tags, as well as peer-to-peer connections. Users will be able to tap their NFC devices on a total of about 3,000 tags at 40 displays and 30 kiosks at the exhibition.
Secure chips in the dongles will store a MasterCard PayPass application and a Mifare-based EasyCard application, used to ride buses and trains in and around Taipei and to make payments at a growing number of stores.
"We will have big activity for this dongle.," predicted Char-Shin Miou, project manager for NFC Technology and IC card applications for Chunghwa Telecom Laboratories, speaking at a recent Alternative NFC Solutions conference in Taipei organized by the Asia Pacific Smart Card Association.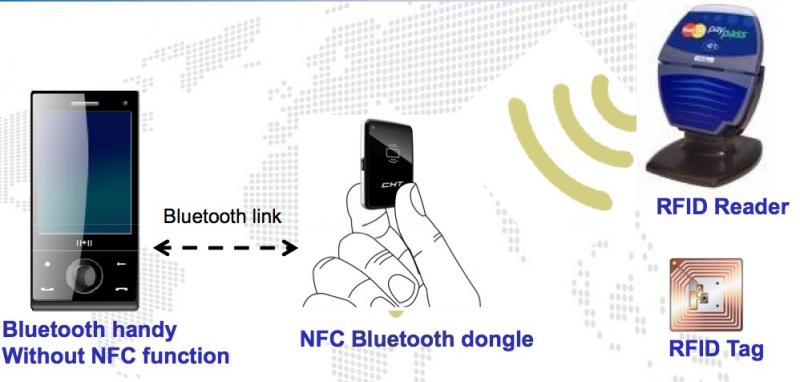 EasyCard is widely used for transit and is accepted at a growing number of convenience stores and other retail locations in Taipei and elsewhere on the island nation. Miou did not disclose the names of the two banks planning to issue the PayPass application.
The dongles are seen as a bridge technology until full NFC phones arrive. And Chunghwa Telecom along with EasyCard Corp. had promised the government it would introduce at least 10,000 users to NFC technology this year in return for NT$16 million (US$511,000) funding for a related trusted service management project.
Miou, who is in charge of Chunghwa's NFC activities, said that from the middle of next year, he expects "suitable" NFC handsets to be on the market. But in response to a question from NFC Times, he said he believes about 10 phone models supporting full NFC would probably be needed for a successful commercial rollout of NFC in Taiwan.
Miou said that while other NFC bridge technologies might be available this fall, they would not have been ready in the quantities the telco needs for the floral expo.
But the Bluetooth/NFC dongles come with their own challenges, including a requirement for an extra piece of software to be loaded on phones supporting the model's operating system. The communication between the dongle and phone also relies on the Bluetooth application-programming interfaces, or APIs, and these differ according to the operating system. Some models, such as Apple's iPhone, do not work with the dongles.
Chunghwa Telecom has been among the most active mobile operators testing NFC and has held at least three important trials in the past three years. It is also developing a TSM service, reportedly with some government funding.
The telco in September 2008 launched what is perhaps the largest NFC trial to date worldwide in terms of numbers of phones, a pilot for which the telco said it distributed 6,000 NFC handsets from Taiwanese phone maker BenQ. The phones stored a physical access-control application for a new apartment complex, along with EasyCard and PayPass on a SIM–although the phone did not apparently support the single-wire protocol standard.
But the lack of either full NFC phones or clarity from financial regulators on security requirements for mobile payment, among other reasons, have caused Chunghwa and competing mobile operators Far EasTone and Taiwan Mobile to put their NFC plans on hold.
print $links ?>