Starbucks Rolls Out Bar-Code Mobile Payment Nationwide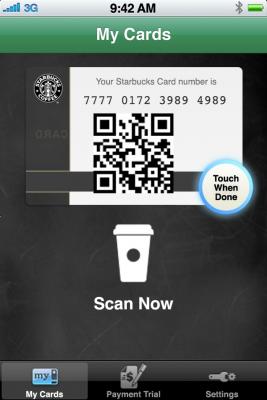 The Starbucks coffee chain has announced it is rolling out mobile payment nationwide to its nearly 6,800 company-owned stores in the United States, using 2-D bar-code technology–in what it calls the largest mobile-payment service in the country.
Consumers can use the service by downloading a Starbucks Card Mobile app to their Apple iPhones or iPod Touch devices and a variety of BlackBerry models. Starbucks is reportedly developing a similar app for Android phones.
"Today, one in five Starbucks transactions is made using a Starbucks Card, and mobile payment will extend the way our customers experience and use their Starbucks Card," said Brady Brewer, vice president Starbucks card and brand loyalty, said in a statement.
The payment service is also available in Starbucks outlets in 1,000 Target discount department stores in the United States. The coffee chain had been piloting the service in these stores along with other outlets in Seattle, New York and Northern California.
The chain hasn't released figures on transactions for the extended trials of the mobile apps, but said the reloadable Starbucks Card, on which the mobile service is based, "continues to experience significant customer adoption." Customers loaded more than $1.5 billion on Starbucks Cards in 2010, up 21% compared with 2009, the company said. It credited the growth of its prepaid store card in part to the rewards program connected with it.
The chain has said it is interested in using NFC technology to enable customers to use their phones to pay, but has noted that few NFC phones are available.
"Mobile payments could be powered by NFC someday, but bar codes are our proxy right now," Chuck Davidson, category manager for innovation for the Starbucks Card told NFC Times earlier. "My job is innovation, and while I'm a big fan of NFC, I feel a tremendous need to get to learning about mobile payments as quickly as possible."
Starbucks also has resisted efforts by U.S. banks and the major payment card brands, Visa Inc. and MasterCard Worldwide, to accept contactless payment in its U.S. stores. The chain likewise has so far rejected the idea of making its Starbucks Card contactless.
With the bar-code app, after the customer scans the 2-D bar code at the point of sale, Starbucks deducts the amount of the purchase from his Starbucks Card account over the network. The app also lets cardholders track the card balance, add to it with a major credit card, check the status of rewards points and locate nearby Starbucks outlets. IPhone users also can reload with their PayPal accounts.
Starbucks said more than one-third of its U.S. customers use smartphones–nearly three quarters of them BlackBerrys and iPhones. A number of smartphone models are expected to support NFC this year, including some BlackBerry and Android models and perhaps the iPhone. But not all will necessarily support card-emulation mode, at least not at first. That would be needed to enable consumers to tap their phones to pay with the Starbucks Card with full security.
Some NFC industry observers point out that bar-code-based payment is much less secure than NFC or cards using smart card technology. For example, a fraudster could make a copy or take a picture of a customer's static bar code and simply put it in a PDF or JPEG file on his own phone to use. The NFC-based payments would also be faster, they say.
Starbucks told NFC Times last fall there were no documented cases of the Starbucks Card Mobile app getting hacked.
print $links ?>
Article comments