Scandinavian Airlines Plans to Introduce HCE-Enabled Boarding; Other Airlines Interested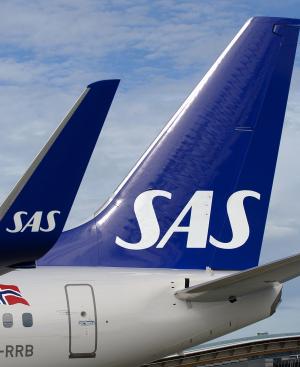 NFC Times Exclusive: Scandinavian Airlines plans to introduce an NFC application for frequent flyers using host-card emulation next month, and if its new mobile app arrives on schedule, it would likely be the first airline to commercialize HCE.
The move follows an aborted attempt by Scandinavian Airlines, or SAS, to launch an NFC mobile application in 2012, as it has sought ways to enable customers to tap their phones to identify themselves at self-service kiosks, baggage counters, security checkpoints, lounge entrances and boarding gates. The airline has wanted to move beyond passive contactless stickers to offer its popular mobile frequent flyer service, Smart Pass. SAS deems the stickers too expensive to roll out to its entire base of 3.5 million frequent flyers.
"It (HCE) really opens up the possibility for us to develop an app that you don't need to be dependent on the SIM card and security, and I believe definitely that Smart Pass doesn't need to have a secure element," Lena Erneling Albers, product manager, mobile services, for the Sweden-based airline, told NFC Times. She spoke at the recent WIMA NFC and proximity solutions conference in Monaco.
Other air carriers, such as Japan Airlines, which has already introduced a standard NFC-enabled boarding service using SIM cards, are also interested in HCE, though both SAS and JAL have a substantial base of iPhone users.
But such airlines as Spain's Iberia says it is continuing to develop boarding passes for SIMs, which allow for transmission of boarding passes or frequent flyer numbers with the device in power-off or battery-low mode.
Words:
2,400
Graphics:
Table: Mobile boarding passes: Pros and cons for storage on secure elements, device memory (HCE), 2D codes
Among Topics Covered:
Plans by Scandinavian Airlines to introduce an HCE app enabling frequent flyers to tap for check-in, boarding and other services
Interest by other air carriers in HCE, such as Japan Airlines
Pros and cons of HCE over other options for enabling mobile boarding passes
SAS' unsuccessful attempts to support NFC boarding using peer-to-peer/Android Beam technology, as well as "reverse Mifare"
Advantages of NFC over QR codes and other types of 2D codes
Power-off and battery-low mode for airline applications
Iberia's planned pilot using SIM cards
Results of survey by SITA of mobile boarding passes
SITA's position on HCE
Sources quoted:
Lena Erneling Albers, product manager, mobile services, Scandinavian Airlines
Raúl González-Pacheco García, innovations manager, Iberia
Stephane Gruber, NFC program director, SITA
Toshi Shimizu, director, planning group, Web sales and marketing, Japan Airlines
Among companies and organizations mentioned:
Scandianavian Airlines
SITA
Iberia
Japan Airlines
International Air Transport Association
NXP Semiconductors
This is premium content from NFC Times.
© NFC Times and Forthwrite Media. NFC Times content is for individual use and cannot be copied or distributed without the express permission of the publisher.
print $links ?>