NXP-backed Group Seeks to Clear the Way for NFC Mifare Rollouts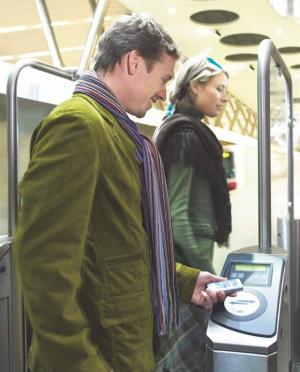 NXP Semiconductors has stepped up its push to get its popular Mifare technology broadly supported in NFC phones, forming an industry group to develop specifications for managing Mifare applications on the phones.
NXP is handing over to the group the specifications for its Mifare application-programming interface in NFC phones, called Mifare4Mobile. This Mifare API, which NXP introduced in late 2008, controls how transit and other Mifare applications are downloaded and maintained on NFC phones or on such NFC bridge technologies as contactless microSD cards. NXP announced the move Wednesday.
The group is made up mostly of trusted service managers, including the TSM arms of France-based Gemalto, Giesecke & Devrient of Germany, Oberthur Technologies of France and U.S.- based Vivotech. It also includes Swedish telecoms equipment maker Ericsson, which is forming a TSM. Besides NXP, chip maker STMicroelectronics, a Mifare licensee, rounds out the group.
"The ultimate goal is for TSMs to have compatible interfaces, so they can provide good business to customers," Martin Bührlen, Mifare technology licensing manager at NXP, told NFC Times.
That business could be a brisk one if NFC takes off. Mifare runs on an estimated 70% of transit cards, which would make it the most widely used contactless technology of any kind worldwide. Mifare on NFC phones could use the same infrastructure of readers at metro gates and onboard buses and trams.
The NFC Mifare applications are mainly targeted at transit operators that will want to offer their customers the option of buying tickets and transit passes over the air and then paying their fares by tapping their phones as they do cards. Besides downloading and provisioning the applications, TSMs could do regular business delivering the tickets and monthly or weekly passes to consumers and recharging value on SIM cards or other secure chips in phones.
Some transit operators are upgrading from Mifare Classic cards to more secure Mifare DESFire applications, following hacks of Classic publicized by researchers beginning in December 2007. So one of the main goals of the new vendor group will be to upgrade the Mifare4Mobile specifications to include DESFire, said Bührlen. The group will also update the API to support the GlobalPlatform 2.2 specification and to enable multiple TSMs to access the same secure element.
The Mifare4Mobile API is available for free license to pretty much all companies, not just members of the group. But the API only works with applications running on secure chips in phones that are produced by NXP or by vendors with a paid Mifare license from NXP.
'Mifare is Proprietary'
A competing contactless chip supplier, Inside Contactless, contends the new Mifare4Mobile vendor group is just another part of NXP's strategy to extend its Mifare dominance to mobile phones. With NXP's restrictive licensing policy, Mifare4Mobile will not become an open industry standard, just like Mifare cards remain closed, charges Charles Walton, executive vice president and chief marketing officer for Inside.
"Mifare is proprietary, and it's owned by NXP, and that's a fact," he told NFC Times. "We can't go build another ecosystem that is a mobile NFC ecosystem that remains proprietary like NXP did around transit. The industry should reject it."
Walton has said NXP repeatedly turned down Inside's requests for a Mifare license between 2007 and 2009. Germany-based chip maker Infineon Technologies, another major contactless chip supplier, also apparently cannot get a license for DESFire or related Mifare Plus technology, though it has one for Mifare Classic under a long-standing grandfather arrangement.
In January, Infineon and Inside, along with the card divisions of Oberthur and Giesecke & Devrient, announced an initiative to advance a competing technology to Mifare for transit applications. The technology, developed by Infineon will be licensed on a fair, reasonable and nondiscriminatory basis, said the group.
The group, however, has not announced any new members since its launch of the initiative in January and likely won't have products available to compete with Mifare until next year.
UPDATED: Inside and Infineon were not invited to the Mifare4Mobile group, no doubt, because they plan the competing transit offer and for other competitive reasons. But it's unclear why some other NFC ecosystem players were left off the invitation list. That includes some trusted service managers, including Singapore-based Cassis International, which is a global TSM.
Among other projects Cassis handles is one of the few NFC rollouts worldwide, though a small one, in Malaysia, that involves Mifare, points out Jean-Philippe Bétoin, head of Cassis' European unit. The project involves telco Maxis Communications, Visa payWave issuer Maybank and Touch 'n Go, a transit fare-collection operator that uses a Mifare application. Cassis manages the project's applications, including handling top-ups of the transit purse over the air, he said.
"We have two-thirds of TSM deals in Asia, which is the sweet spot of Mifare," Bétoin said. "We would be pleased to bring our concrete expertise of Mifare to this group."
NXP's Bührlen said the group is open to new members, but plans call for keeping it small because too large a group would be unwieldy. But he did not go into detail on criteria NXP or other organizers of the group used for inviting members. "I don't expect there will be a lot of growth (in membership)." END UPDATE.
Gemalto Backing Key to Mifare Group
Meanwhile, it appears Gemalto, the world's largest smart card vendor, is supporting only Mifare, not the Infineon-Inside group, at least for now. Gemalto is the only card vendor with a Mifare license, which permits it to produce, for example, DESFire SIMs on any qualified semiconductor supplier's chips. That gives it an advantage over other card vendors to supply DESFire SIMs to mobile operators in markets where transit authorities have adopted DESFire. One of those is Transport for London, which is also planning to offer its fare-collection application on NFC phones.
Gemalto also has a deeper stake in Mifare4Mobile than most other members of the vendor group that will develop the specifications for the technology.
Gemalto announced it was buying NXP's Mifare4Mobile business unit in March 2009. Besides developing the first version of the Mifare4Mobile API, NXP had also set up a unit that could offer the Mifare downloads for transit operators.
But the chip maker decided the small unit would compete with the TSM units of smart card vendors that buy its chips. So it sold the unit to Gemalto for an undisclosed price. The acquisition mainly amounted to the transfer of about a dozen Mifare4Mobile developers and other employees from NXP to Gemalto. NXP retained control of the Mifare4Mobile specification until it formed the new vendor group.
According to Bührlen, NXP will become one of seven members of the new group, each with an equal voice in how the Mifare4Mobile specification evolves.
"All seven companies in this group have the same rights," he told NFC Times. "NXP is not a gatekeeper and Gemalto is also not a gatekeeper."
print $links ?>