As NFC Heats Up, Big Telecom Vendors See a Market Opportunity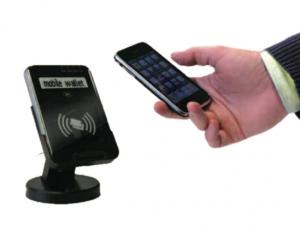 As NFC smartphones head to market and big mobile operator groups gear up to offer mobile wallets on them, units of two of the largest telecom equipment and services vendors see a market in the making.

The units of France-based Alcatel-Lucent and even larger Sweden-based Ericsson hope to use their extensive relationships with mobile operators to win business helping the telcos to offer their subscribers a range of NFC-based wallet services, including payment, loyalty and couponing.
Alcatel-Lucent appears to be the most aggressive when it comes to targeting mobile operators planning to offer NFC payment in their wallets. The company today announced its latest partnership, with Singapore-based trusted service manager Cassis International, to use Cassis's TSM to download and manage secure applications as part of the Alcatel-Lucent Mobile Wallet Service.
Alcatel-Lucent has a special focus on mobile operators planning to offer their own payment services. Cassis could deliver and manage these, along with bank-issued payment applications, transit ticketing, access control and others developed by third parties, said Alcatel-Lucent. Consumers could choose from what Alcatel-Lucent calls a "mobile application warehouse."
Ericsson's IPX unit also recently announced an NFC TSM offer, which appears to be mainly a brokerage service modeled after what IPX does today with mobile content. It would bring together mobile operators and service providers, such as banks, transport companies, hotels and retailers, said the company. The IPX unit said it has relationships with more than 100 mobile operators worldwide to help content providers sell games, ringtones and other digital wares to subscribers.
And yesterday, more vendors stepped up their TSM offers, with U.S.-based Vivotech, a provider of over-the-air platforms for payment and loyalty applications along with mobile wallets and contactless readers, announcing a partnership with two Netherlands-based vendors, application-management company Bell ID, and PPC Card Systems, a personalization bureau for EMV bank payment cards. The three companies are targeting both banks and telcos.
But Alcatel-Lucent and Ericsson appear to believe the entry to the market will go through mobile operators, with applications likely stored on SIM cards.
The two companies have their eye on requests for tenders in the pipeline or planned by telco group seeking to introduce mobile wallets on NFC phones. That includes such large groups as Germany-based Deutsche Telekom, Telefónica of Spain and the Isis joint venture formed by the two largest mobile operators in the United States, Verizon and AT&T, along with T-Mobile USA. Although Isis has chosen France-based TSM Gemalto for the first phase of its project, there will be further contracts.
"Today, if you look toward various market situations, you see initiatives–carriers (say), 'We want to offer our own branded wallet service and micropayments,' " Anthony Belpaire, general manager of Alcatel-Lucent's wallet service, told NFC Times.
He declined to say whether he's seen a request for proposal from Deutsche Telekom for its reported Mobile Wallet Program. NFC Times reported last month the telco group, one of the largest in Europe, is gearing up to offer NFC services in four of its major European markets, Germany, Poland, the Czech Republic and the Netherlands. And contracts for the planned joint venture among the three major Dutch telcos and three major banks, dubbed the "Six Pack," are also in play.
Other telcos, such as Telefónica and the U.S. carriers, have already made known their plans to introduce NFC mobile wallets, although in the case of Telefónica and Deutsche Telekom, the wallets might not include their own payment applications.
Mobile operators might end up offering both their own payment services and those from banks, said Toon Coppens, head of product marketing and strategy for the Belgium-based wallet service at Alcatel-Lucent.
"Multiple operators are both exploring the paths of providing (their) own payment scheme, for example, micropayment; but meanwhile are also eager to support SIM- rental models, for example, credit card payments."
Under the SIM-rental business model, telcos would rent out space to banks or other service providers with applications requiring a secure chip.
Targeting Telcos and Payment
Besides the U.S. operators and a few large telcos in Asia, there are no confirmed plans yet by carriers elsewhere to launch their own payment schemes at the point of sale. But there are signs that some telcos in Europe are exploring the possibilities. For example, since January, Vodafone Group has run a trial at two of its UK headquarters offices enabling employees to pay at cafeterias or canteens run by Eurest Dining Services with Vodafone-branded contactless stickers. Alcatel-Lucent provided the payment system.
In Germany, the branches of Vodafone and Telefónica O2, along with Deutsche Telekom, plan to trial contactless-mobile payment next year with their mpass phone payment scheme, available now only for Internet purchases.
Alcatel-Lucent earlier announced deals with Belgium-based payment technology company Clear2Pay and UK-based financial services company Voice Commerce. Together they give Alcatel-Lucent the technology and regulatory cover it needs to enable telcos to offer their own payment schemes.
'Secure-App Superstore'
Cassis is the final piece of the mobile wallet service, said Belpaire. He said Alcatel-Lucent chose Cassis as TSM because of its experience with NFC and other contactless-mobile projects, including serving as TSM for a "mass deployment" in South Korea. That was the Moneta project in South Korea, which put payment and other applications on dual-interface SIM cards issued by SK Telecom.
Cassis CEO Thian Yee Chua said his vision calls for building a secure-app "superstore," enabling consumers to get payment, ticketing and other services, whether international or local, wherever they are. The applications could go onto SIM cards, embedded phone chips or other secure elements, such as those in microSD cards.
"That is where we are talking about a global TSM network," Chua said. "This is where the TSM will add a lot of value. What is actually a TSM? A TSM is not purely an organization to personalize and download applications. A TSM has to do a lot of work to bring more convenience."
It would require cross-border agreements among mobile operators as well as competing TSMs, he said. That would be no easy task. But Alcatel-Lucent has a lot of relationships with mobile operators, he noted.
That is what Ericsson IPX is counting on to boost its offer, as well.
App-Brokerage Service
Like Alcatel-Lucent's Mobile Wallet Service, Ericsson IPX operates separately from Ericsson's telecom-equipment division, the world's largest.
IPX enables subscribers to pay on their phone bills to buy games, ringtones and other digital content, as well as do mobile voting and to receive other services via SMS, MMS WAP or the Web. The unit is, in effect, a payment-clearing service, giving its customers–the content providers–access to 100 mobile operators in 26 countries, including the United Kingdom, United States and China.
For bringing together operators and content providers and making sure the content gets billed, Ericsson IPX takes a piece of the sale. For example, for a US$1 game, IPX might get a 5% cut from the mobile operator that sells the game. The telco would keep 20% and the content provider would get the rest, said Peter Garside, IPX regional manager.
IPX isn't talking about its fee models for the NFC service. But the idea is that IPX would sign up service providers such as banks, transit operators and hotels and bring them together with operators. IPX said it would also fill the role of trusted service manager, using messaging standards being developed by GlobalPlatform and transit-application group Mifare4Mobile. Applications would likely be stored on the secure element of SIM cards.
IPX said that besides its content payment services, it boasts more indirect links with 800 operators for SMS and other messaging, connecting 96% of the world's subscribers. This is used by banks, enterprises and mobile advertisers, among other companies, to send alerts and promotions.
"Our strength is dealing with mobile operators," said Donya Ekstrand, head of marketing and communications for Ericsson IPX.
Ericsson IPX, however, has no experience itself dealing with secure applications. When asked how it would download and manage bank payment onto SIM cards, the company said it could work with other companies that are certified by major card schemes such as Visa and MasterCard, such as bank card personalization bureaus.
"We are not coming from the smart card world, we are coming from the broker's world and telecom world," Mattias Johansson, manager at Ericsson IPX, told NFC Times. "The brokering approach is a different approach. This is not a technology offering. This is a ecosystem offer."
The offer could help open up the ecosystem to match service providers and telcos that want to get NFC rolling, he said.
Mobile operators might have their own relationships with service providers. In this case, IPX would only offer trusted service management. This would require IPX to handle master keys to SIMs and create secure domains.
An IPX spokesman said the company has the qualifications for this. IPX has no intention of becoming certified by the major payment card schemes itself, but the company doesn't need to, he said.
"There are many service providers that do not require a MasterCard or Visa personalization bureau," said the spokesman. "But when such a certification is required, we of course work with partners that have received such certification."
print $links ?>