Gemalto and NXP Announce Long-Held Licensing Deal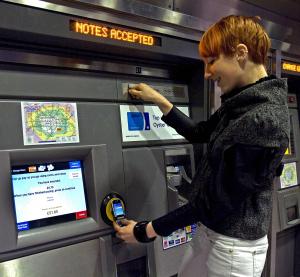 Perhaps seeking to take advantage of the renewed buzz around NFC, smart card supplier Gemalto and chip maker NXP Semiconductors today announced their nearly year-old or older licensing agreement for NXP's high-end Mifare technology.
The deal allows Gemalto to put Mifare DESFire or Mifare Plus applications on SIM cards for NFC phones, which commuters could tap to ride buses, subway trains and other modes of transport and do other closed-loop payment or ticketing. These are more secure versions of NXP's popular Mifare Classic, the most-used technology for contactless transit cards worldwide. Mifare is a protocol and security scheme.
Transit authorities in a growing number of cities, including London, Toronto, Sydney and Oslo, have adopted DESFire, largely as a result of hacks of Mifare Classic that came to light in late 2008.
Gemalto, however, had already announced it had put DESFire on a SIM card more than nine months ago, for a demo at the Mobile World Congress 2010 in Barcelona. The licensing deal was disclosed even earlier in NFC Times.
A source connected with one of the vendors explained that while the licensing agreement had been in place for quite a while, it had never been officially announced. And the vendors wanted to make an announcement before the forthcoming Cartes expo in Paris, Dec. 7-9.
Gemalto is the only smart card vendor with a Mifare license. NXP had earlier announced deals to license its more-secure Mifare technology to Japan-based Renesas Technology, in November 2008; and to STMicroelectronics of Switzerland, in December 2009. The deals permit both chip vendors to put Mifare DESFire or Plus on chips they supply to SIM vendors or on embedded chips in NFC phones or dual-interface chips for banking cards.
With its license, Gemalto could use any vendor's silicon to offer secure Mifare-enabled SIMs to mobile carriers seeking to introduce ticketing on NFC phones in partnership with transit operators. Transport for London is working with just such a SIM for its Oyster fare-collection application.
Other SIM card makers could supply DESFire- or Plus-ready SIMs, but only using silicon from Renesas or STMicroelectronics, which limits their market. NXP does not supply SIM chips but does make embedded secure chips for NFC phones, which could carry high-end Mifare applications. NXP also supplies dual-interface chips for banking cards. In addition, NXP is the only semiconductor company that could supply chips for standalone Mifare DESFire or Plus transit cards.
The only other chip maker licensed to supply any type of Mifare product is Germany-based Infineon Technologies, under a grandfather arrangement from its former parent, Siemens Group, which had a Mifare license. But the arrangement only allows Infineon to supply Mifare Classic-compatible chips for cards, SIMs or embedded chips.
Infineon is part of a group that includes NXP rival Inside and Gemalto competitors Oberthur Technologies and Giesecke & Devrient, which is planning to introduce a competing transit security scheme to Mifare.
print $links ?>