The Year Ahead for NFC: Major M-Commerce Rollouts Unlikely Until 2013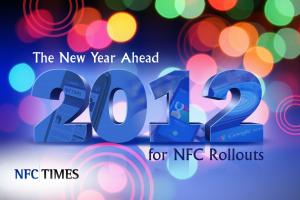 2012 was going to be the year that the new era of NFC-based mobile commerce had finally arrived–with Google Wallet rolling out widely, mobile operators in the U.S. and Europe making significant inroads with their own mobile wallets and big Asian m-commerce players generally commercializing NFC, as well.
But as 2011 comes to a close, a different picture is emerging, one that indicates this long-awaited era of tapping phones to pay and conducting a range of other m-commerce services will likely have to wait for another year.
To be sure, there is progress on all fronts, with just about all major handset makers and mobile platform providers adopting the technology and beginning to release phones, and the first NFC commercial launches by telcos, along with Google, already taking place.
Analysts and other observers say that nearly 40 million NFC phones, perhaps more, will be shipped this year and around 100 million in 2012.
There were more than 90 NFC devices in the pipeline using chips from NXP Semiconductors alone, the major NFC chip maker said at the end of the third quarter of 2011. Most of the devices are smartphones, but the total includes around 10 tablets. Most of the devices should hit the market by the end of 2012, and one estimate placed the number of models available on the U.S. market at 70 by year's end.
Of course, not all devices are created equal, and if Apple finally adopts NFC for its next iPhone, due out in 2012, it would boost handset numbers and cause other device makers to accelerate their NFC plans. But any embrace of NFC by Apple won't necessarily mean more devices that can do NFC payment.
Tag-reading and peer-to-peer applications are vital to the success of NFC, and these will expand with the rollout of more phones. Tapping phones on smart posters to download coupons or bus schedules, and exchanging business cards and video clips with such enhanced NFC P2P features as Android Beam will grow in 2012.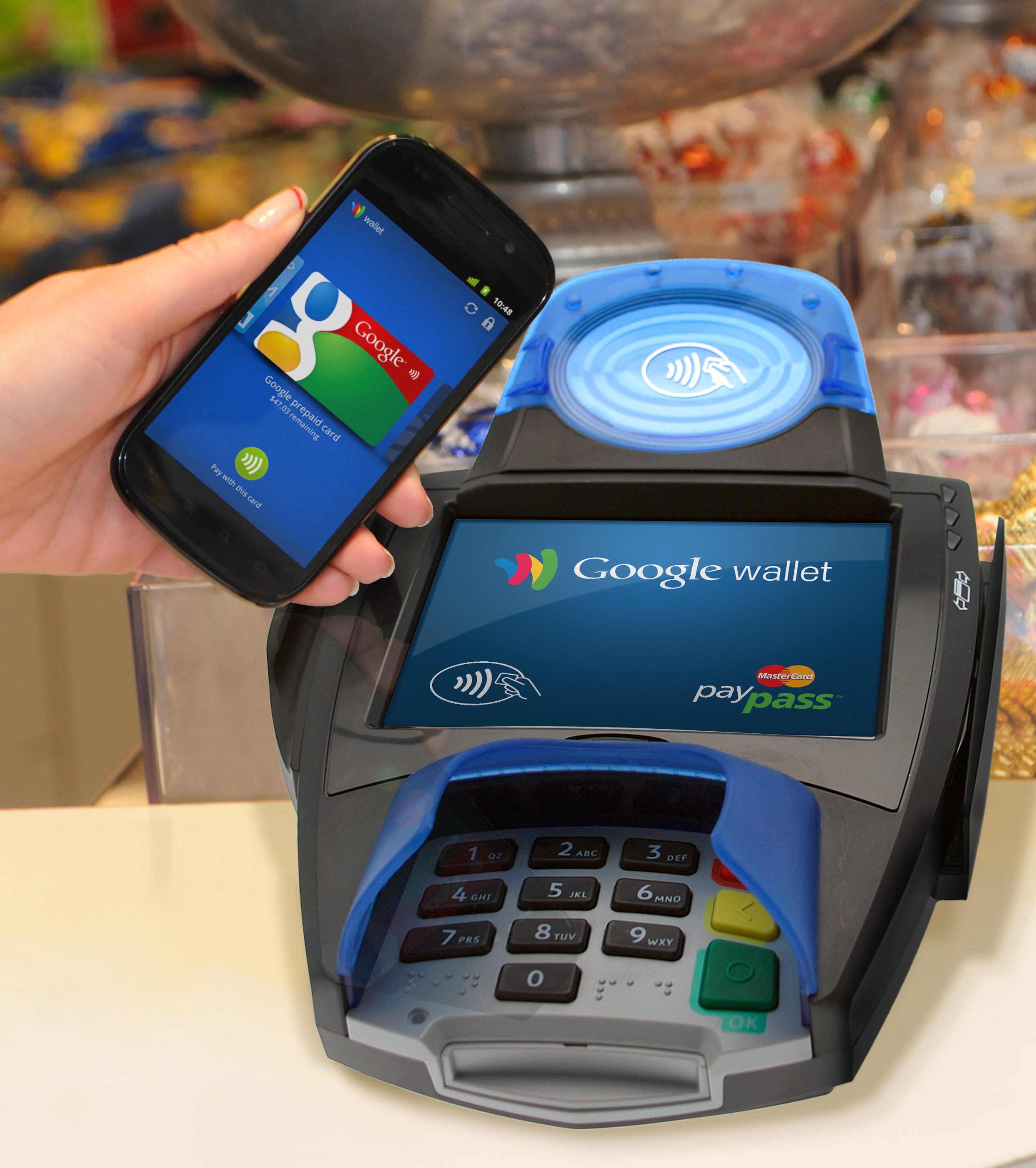 But it's payment and related services that attracts the big investment. Without it, such big-money backers of NFC as Google and the Isis joint venture formed by three major U.S. mobile carriers would not be spending the tens of millions of dollars to roll out NFC.
The same is true of mobile operators in Europe and Asia, which are pinning hopes on NFC to open up a new source of revenue in their saturated mobile markets. That's why the telcos in Europe and in most other places are insisting that their SIM cards carry the revenue-earning applications, such as payment. This would enable the operators to charge banks and other service providers to run their applications on the NFC phones the carriers sell.
Still, it was never going to be easy to usher in a new era of mobile commerce, despite yearly predictions that next year would be the year that NFC changes the way we pay, present tickets for public transit and conduct a range of other mobile-commerce transactions.
Even as NFC technology enters its 10th year since its announcement in 2002 by co-creators NXP, then called Philips Semiconductors, and Sony, there are many obstacles that remain to be overcome–not least of which is convincing consumers the new way to pay is secure and convenient. But before that happens, the new infrastructure has to be put in place, and that is proving to be more difficult than imagined.
Below is a look at how the major NFC m-commerce players are likely to fare in 2012, and why it's looking increasingly likely that big commercial rollouts will have to wait until 2013 or beyond.
Google Wallet: Problems with Scale Expected to Continue

The Web giant is facing more problems than just the prospect that the major U.S. distributor of its Galaxy Nexus Android phone, Verizon Wireless, will block the wallet.
As NFC Times reported in October, Verizon is seeking to keep the wallet off of the Android phone, which it put on sale last week. Google Wallet competes with Verizon's own plans for Isis.
Google has apparently lost patience with the Isis obstruction tactics and let it be known through a spokesman earlier this month that Verizon was asking that the Google Wallet app not be made available for Verizon subscribers for download. Hackers have already figured out ways to get the wallet onto the new Samsung-made Google phone. But this isn't a viable option for the average consumer.
The resulting criticism of the blocking move might eventually goad Verizon into allowing the wallet on the phone.
But this probably won't help Google with the range of other handsets for which Isis will control the secure elements that Google needs for its wallet. There are credible sources that say Google is considering its legal options.
Unless the Isis telcos relent, Google can only rely on No. 3 U.S. operator Sprint to roll out more phones supporting the wallet. But this kind of fragmentation will not create the kind of widespread availability that Google needs to attract more issuers and merchants for its wallet, say some industry insiders.
Google is receiving an equally frosty reception in Europe, where it hopes to expand the wallet and where major telcos have their own mobile-wallet plans. The telcos might not try to block the wallet, but won't make things easy for Google. As Ali Salci, head of mobile-financial services for Turkey's No. 1 operator Turkcell told NFC Times, "I can't say that there will be resistance from the operators but there will not be a support. Google's business model is not structured for mobile operators to benefit."
Meanwhile, Google is having problems attracting more big issuers and merchants and has experienced some technical problems with downloads.
As NFC Times reported last month, JPMorgan Chase, Capital One and probably U.S. Bank were planning to offer their contactless-mobile payment applications in the Isis wallet, an apparent snub of Google.
Citigroup remains the only bank that has announced it is participating in the Google Wallet, which launched in September. Use of the wallet, still available on only one model, the Nexus S 4G sold through non-Isis carrier Sprint, remains low, said a source.
NFC Times has learned that Capital One in particular was preparing for a launch with the Google Wallet before it decided to work with Isis, instead. It's unclear just when CapOne plans to launch with Isis, but that it rebuffed recruitment efforts by Google is telling.
"It's pretty significant that issuers said no to Google," said Cherian Abraham, a U.S.-based mobile-commerce analyst and consultant. "They don't trust Google. The issuers really do not see carriers as a threat. They don't see the threat of disintermediation. But for some reason they do see that with Google."
Meanwhile, Google seems to be running a trust deficit with merchants, as well. Despite assurances from Google–and other wallet providers for that matter–many retailers fear Google will use their transaction and product data for offers they could send to competing merchants.
One example is Stephanie Swain, senior director of financial services for big box electronics retailer Best Buy, which last month told NFC Times that the big chain has "not yet gotten the confidence that we need" on data protection.
Google also will need merchants to install new point-of-sale terminals to accept offers. The new acceptance infrastructure will be needed in large part even if those same retailers already accept contactless payment. But new terminals are an expensive proposition–and Google has said it is not prepared to pay for them for the mass of merchants.
On the plus side, Google has created substantial buzz for NFC and has real vision for what the technology can do. It has signed up some high-profile merchants that hadn't accepted contactless before and is moving to try to attract more issuers.
Google still has an opening. Isis hasn't launched yet. And big payment networks MasterCard and Visa are expected to support Google Wallet on a nonexclusive basis to keep their options open. MasterCard doesn't have its own wallet, though is said to be building one, and Visa's recently announced that its V.me digital wallet is focusing on Web-based mobile payments at first.
But it will take time for the competitive issues to play out between Google and Isis and for the Web giant to gain the trust of issuers and merchants. Insiders expect a struggle for Google and its NFC mobile wallet in 2012.
Isis: Early Wallet War Victories, but Platform Prep Lags
The Isis joint venture made up of Verizon, AT&T and T-Mobile USA plans to launch in U.S. cities, Salt Lake City, Utah, and Austin, Texas, by June of 2012, with a nationwide rollout planned for 2013.
NFC Times has learned that preparation of the Isis wallet platform, including specification development, handset testing with SIM cards, are behind schedule, however.
This raises questions about whether even its modest commercial launch in two mid-tier cities will go off as planned by mid-2012. Isis had earlier indicated the launch could happen as early as the first quarter of 2012.
In any case, the real action will not really begin until 2013, when Isis said it plans to roll out nationwide, with lots more phones and services. Before that, it would have fewer than 1 million phones supporting its wallet available for subscribers.
The major payment issuers are aligning with Isis not only because the telcos promise to reach more of their customers than Google can, say observers.
"Isis has always been an entity that has more of a financial services angle than Google, and it would seem that traditional financial institutions will be more of a core component of the business model than Google's Wallet, where financial institutions take more of a back seat to Google's overall vision of driving their advertising business into the physical world," said Nick Holland, senior analyst with U.S.-based Yankee Group.
Besides fear of the unknown with Google, banks also are concerned about being overwhelmed by the Google brand, added consultant Abraham.
Isis also can deliver a lot more customers and phones than Google, with the three telcos that make up the venture claiming a 76% market share in the United States and selling 130 million phones a year. The telcos could order NFC chips in many of these models and, unlike Google, would control the secure elements. All major handset makers, except for Apple, which hasn't committed yet to NFC, have said they would support the Isis specifications.
For Tim Jefferson, head of UK-based The Human Chain telecom consulting firm, U.S. issuers can't afford to ignore Isis, but will likely chafe at having to pay to be part of the Isis wallet. There will be no great love among issuers for Isis.
"Isis' offering, while initially attractive to card issuers due to the huge market reach of Isis, is limited in that issuers will not want to pay additional fees in an already thin margin and high cost business," he said, adding: "These are early days in wallet evolution. We expect changes to these initial service launches as the business models and technology matures."
All four major U.S. payment networks, Visa, MasterCard, American Express and Discover Financial Services, also have said they would work with Isis. Google has likewise gained a commitment from the networks to go along with its wallet, and MasterCard is already a partner. But MasterCard is expected to be part of Isis at launch, too. And like some banks and merchants, there is some disquiet about Google's intentions toward customer data on the part of American Express.
David Messenger, executive vice president for online and mobile, told NFC Times last month that AmEx could find itself competing with Google because both want to use consumer data for their offers and other promotions to consumers. He contends AmEx is more trusted than Google, though Google has insisted it would safeguard data.
"This (Google Wallet) could particularly disintermediate us," said Messenger.
Though it is more likely to attract big issuers than its main wallet rival Google, Isis has much to prove before its planned national launch in 2013, including whether it can launch in Salt Lake City and Austin on time and roll out the national platform supporting payments, coupons, ticketing and a range of other applications as promised.
Waiting for Apple…Again
After Apple confirmed that it would not support NFC in its iPhone 4S, it didn't take long for the tech bloggers and journalists to speculate that the iPhone 5 would pack NFC next year. Of course, these bloggers and journalists were speculating that Apple would support NFC in the 4S and before that in the iPhone 4 and for some, the iPhone 3GS.
It would make sense for Apple to adopt NFC for its next iPhone, given that all other smartphone platform providers have embraced it, including Apple's chief rival Google and the latter's Android operating system, along with Microsoft with Windows Phone, expected next year, a fading Research In Motion for its BlackBerry OS, as well as Samsung with the bada operating system.
Although it appears likely, it's too early to say whether Apple will adopt NFC for the iPhone 5. It depends on whether Cupertino believes NFC technology has reached the maturity it is after, and whether there are enough places to use an NFC-enabled iPhone. Most industry observers believe the lack of these requirements is the reasons Apple has passed on NFC in past iterations of the iPhone.
There are two schools of thought about Apple's plans for NFC once it adopts the technology. One says it would use the technology mainly to enable users to sync Apple devices and share content using NFC's peer-to-peer and tag-reading features. The other insists Apple is intent on building its own mobile wallet and entering the payment business.
To support the latter idea, tech journalists still trot out Apple's hiring of so-called "NFC expert" Benjamin Vigier nearly 18 months ago, despite the fact his credentials as an NFC authority are shaky, and he was always hired to assist in developing mobile commerce at Apple's own retail stores.
There is little other evidence to support the premise that Apple has designs on the payments industry, despite its tens of millions of iTunes account holders. Apple isn't a payments company, as Visa, MasterCard and PayPal are, point out NFC industry insiders.
It sells devices, music and apps and would use NFC to further enhance these businesses, they say. With any larger move into payments, Apple would have to submit to much greater government regulation and much lower margins than it is used to.
It would also have to overcome the huge challenge other promoters of NFC-based mobile commerce are facing, including Google–the scarcity of acceptance points at the point of sale. Converting its own iPhone and iPad into handheld contactless POS terminals would not yield the coverage it needs to establish its own payment brand at the physical point of sale, they say.
"There is no way these guys are going to come out with a wallet; you've got Isis, and Apple doesn't like to play nice with others," said Einar Rosenberg, head of U.S. based application developer Narian Technologies and an NFC industry veteran. "You look at the majority of their patents, they have nothing to do with payments."
Rosenberg believes Apple will put NFC into its iPhone 5 because of pressure from Google and its Android platform from nonpayment applications, especially Google's P2P technology.
"Google's Beam technology is going to become a lot more popular in the next several months," he told NFC Times. "When I have an address I want to transfer or a business card or song I want to listen to or a game I'm playing, I can share it just by tapping. That's going to really push on Apple."
Assuming Apple does adopt NFC for the 2012 version of the iPhone, it would likely also incorporate a secure element. There is little doubt that this chip would be embedded in the phone, and would be under the complete control of Apple, say observers. For those who don't see the mobile-wallet scenario for Apple, they believe Apple would use the chip for digital rights management of content and software.
For pairing and sharing, Apple would also need to build NFC chips into its other devices. There are still no signs of NFC chips finding their way onto any Apple device, let alone the closely guarded roadmap of the iPhone.
So it looks like NFC industry supporters hoping for Apple's backing of the technology will have to wait until the days and weeks leading up to the unveiling of the iPhone for more clues to Cupertino's plans.
Europe: Expect More–Likely Small–Commercial Launches in 2012
Mobile operators, not Internet companies or payment networks, are taking the lead in Europe when it comes to NFC rollouts.
Expect commercial launches and expanded rollouts in 2012 in Europe's contactless hotspots, in the United Kingdom, Turkey, Poland, France and Spain. Others are planned, including those in Germany.
Seeking to avoid fragmentation–and also protect their interests against such "over-the-top" players as Google–telcos in the UK, Denmark, Germany, Hungary, Sweden and the Netherlands have formed joint ventures to promote common NFC technology platforms with some common marketing.
Hanging over the head of these proposed JVs are planned rulings by European Union antitrust authorities. That includes the three major UK telcos and the "Sixpack" project in the Netherlands, which consists of the country's three largest operators and three biggest banks.
A ruling is expected on the Dutch project in the first quarter of 2012, and in waiting for that green light, project organizers say they've moved back the date of their planned NFC commercial launch from 2012 to early 2013.
Meanwhile, one of the three telcos that had planned to be part of the joint venture, T-Mobile Netherlands, has decided not to take a stake. A spokesman told NFC Times the telco could not find a business case for the m-payment services the JV partners plan to roll out.
Among other costs that telcos in Europe and elsewhere have to consider before launching NFC is the price and availability of NFC-enabled SIMs they will use as secure elements to store the revenue-earning applications, such as payment.
These SIMs are four to five times the cost of conventional SIM cards. For example, Turkcell, one of the first telcos in Europe to commercially launch NFC, is paying €4 (US$5.23) for its NFC SIMs compared with sub-€1 for conventional SIMs. The NFC SIMs do come with more memory, 512K, compared with about 64K for the conventional SIMs Turkcell buys.
Turkcell, nonetheless, remains among Europe's most ambitious telcos in rolling out NFC. It already has two banks offering MasterCard PayPass applications in its mobile wallet, which runs on its self-branded NFC Android phone. Turkcell launched the phone last summer, commissioning it from Chinese handset maker Huawei.
The operator plans to add more of its own NFC branded phones and at least three more banks will become part of its wallet in short order. All told, 11 Turkish banks could come onboard by next year, Turkcell told NFC Times.
Still, Turkcell has its own business case problems and needs more POS terminals deployed that can accept coupons and offers it plans to deliver to customers. There are about 60,000 contactless terminals in Turkey, but all are owned by banks and don't support offers. In addition, rival Vodafone Turkey plans its own NFC commercial launch early in 2012.
Elsewhere in Europe, at least two Polish operators, branches of T-Mobile and Orange, plan to launch service and multiple banks are expected to be onboard for a 2012 launch.
The United Kingdom, will also see more activity, with Telefónica UK expected to launch the delayed NFC portion of its O2 Wallet and Vodafone UK also gearing up. They likely are targeting the run-up to the Olympics in London next summer. They also are following rival Orange UK, which has enjoyed first-mover publicity, though probably not a lot of transactions, with its launch of the Quick Tap service with UK issuer Barclaycard last May–one of the first NFC commercial services to launch worldwide. T-Mobile UK, Orange's partner in the Everything Everywhere joint operating agreement is expected to join the Quick Tap project soon.
Telefónica UK owner, Spain-based Telefónica group, said earlier this month it was gearing up for launches in Europe over the next few months. That probably includes the flagship Spanish operation.
Further afield in the region, telcos in the United Arab Emirates and Israel are planning their own NFC commercial projects in 2012.
Any commercial launches by Telefónica and other European and Middle Eastern telcos in 2012 are likely to be small, as they wait for more phones, NFC-enabled SIMs and contactless POS terminals to roll out and for commercial agreements to be cemented.
Even in France, where aggressive operators have been working on NFC for years, only two more cities –Strasbourg and Caen–have confirmed plans for what are basically precommercial launches of NFC in 2012. That's in addition to the city of Nice, which launched an NFC demonstration project last year. At least one other city, Bordeaux, is also ready.
Planned funding by the French government and seeding of the market with NFC phones and NFC-enabled SIMs by such operators as Orange France could help bring more cities and services to launch status next year–there are others such as Marseille and Lille waiting in the wings–but a substantial rollout isn't likely until such big service providers as the Paris area transit authority and its transit operators are ready. That likely won't happen until 2013 or beyond.
Asia: Korean Rollout Continues; Japan Gets NFC
South Korea's No. 2 telco, KT, has perhaps the best claim to launching the first NFC commercial service worldwide, in October of 2010. But the launch, using a customized feature phone, the Samsung SHW-A170K, was merely for bragging rights.
KT's rollout is serious now, with the telco telling NFC Times it will have distributed 2 million NFC-enabled SIMs to its subscribers by the end of 2011. As of late November, KT had sold 900,000 of the NFC versions of the Samsung Galaxy S II along with 200,000 Vega Racers from Pantech.
The SIMs, which NFC Times has learned cost less than US$3 apiece, are supplied by Korean SIM supplier KEBTechnology. KEBT, though not revealing its pricing, said it has supplied KT more than 3 million NFC SIMs, which support the single-wire protocol, in 2011. It told NFC Times it has also supplied No. 3 Korean operator LG U+ with 1.2 million NFC-enabled SIMs, including the first NFC USIMs that support high-speed LTE technology.
SK Telecom, the largest operator in South Korea, has also launched service with standard NFC phones, phasing out its proprietary combi-SIM technology that it and other Korean telcos had used for at least the past four years.
Over in Japan, No. 1 operator NTT DoCoMo has also agreed to move to standard NFC from proprietary contactless technology–in this case, FeliCa from Sony Corp. Like SK Telecom, DoCoMo has been using the proprietary technology to fuel a move into the payment business.
DoCoMo and competing Japanese telcos KDDI and Softbank Mobile this week announced formation of a consortium to coordinate the move to NFC, which will involve buying "hybrid" phones that support both Sony's FeliCa technology and standard NFC chips for what is likely to be a long transitional period.
The phones are needed to support the existing base of FeliCa-based point-of-sale and transit terminals, part of the most extensive contactless-mobile infrastructure in the world.
DoCoMo is expected to offer its first hybrid phones by the end of 2012, while other telcos might offer models sooner. But no significant rollout of standard NFC will happen in Japan until at least 2013.
In China, the dominant telco, China Mobile, had also planned to make a move into the payment industry with proprietary contactless technology. But pressure from the government and market convinced it to abandon its RF-SIM technology last year in favor of standard NFC.
The telco still wants to offer payment, as part of its purchase of a 20% stake in Shanghai Pudong Development Bank, and has investigated ordering phones with embedded secure chips. It has also said it would support the idea of putting applications on standard NFC SIM cards. But as of late 2011, the giant telco had revealed no NFC rollout plans.
Meanwhile, China's large domestic payment card network, China UnionPay, which had been angered by China Mobile's planned move into its territory, is making its own foray into mobile payment–and without China Mobile or other Chinese telcos.
It has signed up at least one major issuer, China Construction Bank, for a launch in 2012 with NFC-enabled microSD cards­ that will run standardized NFC phones UnionPay has commissioned.
While an international body, GlobalPlatform, is standardizing microSDs to hook into a single-wire protocol connection in NFC phones, there likely will be few phones that can run these microSDs in 2012, except for those paid for by such service providers as UnionPay. This and the cost of the specially equipped microSDs will likely limit the size of any rollouts in China or elsewhere for at least a couple years.
Elsewhere in Asia, the island contactless hotspots of Taiwan and Singapore also are gearing up for NFC launches.
Taiwan's three major mobile operators, along with two smaller telcos and the island nation's major contactless payment service provider, EasyCard Corp., signed a memo of understanding that could lead to a joint venture to roll out NFC services starting in 2012. A representative from one of the telcos this month predicted there would be 100,000 NFC phones in circulation in Taiwan by the end of 2012 that could do mobile payment.
But formation of a JV among the island's telcos and rollouts of mobile payment would have to get the approval of regulators.
In Singapore, the government's Infocomm Development Authority approved a consortium of companies to roll out interoperable NFC services. Consortium members, telco StarHub, fare-collection and payment service provider EZ-Link and DBS Bank plan to launch NFC in mid-2012, though the rollout is expected to be small.
With its activist role, the Singaporean government hopes to promote interoperability and reduce fragmentation among the island's major telcos and service providers. The controls, however, won't necessarily make for a viable business case.
Over in the United States, fragmentation and the wallet war that has broken out seem likely to take a toll on the take-up of NFC-based mobile commerce in 2012.
But such competitive issues are not unexpected as major m-commerce players jockey for position. The stakes are high, with billions in revenue hanging in the balance for this anticipated new era of mobile commerce. The prospects for a pay-off guarantees that the major players globally will continue to invest in the coming year to keep the massive, groaning infrastructure moving forward. NT
Article comments