In Open-Loop Drive, Transit Agencies Can't Leave Unbanked Behind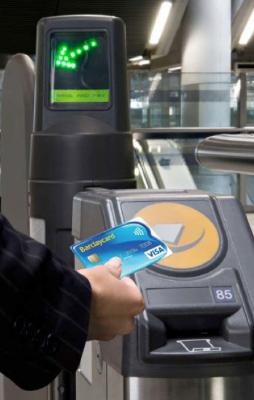 With Transport for London's recent announcement confirming it would be the first big transit authority to accept bank cards for bus and metro fares, momentum continues to build for other large transit authorities to go to open-loop payment.
Some of the largest such transit agencies in the United States are already on track for such a move, such as those in New York City, Chicago, Philadelphia and Washington, D.C. All have issued tender documents.
But unlike London and many other big cities in Europe, where most passengers have bank accounts, most U.S. agencies face a problem of what to do with the large number of riders living on the fringes of the nation's banking and credit systems.
Transit authorities on both continents planning to accept bank-issued cards for fares have to take into account customers who either shun or don't qualify for debit or credit cards, said Consult Hyperion analyst Mike Burden, who specializes in transit ticketing for the UK-based consulting firm. Among the options for these transit agencies is offering prepaid cards, at least at the outset.
"Maybe prepaid cards are a way to include the unbanked or children, or maybe an existing (transit agency) product marketed in the same way but on a bank-card platform may be an answer," Burden told NFC Times.
Kiosks in transit stations could sell stored-value cards that could be used in the contactless open-loop systems, he said.
Similarly, agencies that already have contactless closed-loop stored-value cards would be expected to keep them in operation, though at a reduced volume and cost. Transport for London, for example, said that while it will accept contactless credit and debit cards on 8,000 buses in time for the 2012 Summer Olympics in London and extend open-loop acceptance to Underground gates and other modes of transport before the end of next year, it will also keep its popular Oyster card for those who want to continue using it–or those who have no other choice.
Dealing with Unbanked Riders in LA
About 80% of riders of buses and trains run by the Los Angeles Metropolitan Transit Authority are Hispanic, African-American or American Indian. These are also the three ethnic groups with the highest percentage of unbanked or underbanked people, according to U.S. federal banking regulator the Federal Deposit Insurance Corp., said LA Metro smart card project manager Jane Matsumoto at a recent Smart Card Alliance transit and mobile-payment conference.
LA Metro since last September has been running a pilot of co-branded prepaid bank cards with Visa Inc. and prepaid program operator Ready Credit Corp. The pilot is targeted at the high percentage of unbanked and underbanked the agency serves.
The cards, issued mainly from kiosks in transit stations, include Visa contactless and magnetic-stripe applications, along with a separate TAP closed-loop transit purse.
LA Metro's Matsumoto said that just under 2,700 Visa TAP cards were issued as of January 2011 during the first phase of the trial. About 25% of these cards were used for a total 35,300 transactions to pay fares on buses and trains, she said. Cardholders topped up the transit purse about 3,500 times.
At the same time, they used the cards for just under 4,600 Visa prepaid purchase transactions at retail outlets, with an average purchase amount of $55.37. She said the top retail destinations for the riders included office supply, shoe and computer maintenance stores, along with fast-food outlets and grocery stores and supermarkets. The fourth largest category of transactions was cash withdrawals.
New Revenue Possibilities for Agencies
The cardholders made a total of $142,100 in purchases during the small first phase of the pilot.
That's only about $52 per card. But banks, card schemes, such as Visa and MasterCard Worldwide, and prepaid program operators believe there will be a knock-on effect when they put open-loop payment cards into the hands of unbanked transit riders.
And they would be willing to pay to gain access to transit riders, both unbanked and banked.
Preliminary estimates for the LA Metro co-branding project made in 2008 by the prepaid operator Ready Credit suggested the transit agency could net roughly $8 million over three years if the co-branded cards were rolled out, under a 50-50 revenue-sharing deal proposed by Ready Credit.
The prepaid payment operator would split the lucrative fees it believes it could earn for issuance, maintenance, reloads for retail purchases and the retail purchases themselves. Visa, which would also earn branding and licensing fees on retail activity with the cards was to fund much of the cost of the pilot. At the time, the card scheme said it hoped to confirm its "hypothesis" that prepaid cards supporting transit payment will have higher than average acquisition rates and spend.
It's not clear if the revenue-sharing deal has been formalized, but LA Metro, which stepped up marketing of the co-branded prepaid cards in a second phase of the trial begun in January, plans a third phase in June of enabling cardholders to pay fares directly with the Visa application.
Other panelists at the recent Smart Card Alliance Mobile and Transit Payment Summit, such as those from agencies in Chicago, Washington, D.C., and Philadelphia, agreed that ensuring access to the unbanked as they move to accept open-loop payment is essential.
"We need to provide an ability for people to reload cards," said John McGee, chief officer of new payment technologies for the Southeastern Pennsylvania Transportation Authority, or SEPTA, in Philadelphia. He noted, however, that such prepaid cards, while perhaps easy for many to use, risk being lost–and their stored value with them.
NFC Phones Could Increase Access
But McGee also noted that if NFC phones emerge as a means of contactless open-loop payment, unbanked riders wouldn't be shut out. In fact, it could increase access for these riders, who potentially could download the transit applications over the air to their smartphones.
"We did a survey and found a big percentage of riders in the lower demographic groups carry a cell phone, and many are smart phones," he said. "They're doing things with these phones and using them to manage their lives."
Of course, while the move to open-loop payment is seen by a growing number of transit agencies as a way to reduce costs and potentially open up a new revenue stream, there are hurdles yet to overcome, and not only in reaching the unbanked, Consult Hyperion's Burden said.
Those obstacles include ensuring contactless transactions using payment cards or phones are speedy and working out commercial models for multiple players. But the case for the very largest operators moving aggressively away from closed-loop is solid, he said.
"The main reason people want to move to open is because they can get out of the card issuance business, because that's seen as a significant cost," he told NFC Times. "In the current environment reducing costs without reducing service is the Holy Grail."
That includes serving the poor and unbanked, often a substantial part of the customer base of the transit authorities. And if they move to open-loop payment, they cannot leave these riders behind. NT
Dan Balaban contributed to this report.