RIM Chides Samsung for Using Nonstandard NFC Technology in Tags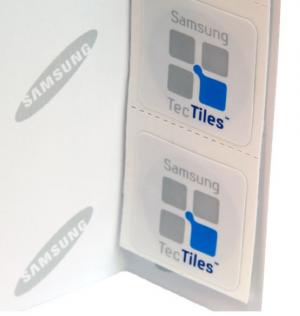 Samsung Electronics' high-profile launch of branded NFC tags in the U.S. uses nonstandard technology, NFC Times has learned.
The Samsung TecTiles tags, launched June 13 in the U.S., use Mifare Classic chips from NXP Semiconductors, which is not one of the four tag types standardized by the NFC Forum.
The use of Mifare Classic chips means that only phones or tablets carrying NFC chips from NXP would be able to read the tags. That takes in all Samsung and all other Android-based NFC phones, but leaves out several NFC-enabled BlackBerry models that Research In Motion has rolled out starting last year. These phones use NFC chips from Inside Secure and can't read Mifare.
When asked by NFC Times about the use of Mifare Classic in the TecTiles tags, RIM charged that user experience could suffer.
"Mifare Classic 1K tags follow a proprietary tag format, which can only be read by a smartphone that uses technology from NXP Semiconductors," said Geoffrey MacGillivray, NFC product manager at RIM, in a statement. "At RIM, we heavily support open standards, which in turn drive the best experiences for end users regardless of the specific device they are using."
Samsung in its promotional material for the launch of the tags, noted that TecTiles can be read by "nearly all phones, which have NFC hardware."
Android 'Target Market'
But in a statement from Samsung's U.S. mobile phone unit, Samsung Telecommunications America, Samsung told NFC Times that the tag launch is only intended for Android phone users, since the programmable tags are meant to work with a TecTiles Android app that can be downloaded from the Google Play store.
With the app, users can program tags for a range of actions, for example, tapping to change their phone's Bluetooth, Wi-Fi, sound and brightness settings or to automatically join a Wi-Fi network. They could program other tags to send a text message, share a business card, open a Web address or map or check on social media sites.
"The TecTile application is offered for Android devices only, so the technology we selected for the TecTile stickers meets the needs of that target market," said Samsung in a statement. "Samsung chose the 1K version of the Mifare to ensure a good user experience for every feature that the TecTile application has today and to also ensure that TecTiles are capable of handling updates and additional features in the TecTile application as we move forward. The added memory allows us to store more sophisticated commands."
Mifare Classic, which is a proprietary security protocol, is the most-used contactless technology worldwide, running on billions of transit fare-collection cards issued over more than 15 years.
While the technology has been hacked, few tag applications require the type of security that payment or transit ticketing need. At the same time, Mifare Classic chips are cheap and plentiful and offer more memory than the two lowest cost NFC Forum tag types.
In addition, many vendors and developers in the NFC industry have worked with Mifare Classic over the years, so they know the technology.
All of this is why Mifare Classic chips have been used for many of the early NFC tag rollouts. Tag producers, however, have told NFC Times that service providers and handset makers are opting for standard tags in most cases.
Bigger Memory Available
Of the four NFC Forum tag types, Type 4 would also provide enough memory for tag implementations requiring higher storage of data and code, said Glenn Needham, director of UK-based Near Field Solutions, an NFC tag supplier, and formerly chairman of the NFC Forum's security working group.
While also based on Mifare technology from NXP, in this case Mifare DESFire, Type 4 tags are part of the NFC Forum standard so implementing it on a tag would require the tag to be interoperable with all standard NFC phones.
According to an earlier white paper from NXP, Type 4 tags offer between 4 kilobytes and up to 32K of memory. They also support all the standard contactless communication protocols and commands.
As more semiconductor makers start to supply NFC chips to Android and other phones and tablets, consumers would have a problem if Samsung continues to use proprietary technology for its TecTiles tags, said Needham.
"Many of the customers who buy these are going to have some surprises over the coming months when they find more and more phones won't read them," he said. "We know that BlackBerry won't, and if you listen to companies like TI (Texas Instruments), Broadcom, Qualcomm, etc., then soon many more phones won't read them either."
NXP carefully controls Mifare licensing, and it's believed no other chip maker could produce an NFC chip that would work in tag-reading mode with Mifare Classic tags. An NXP spokesperson was not immediately available for comment.
Samsung supports standard tag technology in some markets. For example, in France, the handset maker ships Type 2 tags in the box with its NFC-enabled Galaxy S II.
Price Consideration?
It's unclear why Samsung would want to lock itself into the nonstandard tags in the future in other markets, since it would eventually want a second source of NFC chips for its popular models, such as its Galaxy S line of Android phones, all of which are expected to support NFC.
It could be a price consideration for the launch of TecTiles, since Mifare Classic chips are much cheaper than Type 4 DESFire tags, yet carry more memory than the two cheaper standardized tags, types 1 and 2. With lower prices, Samsung could then charge consumers less for the tags.
Yet, Samsung is charging consumers $14.99 for an order of five tags, or a little more than $3 each with tax. That should be enough to neutralize the price issue between Mifare Classic and Type 4 tags, said Needham.
UPDATE: Another tag application developer, Einar Rosenberg, head of U.S.-based Narian Technologies, estimated that with the low cost of Mifare Classic chips, combined with packaging, branding, shipping and import duties, Samsung's cost for the tags would be roughly $1 per tag, perhaps less. He added, however, that the estimate makes assumptions for volumes and other unknown factors.
He pointed out that Mifare Classic-based tags don't have the security and especially the read range of newer tag chips, such NXP's NTag203. NXP last September announced the NTag, which complies with the NFC Forum tag Type 2. At the time, NXP said the chip offered 144 bytes of memory. END UPDATE.
Samsung in its statement to NFC Times said it would continue to watch trends in the market and would "evolve our offerings where appropriate."
It's also not clear why Samsung needs the extra memory that Mifare Classic offers compared with less-expensive standardized tag types. Many of the uses the phone maker is promoting for TecTiles require only a URL or short code or phone number, to perform such actions as opening a Web page, making a call, sending a text message, checking in with a social networking site or joining a Wi-Fi network.
Much of that could be accomplished with lower cost tags complying with the NFC Forum standard.
Like Type 4, the three other forum tag types also are based on contactless technology from vendors, including Type 2, which usually follows the specifications for NXP's Mifare Ultralight, and which generally offers less than 150 or 200 bytes of memory. Type 1, using technology from UK-based Innovision, later acquired by U.S. chip maker Broadcom, also offers low memory. Type 3 is based on FeliCa technology from Sony, so would require an NFC chip supporting FeliCa.
Article comments