PayPal Mobile Chief: Payments Not Part of Apple's DNA
BARCELONA – Apple is unlikely to jump into the mobile payments market at the physical point of sale, as PayPal is doing–there's not enough profit in it for Apple, contends the head of the PayPal Mobile unit.
David Marcus, vice president of PayPal Mobile, speaking during a panel discussion at this week's Mobile World Congress in Barcelona, was asked if he saw Apple making a run at offline payments using its massive iTunes account base, as PayPal is attempting to do with its base of 106 million users.
Marcus responded that many other very large companies have "failed miserably" when they tried to launch a new payment scheme.
"In the case of Apple, you're right, Apple has 220 or more million users that have payment credentials on file to buy stuff on iTunes," Marcus said. "Could they play in this space? Sure. I just think if you look at the profit margins of Apple and the DNA of Apple, shifting in payments doesn't make any sense.
"If they were wildly successful in payments, in terms of transaction margins, it won't represent the profit margin that they're doing on one single new iPod model."
Any move into payments in the offline world by Apple would compete directly with PayPal's well-publicized plans to try to crack the market for physical-world payments, where more than 90% of consumer retail spending is done in the United States.
Although a topic of much speculation, Apple has given no real signals that it plans to use iTunes to launch a new payment scheme at the physical point-of-sale to compete with Visa Inc., MasterCard Worldwide and other payment networks, including PayPal.
Other competing wallets or mobile-payment services are sure to spring up. The Wall Street Journal, for example, reported today that U.S. retail giants Wal-Mart and Target, along with other merchants, are working on a mobile-payments system, though few details were available. It also wasn't clear whether the project is just in the talking stages.
"I don't think there is a ton of incentives for Apple to move into that space," Marcus said. "(And) Apple doesn't do well in the B2B market. They build consumer electronic devices."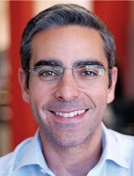 If Apple were to take the plunge into mobile payments at stores and other physical merchant locations, they could do it either with NFC, as Visa and MasterCard are supporting, or with cloud-based payment, which PayPal is using now for its bold move into the market.
But besides having to accept much lower profit margins, Apple would also have to submit to more government regulation and, of course, would have to build some type of acceptance infrastructure with hundreds of thousands or millions of merchants, other observers have said.
PayPal Mobile: More Physical Stores to Come
PayPal, a unit of eBay, said 17 million of its users, or about 17% of its customer base, conducted mobile PayPal transactions last year, valued at a total $4 billion. That volume is five times higher than 2010. The company recently projected mobile transaction volume would grow to $7 billion this year.
These are online transactions, but the vast majority of PayPal's transaction volume–more than 95% last year–is still conducted online from PCs and other non-mobile phone devices.
To make the move into the much larger offline world, PayPal is seeking to sign up merchants to enable shoppers to enter their phone numbers and PIN codes into terminals, which will then connect to PayPal's servers over the Internet. For this "wallet in the cloud" service, PayPal will also issue physical cards. But that is for "people who are not ready to change their habits," said Marcus, who characterized the card as a temporary option.
The company is now rolling out the system to 2,000 stores nationally of big box home improvement retailer Home Depot in the United States, after testing it in 50 Home Depot stores in the San Francisco Bay Area.
The company has yet to disclose other merchants, but Marcus pledged there would be "a lot" of other retailers onboard this year. "This is really large multilane stores, where you can pay with PayPal," he said.
NFC an Option Down the Road
PayPal has not rejected NFC technology, but believes it is only one option for enabling payments at the physical point of sale, and the NFC infrastructure is not ready.
As NFC Times reported this week, large Spanish issuer and acquirer CaixaBank has discussed enabling PayPal transactions at some or all of its 130,000 point-of-sale terminals. The bank's managing director, Antonio Massanell, told NFC Times that part of the discussions are about how a PayPal application could be stored in an NFC phone, then tapped to transmit a phone number to the point of sale.
The bank is planning to roll out NFC-based payment in Spain and has earmarked €40 million (US$53.8 million) to convert its entire base of cards, POS terminals and ATMs to contactless over the next three years.
Massanell said that asking consumers to punch in their phone numbers as well as PINs is "possible, but it's not very usable. "It takes too long."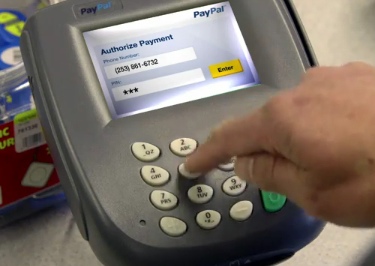 Marcus in his presentation Thursday didn't mention talks with CaixaBank, but did mention other projects using QR codes or 2-D bar-code technology, including subway shopping in Singapore, in which some advertising posters in the Singapore metro include 2-D bar codes. Users scan the posters with their phones, which brings them to the PayPal Mobile checkout page, where they can do a quick payment.
As with the other bar-code based projects, such as a demonstration enabling attendees of the Mobile World Congress to scan a bar code and purchase paella on their phones, then collect the food at a pick-up point, users can "skip the (checkout) line," as Marcus put it.
NFC would be a hindrance in these situations, because it wouldn't enable users to avoid the queue, he said.
PayPal has experimented with peer-to-peer payment using NFC, and NFC Times has reported that it is also working on the technology to incorporate as an option for mobile payment at the physical point of sale, to possibly be introduced when there are more POS terminals available.
Marcus, however, sounded a skeptical tone about NFC during his presentation Thursday, as he has in the past when discussing the technology.
"I'm a products guy; I gotta tell you, it's just weird we've been talking about that three-letter acronym for such a long time, and it's a technology. It's not a product," he said. "It's as if we're getting all excited about gyroscopes before the iPhone launched, and no one was talking about the great iPhone experience, but were talking about gyroscopes."